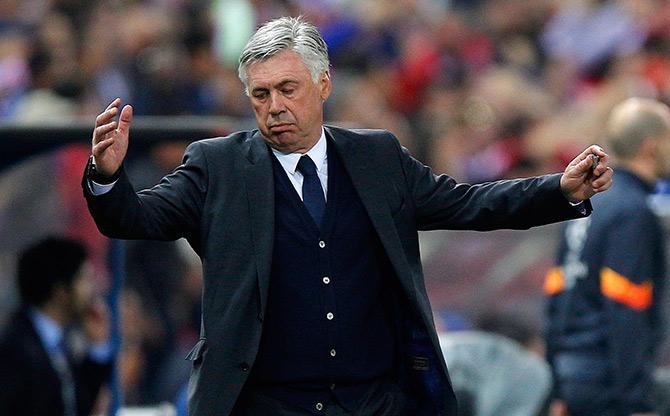 Carlo Ancelotti shows his frustration during an UEFA Champions League match. Photograph: Gonzalo Arroyo Moreno/Getty Images
Carlo Ancelotti has become Real Madrid president Florentino Perez's latest managerial victim, just 366 days after delivering the club their much-awaited La Decima, a 10th Champions League title.
Ancelotti, 55, ultimately paid for failing to build on the best run of results in the club's history, in late 2014, with no major trophy at the end of the season.
"During these two years, Carlo Ancelotti has earned the affection of the board and of myself personally, as well as all the fans," Perez told a news conference.
"But Real Madrid is extremely demanding and we believe it is time to give a new impulse that will allow us to win new titles and reach our maximum level."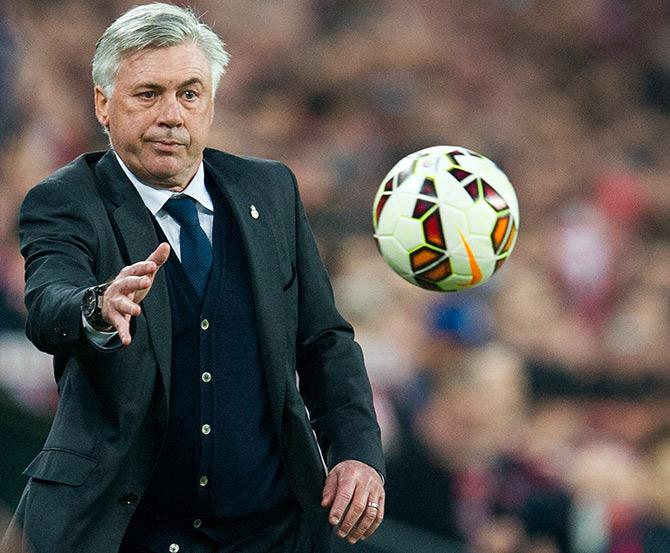 Carlo Ancelotti during a La Liga match. Photograph: Juan Manuel Serrano Arce/Getty Images
Beaten by a treble-seeking Barcelona in La Liga and eliminated by city rivals Atletico Madrid in the Copa del Rey, Ancelotti's last chance of keeping his job was ended when one of his former clubs Juventus progressed to the Champions League final at Madrid's expense earlier this month.
Madrid had won the Club World Cup on a streak of 22 consecutive victories between September and December to add to the Copa del Rey and UEFA Super Cup in a record four-trophy haul in 2014.
At that point the Madrid press talked of a new contract for the Italian with the club keen for him to become their Sir Alex Ferguson, the legendary Scottish coach who spent 26 years in charge of Manchester United before retiring in 2013.
Yet, just six months later, Ancelotti won't even see out the final year of the deal he signed when the European champions poached him from Paris Saint-Germain to replace Jose Mourinho in 2013.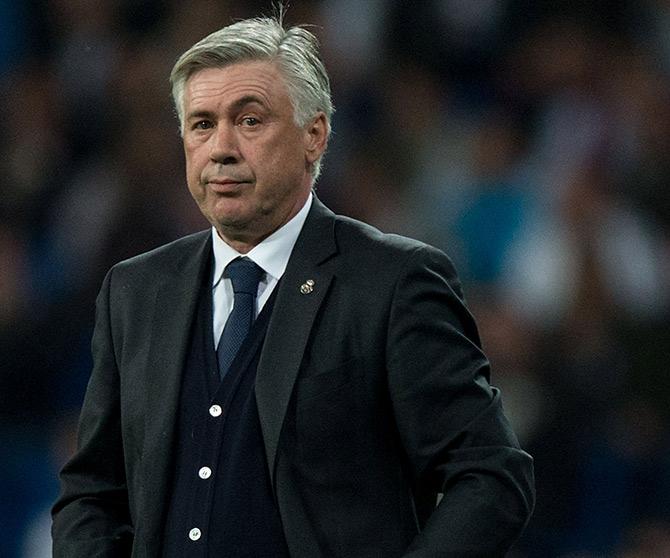 Carlo Ancelotti. Photograph: Gonzalo Arroyo Moreno/Getty Images
Ancelotti perfectly fitted the profile needed by Madrid after Mourinho's three-year scorched earth policy left the club divided in the stands and the dressing room.
Billed as the "peacemaker", Ancelotti united the dressing room and avoided the constant confrontation and controversy Mourinho sought.
Former AC Milan star Paolo Maldini once described Ancelotti as as "teddy bear" who never loses his temper. Even in his final days as Ancelotti's fate seemed sealed, with media leaks linking Napoli's Spanish boss Rafael Benitez to his job, Ancelotti maintained his dignity and insisted he wanted to stay on.
All of which leaves Perez in a very uncomfortable situation. Unusually for a departing coach, the players and fans were not calling for Ancelotti's head. World Player of the Year Cristiano Ronaldo increased the pressure on his president when he posted on his official Twitter account after Saturday's season-ending 7-3 demolition of Getafe: "Great coach and amazing person. Hope we work together next season."
According to a survey carried out by Madrid-based sports daily Marca, 73 percent of the club's members also wanted Ancelotti to stay.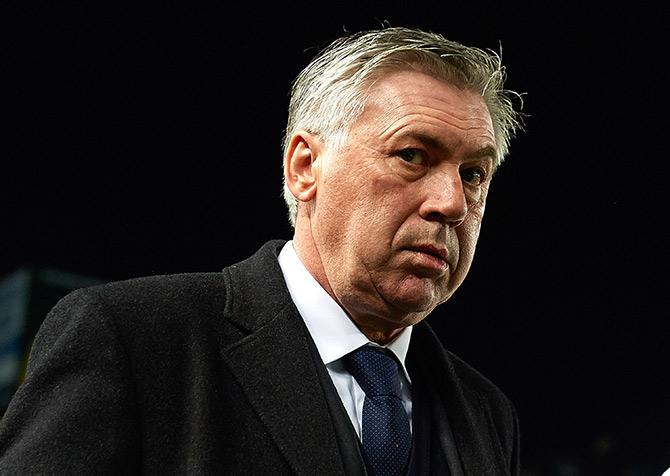 Carlo Ancelotti. Photograph: Manuel Queimadelos Alonso/Getty Images
Ultimately, though, Perez needed a scapegoat for the world's most expensively assembled squad failing to deliver when it mattered most.
Ancelotti does carry some of the blame for that failure. His reluctance to rotate his star-studded squad against even the weakest of opponents with many players coming off a World Cup that has left them short on gas at the business end of the season.
Moreover, despite winning titles in Italy, England and France, Ancelotti's overall league record is surprisingly poor. In 15 seasons in charge of Juventus, AC Milan, Chelsea, PSG and Madrid he has delivered the championship just three times.
In what turned out to be his final appearance in front of the media on Saturday, Ancelotti claimed the conquest of La Decima last season may have been the best moment in Real Madrid's history.
At a club with a famously short memory even that wasn't enough to save Ancelotti and Perez now has to find a successor to kick his under-performing galacticos into gear. Perez said the new coach would be named next week.
© Copyright 2022 PTI. All rights reserved. Republication or redistribution of PTI content, including by framing or similar means, is expressly prohibited without the prior written consent.