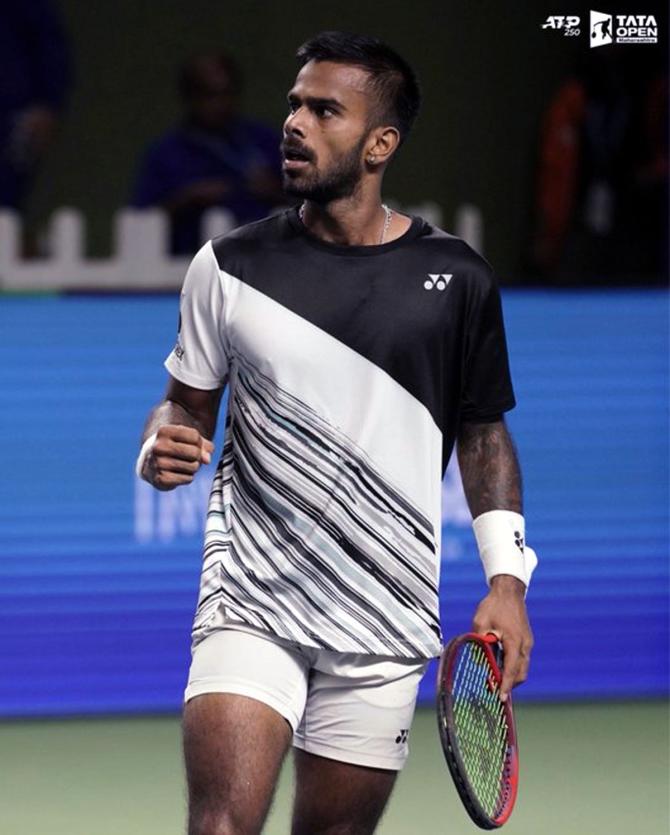 Former Davis Cup captain Anand Amritraj is baffled that India's best singles players are not able to win close matches on the ATP World Tour despite having a decent game to back them, saying it's "worrisome".
Amritraj said that at the World Tour level, more than the ground strokes it's the ability to soak in pressure and make the right calls in the crunch situation that dictates the outcome of the matches and the Indian players need to work on that.

Sasikumar Mukund, country's highest-ranked singles player, Ramkumar Ramanathan and Sumit Nagal ran the higher-ranked players close at the Tata Open Maharashtra but eventually fell short and made first round exits.

All of them took the match to a stage from where either player could have won but could not win points when it mattered.

Mukund, ranked 340, lost 4-6, 5-7 to Flavio Cobolli (ranked 171) while Ramkumar (ranked 435) lost to world number 62 Pedro Martinez despite taking a one-set lead (6-3, 5-7, 3-6).

Nagal, whose ranking has plummeted to 503 after injury-forced break, stretched World No 54 Flip Krajinovic to a three-setter but lost the match when he tried to improvise in the decider in a tight situation.

"I was very impressed with Sumit Nagal, I thought he played great; just a couple of bad choices of shots in the final set at 4-4, and that cost him the match," Amritraj, who captained the Indian Davis Cup team between 2013 and 2018, said.

"I watched Saikumar Mukund, again, very close, 6-4 7-5, a couple of shots here and there. I don't understand why our boys as well as they play, are not able win matches on the ATP Tour. They do well in Challengers, but they need to win matches in bigger events.

"Closing out matches seems to be an issue."

The organisers handed a wild card entry to 15-year-old Manas Dhamne and he came out with flying colours. He did not win the match but put up a good fight against seasoned American Michael Mmoh without getting overwhelmed by the occasion.

Amritraj, 71, said Dhamne's defeat is still acceptable but experienced players like Nagal and Mukund should be able to win.

"The closing out issue is worrisome. In the case of 15-year-old, it is lack of experience, but come to Sumit Nagal and Mukund, they have played enough on the Tour to close out matches.

"Tennis, as we know, is all between the ears. Everybody has the shots, the backhand, the forehand, the volleys, and the serves at this level of the game. It's a question of how you close out the match. That all comes down to confidence or what goes inside your head.

"At the business end of the set or the match, how you serve it out. It comes down to few points here and there."

Amritraj said the phenomena of Indian players getting injured frequently is also not a great sign. Nagal underwent a hip surgery in November 2021 and lost about four months of action. When he resumed competing, ended up losing 11 first round matches and is sitting outside top-500.

His biggest win came on his favourite surface (clay) against Germany's Daniel Altmaier, who was placed 103 at that time in October 2022 (now ranked 96).

Mukund had a back issue troubling him in the past and he had also pulled out of Davis Cup tie against Pakistan due to a foot injury in 2019.

Yuki Bhambri and Prajnesh Gunneswaran lost crucial times in their respective careers due to injuries.

"Mukund is 25. Sumit is around the same age. At this age, the number one thing is that you stay in good shape and stay fit. I am amazed at the number of injuries these young kids have nowadays.

"In our generation, it hardly ever happened. I don't know if it's being physically lucky or what it is? Now you look at Yuki, he has not played much, he was lucky to come back (from injury) and play.

"He played Davis Cup with me for five years. He is one of my favourite players, he has been off singles for some time and now playing only doubles with Saki (Saketh Myneni)."

India's higher-ranked player as of today is Mukund at number 340, a phenomena that speaks volumes about the current state of Indian tennis.

Amritraj, who reached the US Open third in 1974, is obviously disappointed.

"It is quite sad to me that somebody ranked 340 is the best we have, strictly by the rankings. Sumit Nagal had a chance of getting into the top-100 or 150. I always wondered why Ramkumar was not in top-100. It's unbelievable to me that they all struggled in singles."

Yuki Bhambri's singles career has come to a halt due to injuries he has opted to play only the doubles format to prolong his career.

While Amritraj feels Yuki must not ignore the singles completely, he does not want Ramkumar to follow the Delhi player in taking that decision.

"Ram should stick to singles for at least another year. There is always time to play doubles, Rohan is playing at 42. He is playing well. There is no reason to chuck your singles and focus on doubles at the age of 28 which Ram is.

"As far as Yuki is concerned, he had to make a call. He has a good partner in Saketh Myneni. The age of 30 is also maybe a good time to switch to the doubles. Yuki has played some unbelievable singles matches five-six years ago. I am not sure if he should ignore his singles but it looks he has made up his mind. It's really a shame because he is still very talented," he said.