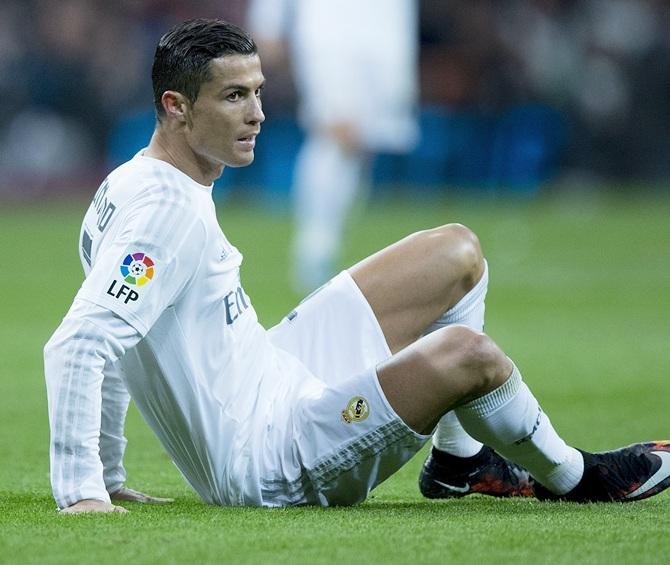 IMAGE: Real Madrid's Cristiano Ronaldo reacts as he fails to score during the La Liga match against FC Barcelona. Photograph: Gonzalo Arroyo Moreno/Getty Images
Real Madrid president Florentino Perez has rebuffed calls from angry fans for him to step down and backed coach Rafael Benitez after Saturday's humiliating 4-0 defeat at home to Barcelona in the La Liga 'El Clasico'.
But Cristiano Ronaldo, whose relationship with manager Benitez appeared fractured beyond repair, reputedly told teammates in the Bernabeu dressing room: "Either he goes, or I go."
Real's drubbing by their arch rivals, which left them trailing Barca by six points, prompted supporters at the Bernabeu to chant for Perez to go and the construction magnate said on Monday he understood and respected their frustration.
However, he said there had been no discussion about holding new elections at a board meeting on Monday, at which it was decided that Benitez, who replaced Carlo Ancelotti at the end of last term, retained the club's 'full support and confidence'.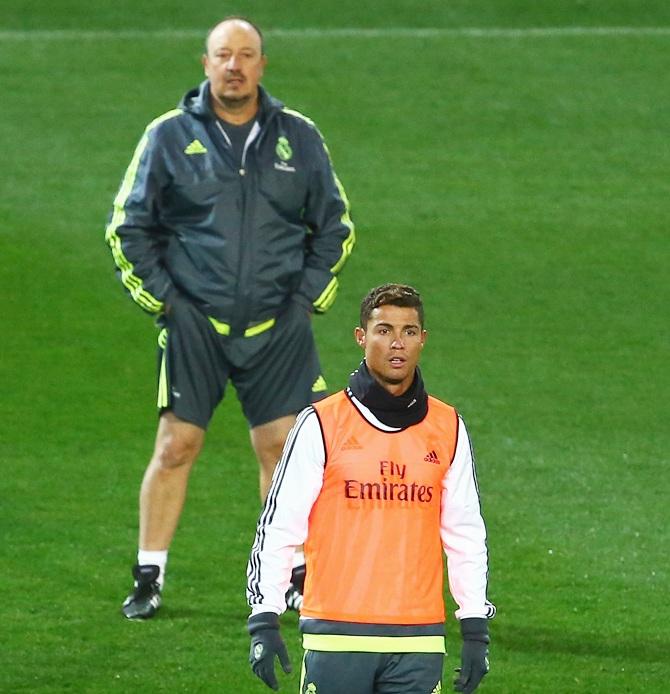 IMAGE: Real Madrid's Cristiano Ronaldo and head coach Rafael Benitez look on during a training session. Photographs: Robert Cianflone/Getty Images
Perez, in his second stint in charge of the club he has transformed into the world's richest by income, has been blamed for Real's woes due to a perception he interferes in team selection.
Rather than give his coaches a free hand, he is believed to instruct them to deploy Real's marquee signings instead of players who may be in better form or better suited to a particular match.
Perez denied he tells coaches what to do and said Benitez had 'full powers'.
On the other hand, Manchester United manager Louis Van Gaal has expressed his desire to bring back their former star Ronaldo to the club, saying that he is 'hopeful' for the latter's return.
Van Gaal stressed that although his side wants to bring Ronaldo, his Real Madrid team-mate Gareth Bale also remains a target.
Benitez may survive for the time being but if results do not quickly improve he is likely to fall on his sword.