At a time when Indian tennis fans are content with success in doubles competitions, few are aware that Vijay Amritraj was within grasp of the singles crown at Wimbledon.
Bikash Mohapatra/Rediff.com travels back in time to the summer of '73.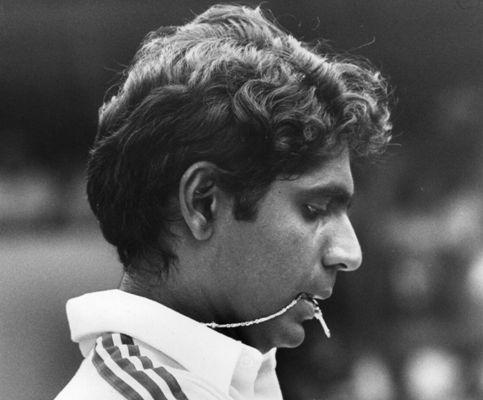 IMAGE: Vijay Amritraj at Wimbledon. Photograph: Central Press/Getty Images
'Vijay had missed a smash to glory,' said The Times.
Vijay Amritraj was in sight of the coveted trophy at the All England Club in the summer of 1973.
The International Lawn Tennis Federation's decision to uphold the suspension of Nikola Pilic, then Yugoslavia's top-ranked player -- for his refusal to play a Davis Cup tie -- was vehemently opposed by the newly-formed Association of Tennis Professionals.
As a result, 81 top-ranked players, including the reigning champion -- America's Stan Smith -- boycotted Wimbledon to protest the ILTF decision.
Amritraj was one of the best players back then who took part.
The Indian ace had it easy to begin with, getting through to the last eight, dropping only two sets en route.
Waiting in the quarter-finals was two-time French Open champion Jan Kodes, who had defeated Jaideep Mukherjea in the round of 16.
Amritraj led two sets to one, had chances in the fifth, but eventually lost.
It was arguably the best chance by an Indian player in the Open Era* to win the men's singles title at Wimbledon.
It wasn't to be.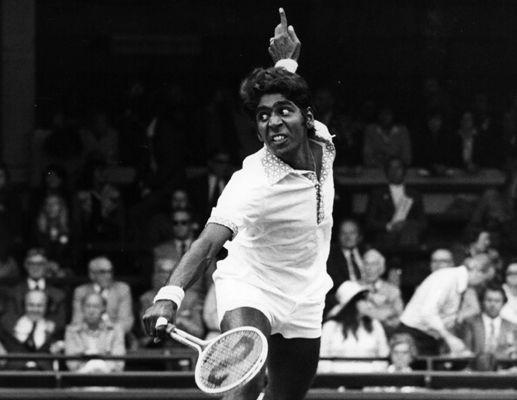 IMAGE: Amritraj in action at the All England Club. Photograph: George W Hales/Fox Photos/Getty Images
So what went wrong?
"Most Indian players don't make the effort required to realise their potential," says Naresh Kumar. "It was not the case with Vijay Amritraj. He could beat anybody on his day."
"Even he could not, rather struggled, to win three sets on the trot in the second week of a major tournament," adds India's former Davis Cup captain.
"He was not as fit as the other players on the tour. After that match he told me his legs were weak," Kumar recalls.
Akhtar Ali, the coach travelling with Amritraj at the point of time, still believes that 1973 was the player's only chance at Wimbledon.
"He (Amritraj) was an asthma patient," Ali reveals, adding, "He didn't, rather couldn't, train for long periods."
"The shorter the match," Ali says, "the better was his chances of winning it."
"If you have a look at his career statistics, you will find that he lost a lot of five set matches," Ali adds.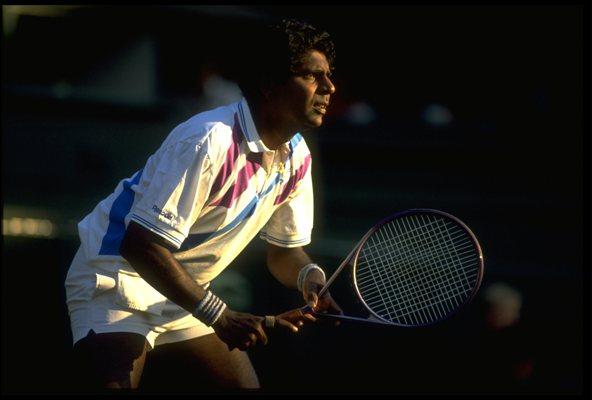 IMAGE: Amritraj prepares to receive serve at Wimbledon. Photograph: Russell Cheyne/Getty Images
It was not as if Amritraj did not have his chances against Kodes. It is just that he didn't take them.
"1973 was his golden chance to win a Grand Slam singles title," says Kumar 43 years later.
"Even though he concentrated a lot," he remembers, "it was not enough. He missed an easy smash at a crucial juncture in that match against Kodes."
"Had he managed that, it would have given him two match points, a certain win and a place in the semi-finals," says Kumar. "Then anything could have happened."
As it turned out, Kodes took his chances in that match, and the two subsequent matches, and emerged an unlikely champion, more so because in seven of his 13 career visits to the All England Club the Czech failed to cross the first hurdle.
Amritraj reached the last eight stage for a second time, in the twilight years of his career.
He led Jimmy Connors by two sets, only for the American to come back and win in five.
At a time when Indian tennis fans are content with success in doubles competitions, Vijay Amritraj had had a shot at singles glory.
Only had he taken his chances!
*Ramanathan Krishnan twice made it to the semi-finals at the All England Club, losing to the eventual champions in both 1960 (Neale Fraser) and 1971 (Rod Laver). Tennis became a professional sport only in 1968.