Juventus FC coach Massimiliano Allegri. Photograph: Marco Luzzani/Getty Images
When Massimiliano Allegri arrived in Turin last July, Juventus ownership had set two goals for him - win a fourth straight "Scudetto" and reach the Champions League quarter-finals.
The former AC Milan manager is set to do much better as Juve hold a 15-point lead in Serie A with seven games to play, are into the semi-finals of Europe's most prestigious tournament and face Lazio in the Coppa Italia final, a trophy they have not won in 10 years.
"When I first got here all I asked for was respect," Allegri told reporters at the end of the Champions League return leg against Monaco which ended in a goalless draw.
"I knew it was going to be difficult to replace the former manager (Antonio Conte) as I understood how much fans loved him but now I'm happy for them that we're back into the semifinals."
The last time Juve reached the last four was in 2003 when they twice defeated Real Madrid before losing to AC Milan on penalties in the final played at Old Trafford.
'I didn't expect the wait would be this long'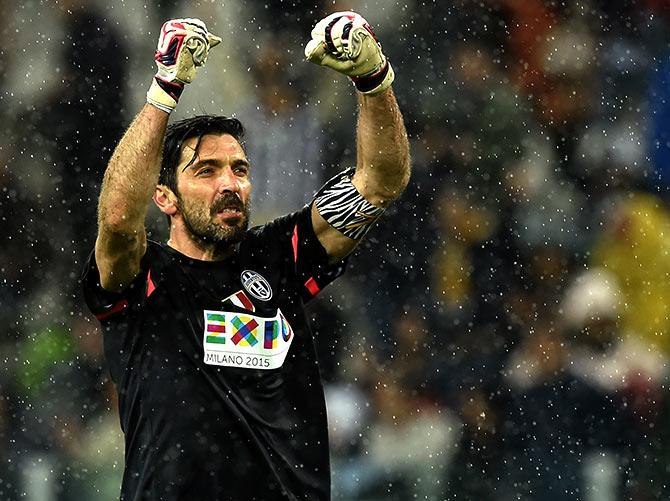 Gianluigi Buffon of Juventus FC celebrates a victory in Turin. Photograph: Valerio Pennicino/Getty Images
The only player still wearing the same shirt is goalkeeper Gianluigi Buffon.
"I didn't expect the wait would be this long," Buffon told reporters, "But it tastes it even better now. Nobody believed we could make it this far."
"We've deserved it."
Juventus are going to be the underdogs whoever they draw in the semi-finals but they have demonstrated it is going to be very hard to score goals against their stingy and versatile defence, especially when they play in front of their fans at the Juventus Stadium.
In four games, they have allowed only a Marco Reus goal, as Giorgio Chiellini slipped while in possession of the ball in the match against Dortmund.
'If I could get to choose I'd rather not play Bayern'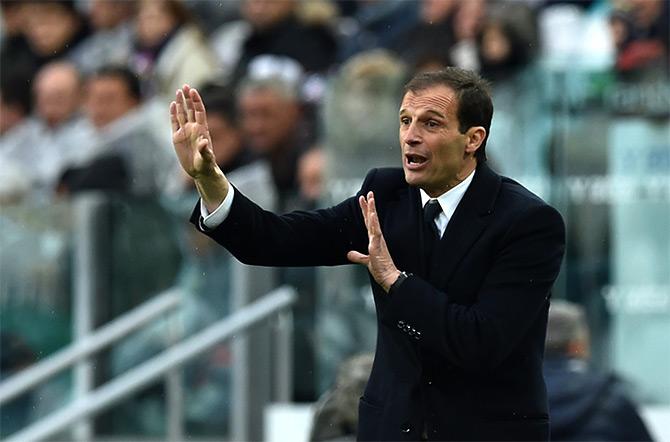 Juventus FC head coach Massimiliano Allegri shouts to his players during a Serie A match. Photograph: PValerio Pennicino/Getty Images
Allegri can easily switch from a three-men defence to a four-men one depending on who they face and the type of game they wish to employ.
Juve hope French midfielder Paul Pogba, suffering from a thigh muscle injury, is fit to play the semi-final.
They are sure to have Andrea Pirlo, who recently returned from a calf injury, and Arturo Vidal, who played against Monaco after being down with high fever the previous day, in better form.
Up front Carlos Tevez is arguably enjoying the best season of his career, having scored 26 goals in 40 games in all competitions.
Juventus would probably need a miracle to win the Champions League, something they have failed to do for 19 years, but for now they would be more than happy to avoid one team.
"The three teams (Barcelona, Real Madrid and Bayern Munich) are very strong. If I could get to choose I'd rather not play Bayern," Allegri said.