MLS condemns 'appalling' abuse against Dallas' Cannon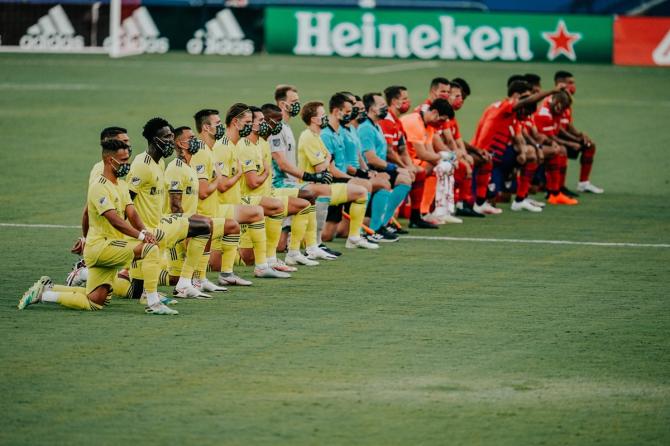 FC Dallas fans showed that they are of poor stature as they booed their own players.
Major League Soccer (MLS), on Thursday, condemned fan abuse against FC Dallas and Nashville SC players who kneeled during the national anthem and reiterated their support for those that opt to peacefully protest against social injustice.
Players from both teams took a knee in solidarity with the Black Lives Matter movement before Wednesday's game at Toyota Stadium in Frisco, Texas, but their gesture was overshadowed by booing from a small section of fans.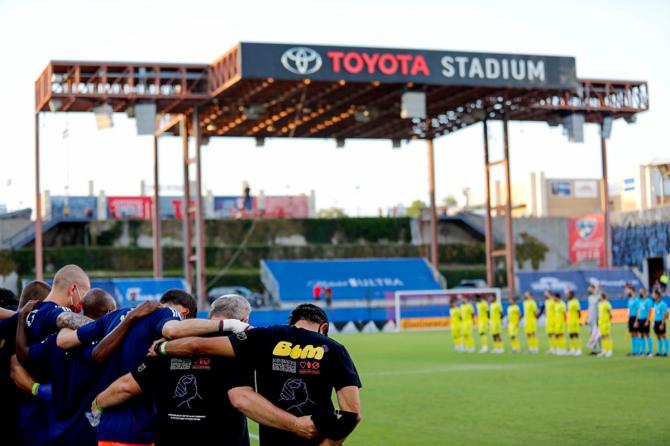 Dallas defender Reggie Cannon, who is Black, called the reaction from spectators disgusting, and the 22-year-old faced intense backlash on social media.
"As we have stated consistently, Major League Soccer supports players and staff who protest peacefully on behalf of equality and social justice," the league said in a statement on Thursday. "Some of the comments made... were appalling. We want to be clear that MLS will not tolerate any abuse or threats to any individual player or team."
Dallas chairman Clark Hunt and president Dan Hunt also extended their support to Cannon.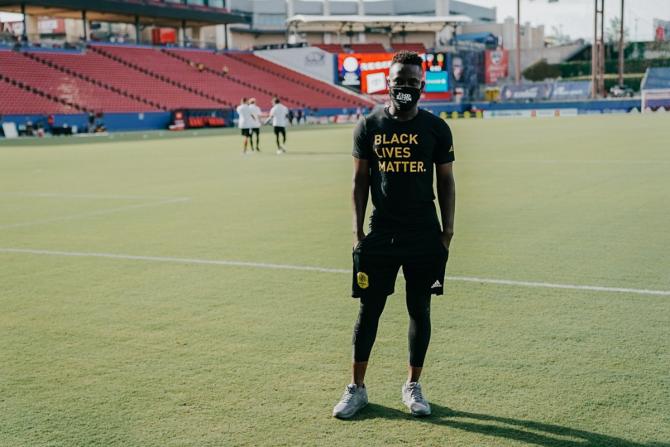 "The racist comments and death threats he has received are repulsive. There is no place in our sport, or in our country, for the kind of horrific vitriol he had to endure," they said in a joint statement. "Hateful or violent threats are never warranted. We will continue to work together against racism and in the cause of equality for all."
Wednesday's game was the first for Dallas and Nashville since March, after the two teams withdrew from the MLS is Back tournament in Orlando because of COVID-19 cases in their respective squads.
Brighton's Maupay gets legal support from Premier League after online abuse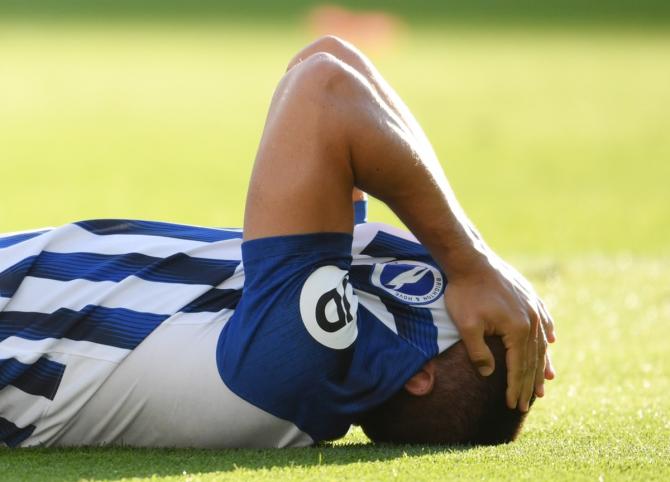 Brighton & Hove Albion's French forward Neal Maupay will receive support from the Premier League to bring legal action against an individual in Singapore who subjected him to abuse online, the league said on Thursday.
The league began investigating after the matter was brought to their attention via their online abuse reporting system.
"Premier League investigators believe that they have tracked the location of the person responsible to Singapore and have now filed an official police complaint," the league said in a statement.
"The Premier League is liaising with local authorities and will support all subsequent legal action on behalf of Maupay."
Premier League Chief Executive Richard Masters said the abuse Maupay received was "wholly unacceptable."
"We responded immediately to seek justice on his behalf," he added.
"We take each report provided to us extremely seriously and we'll use all possible resources in supporting our players and managers to investigate incidents, regardless of where the offender is located."
The growth of social media has fuelled discriminatory abuse towards footballers in recent years.
In June, the league set up a dedicated reporting system by which players, managers and coaching staff could flag up serious discriminatory online abuse.
Manchester United's Marcus Rashford and Paul Pogba have both been victims previously.
Crystal Palace's Wilfried Zaha called on social media platforms to identify and remove users who resorted to racist abuse after he was targeted before a game last month.
Manchester City need Champions League glory to reach next level, says Walker
Manchester City need to win the Champions League to truly establish themselves as European powerhouses, defender Kyle Walker has said.
City have won four Premier League titles in the last decade but have failed to progress beyond the semi-finals of the Champions League during that period.
Pep Guardiola's side eliminated 13-time champions Real Madrid in the last 16 and are firm favourites heading into Saturday's quarter-final clash against Olympique Lyonnais.
"I think if you had asked me two years ago when I signed here, I would have probably said that the Premier League was the big one for me having not won it before," Walker told the club website on Thursday.
"Now I have collected two of them and a number of others and this is the one that I want. I can probably speak on behalf of the whole squad and Manchester City as well for what they need to put them onto that next pedestal."
The 30-year-old England international has warned his side not to overlook Lyon, who are brimming with confidence having knocked out Serie A champions Juventus in the previous round.
"Lyon have got good players. Knocking out Juventus speaks volumes. You need to be a very good team, very disciplined to beat Juventus over two legs," he added.