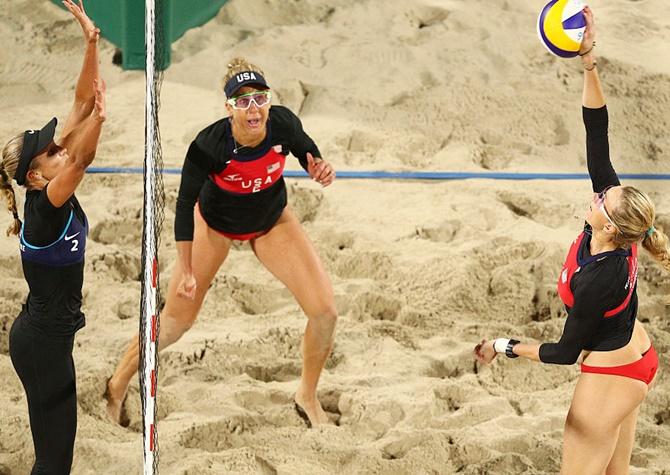 IMAGE: Kerri Walsh Jennings spikes the ball as April Ross of the United States looks on as Isabelle Forrer blocks at the net playing with Anouk Verge-Depre of Switzerland during the Beach Volleyball. Photograph: Paul Gilham/Getty Images.
Damp beach volleyball players and a bundled up crowd found out the hard way on Wednesday that grim rain and wind can even beat down on Rio's picture-perfect Copacabana beach.
Previous days' bikini-clad women and topless men were replaced by fans in anoraks and hoods, but still the mood was upbeat as pairs faced off in one of Rio 2016's most iconic venues.
Brazil is in the middle of the Southern Hemisphere winter, and bad weather also forced the Olympic rowing regatta to be called off.
Beach volleyball players, used to tricky weather conditions, largely shrugged off the light rain and temperatures in the low 20 degrees Celsius, but said the wind was an issue.
"It made the game a little different, especially the wind," said Dutch player Marleen van Iersel, who wore long black workout trousers and a shirt to stay warm.
"If it's windy you have to adjust your game, keep it a bit smaller because the wind can blow away the ball," added van Iersel, who with partner Madelein Meppelink lost to Australia's Louise Bawden and Taliqua Clancy in a nail-biting match that ended 25-27, 21-18, 14-16.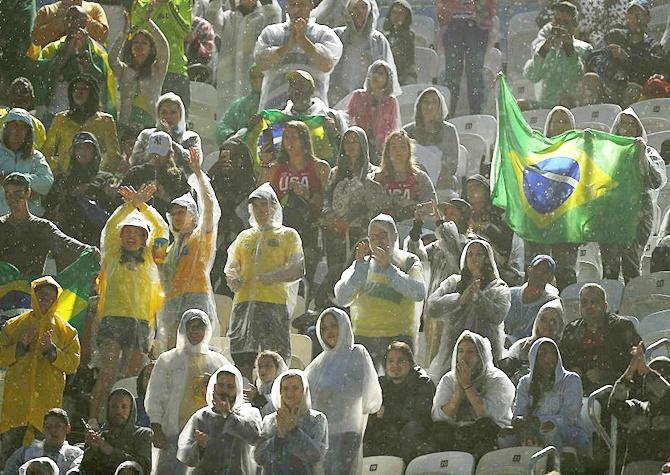 IMAGE: Fans watch during the men's preliminary Pool A match on Day 5 of the Rio 2016 Olympic Games at the Beach Volleyball. Photograph: Paul Gilham/Getty Images.
Mother nature was no hindrance for Brazilian male favourites Alison Cerutti and Bruno Schmidt, who seamlessly beat their Italian opponents Adrian Carambula and Alex Ranghieri 21-19 21-16.
But under heavy rain after dark on Wednesday, their female compatriots Agatha Bednarczuk and Barbara Seixas were less fortunate, losing 17-21, 20-22 to Spain's Elsa Baquerizo and Liliana Fernandez.
The public was stoic too, with about half of seats filled and crowds clapping along to Latin pop hits despite being soaked.
"Today the weather is not that great, but the play is great," said spectator Ola Ulmo of Norway, who bought a plastic raincoat outside the volleyball arena.