Following is a match by match look at the English Premier League's weekend fixtures:
Arsenal v Manchester United (Saturday, 2300 IST)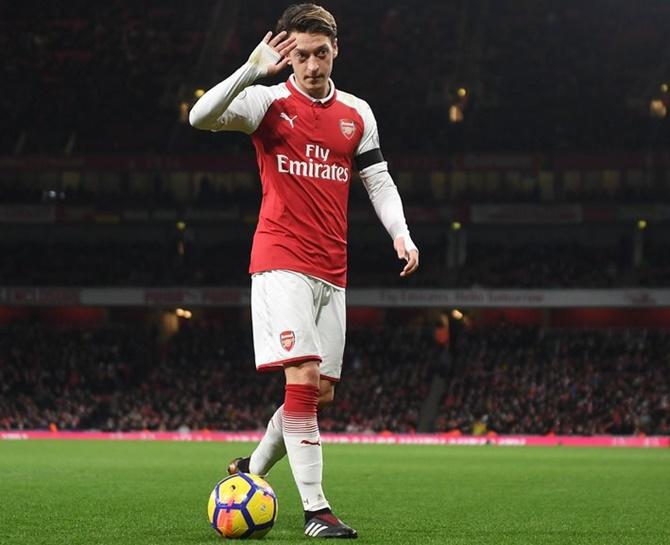 IMAGE: Jose Mourinho will be hoping the other Mesut Ozil turns up at Arsenal. Photograph: Arsenal FC/Twitter
Jose Mourinho is a big fan of Mesut Ozil but the Manchester United manager will undoubtedly be hoping Arsenal's on-form German has one of his off days at the Emirates Stadium on Saturday.
The trip to what has become a fortress for Arsenal pits Mourinho against old adversary Arsene Wenger with anything less than a win of no use to either as they chase runaway leaders Manchester City.
The Gunners are on a run of 12 successive home wins in the Premier League, bolstered by a 5-0 demolition of Huddersfield Town on Wednesday with Ozil and Alexis Sanchez both on the scoresheet.
Ozil is unlikely to be lacking in motivation, with the flair player -- often criticised for drifting in and out of matches -- out of contract at the end of the season and on Mourinho's radar.
The two were together at Real Madrid before Ozil moved to Arsenal and the Portuguese to Chelsea.
His man of the match performance against Huddersfield had Wenger singing his praises.
"Everybody knows he's a great football player," said the Frenchman. "He shows also that he can fight.
"I think he always covered the distance. Maybe he's at an age, he's mature, where he understands what's important and less important. The judgments are sometimes harsh in this job.
"When you look at the percentage of possession, no matter the game, he always wants the ball. He never hides. He's always available."
United, who won 4-2 at Watford on Tuesday night, are second in the league but eight points adrift of leaders Manchester City.
Past encounters between Mourinho and Wenger have given the Portuguese plenty of happy memories but United have been beaten on their last two league trips to Arsenal, without scoring a goal.
They have plenty of firepower to change that, but the two late goals conceded to Watford when 3-0 up will be a cause for concern.
Arsenal, 12 points behind City, are without record signing Alexandre Lacazette for the match after the French striker suffered a groin injury against Huddersfield.
Manchester City v West Ham (Sunday, 2130 IST)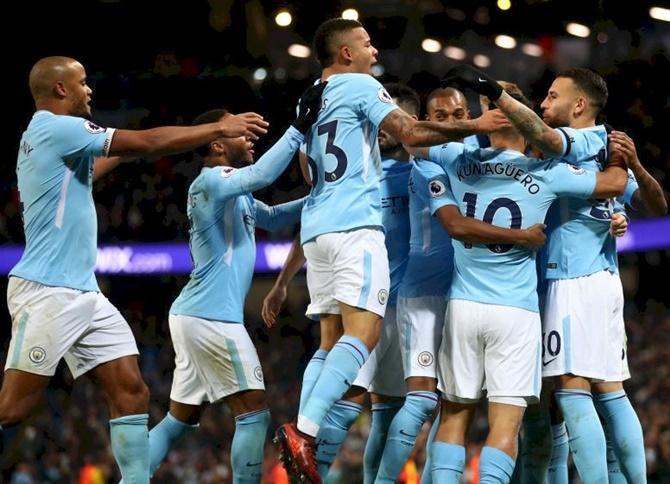 IMAGE: Manchester City players celebrate. Photograph: MCFC/Twitter
Manchester City, on a club record 12-match winning run in the league, have far fewer worries as they prepare for what looks like an easy home game against a struggling West Ham United on Sunday.
The Hammers were thrashed 4-0 by Everton on Wednesday.
Everton v Huddersfield (Saturday, 2030 IST)
Everton, now up to 13th, will be under new management for their home game against Huddersfield with former England boss Sam Allardyce moving in just as Wayne Rooney rediscovers his goalscoring form.
West Bromwich Albion will also have a new face calling the shots against visitors Crystal Palace on Saturday, with Alan Pardew facing the south London club who sacked him last December.
"Confidence is obviously a little bit low at the moment. We need a win and hopefully we will get that as quick as we can," he said when appointed on Wednesday.
Brighton v Liverpool (Saturday, 2030 IST)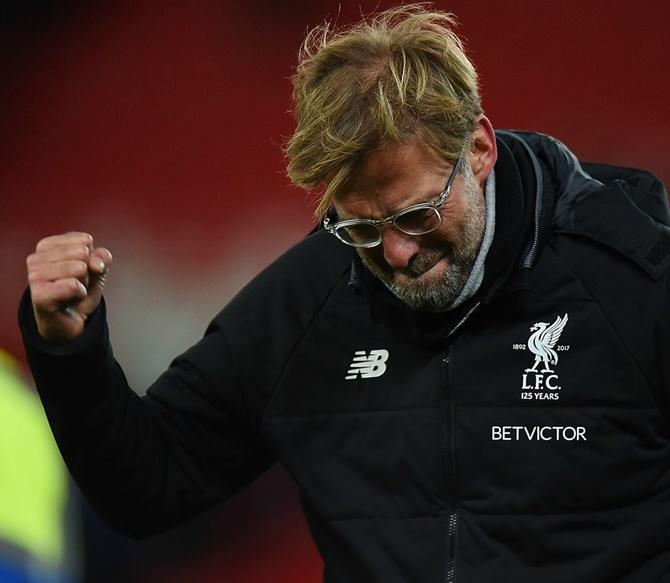 IMAGE: Liverpool coach Jürgen Klopp celebrates. Photograph: LFC/Twitter
Fifth placed Liverpool, rampant against Stoke City with a 3-0 win on Wednesday, are at Brighton and Hove Albion while champions Chelsea, in third, host Newcastle United in Saturday's early match.
Tottenham Hotspur are at Watford and Burnley, up to the giddy heights of sixth, are at Leicester City.