Rediff.com brings a preview of the main matches coming up this weekend in the English Premier League.
Chelsea's Conte wary of Burnley's fine home form
Burnley FC v Chelsea
Sunday, February 12
07:00 PM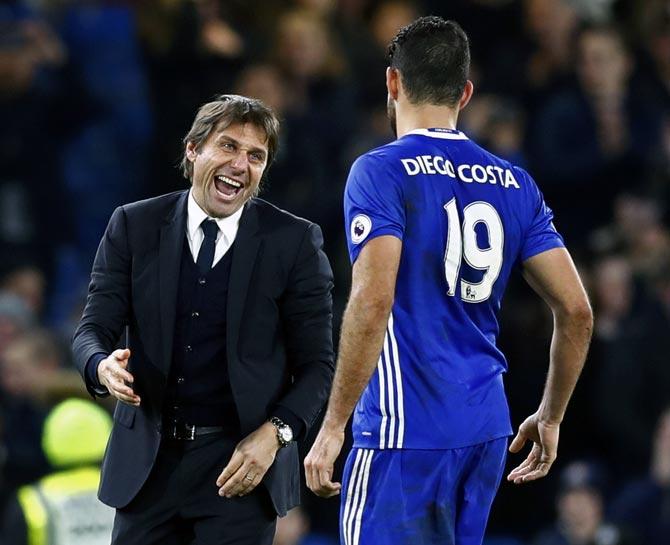 IMAGE: Chelsea manager Antonio Conte, left, celebrates with Diego Costa. Photograph: Eddie Keogh/Reuters
Chelsea will face a much tougher game on Sunday than their straightforward 3-0 win in August over Burnley because of the latter's remarkable home form, manager Antonio Conte said on Friday.
The Italian has done his homework on the statistics. "They're really strong at home, they're third in the table for home games with Chelsea top and Tottenham second," he told a news conference.
Burnley have taken 28 of their 29 points this season from matches at Turf Moor, losing at home only to Swansea City on the opening day, Arsenal in October and Manchester City in November.
Since then they have won seven successive home games in the Premier League and FA Cup.
"It's a fantastic achievement," Conte added.
"The style is always the same. They fight a lot, play a lot of long balls and put a lot of pressure when we have the ball."
After taking four points from games against Liverpool and Arsenal, Chelsea's players were given extra time off.
"I thought they deserved it because we had three games in seven days," said Conte, who took the opportunity to return to Italy. "It's important to have two or three days off, to relax with the family, and come back fresher."
Despite having a nine-point lead at the top of the table, with only one defeat in the last 18 league matches, Conte insisted the top six teams can still win the title.
"If we think that with a nine-point lead we are close to winning the title it's a big mistake," he said.
Man City anticipating tough test at 'honest' Bournemouth
Bournemouth v Manchester City
Monday, February 13
01:30 AM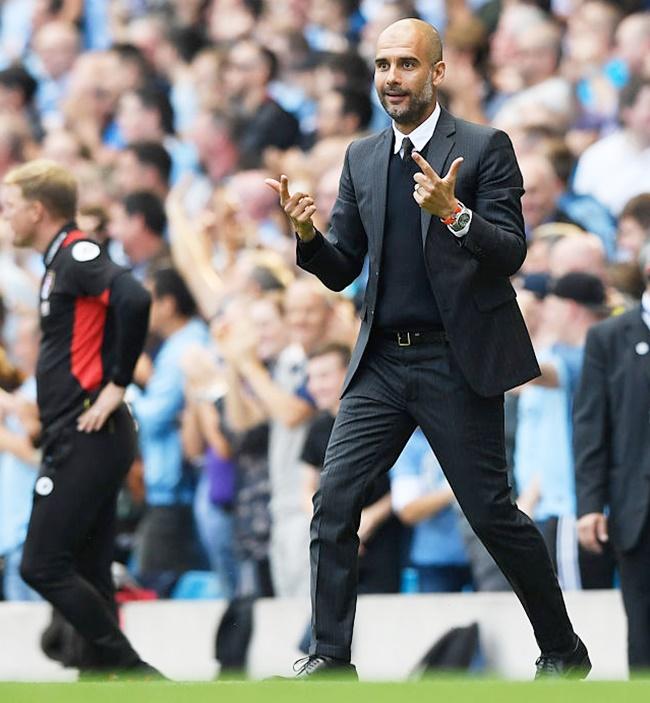 IMAGE: Manchester City boss Pep Guardiola . Photograph: Stu Forster/Getty Images
Manchester City manager Pep Guardiola has declared his admiration for Bournemouth boss Eddie Howe and expects a testing encounter when his team visit the Vitality Stadium in the Premier League on Monday.
City, who are owned by Arab billionaire Sheikh Mansour bin Zayed Al Nahyan, are at the opposite end of the financial spectrum to tiny Bournemouth, who were promoted to the Premier League for the first time in their history in 2015.
Guardiola, however, said Howe's team played with an honesty that made them tough opponents.
"Bournemouth start really well," Guardiola told reporters on Friday.
"Last few years, it's outstanding what they have done. They are so aggressive. They are an honest team. They want to do something. They are fast guys to use the counter attack.
"Bournemouth is a tough, tough time. I admire my colleague (Howe) and think it will be a tough game."
Bournemouth have fared well at home against the top teams this season, beating Liverpool and drawing with Arsenal and Tottenham Hotspur.
"I know what happened against Liverpool, Arsenal -- big teams -- it will be a tough game, I have no doubts about that," Guardiola said.
City are third in the league with their squad having received a lift following the January signing of Brazil international Gabriel Jesus, who has scored three times in his last two games.
"Everyone is fit," Guardiola said. "They are training amazingly. I am so happy to be here with these players. The only regret is I have players in the stand who cannot play."
The manager also spoke warmly about Bayern Munich's Philipp Lahm, who announced earlier this week that he will retire from football at the end of the season.
Guardiola coached Lahm, who captained Germany to World Cup success in 2014, for three seasons while the Spaniard was in charge of the Bundesliga champions.
"Philipp was and is a special person in my life," Guardiola said. "It is not easy for a Catalan guy to go to Munich and learn the culture and he helped me a lot.
"He is one of the most fantastic players I ever trained in my life... I am a little sad because I feel he has football in his legs."