'What I have noticed is when rallies are long and when there is counterattack, I find Sindhu little vulnerable and Saina exploited that. She kept attacking.'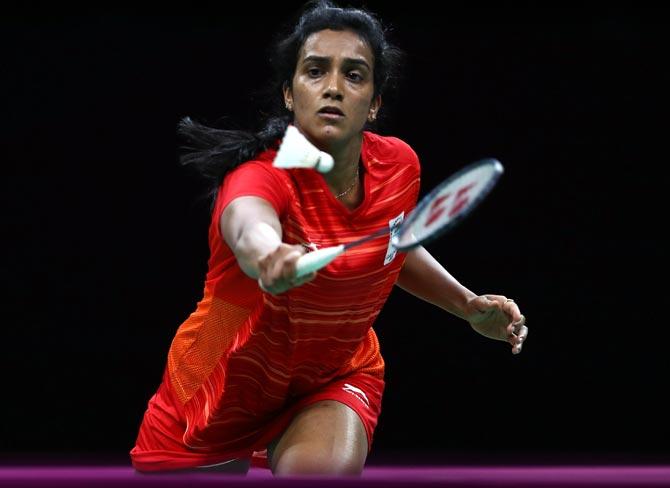 PV Sindhu appears 'vulnerable' on the counter-attack and that is a big factor in her losing many a title clashes, including the recent loss to Saina Nehwal in the singles final at the 2018 Commonwealth Games, observed former India coach Vimal Kumar, who believes with little more maturity and bit of luck she will be able to pull off close matches.
Sindhu, an Olympic and World Championship silver medallist, settled for a silver after losing a close final to compatriot Nehwal in Gold Coast.

It was yet another final loss for the 22-year-old, who had faced defeat in the finals of Rio Olympics, Glasgow World Championship, Dubai Super Series Final last year and India Super Series and All England Championship this year.

"Sindhu looked subdued in the final. She didn't have the same sort of aggression that she has when she plays others. What I have noticed is when rallies are long and when there is counterattack, I find Sindhu little vulnerable and Saina exploited that. She kept attacking. But you don't know what would have happened if it had gone to third game," Vimal said.

"Sindhu is still young and she has been playing better against other girls. Unfortunately when she loses everybody criticises but she is just 23, she can convert these situation to her advantage. I think that will happen. With little more maturity, she will do well. A bit of luck is also required.

"In this match also, she gave easy points to Saina. She was not confident of her shots. She was tentative while Saina's body language was totally different, she was looking forward to the final. Had Sindhu lost in the semis, I don't know if Saina would have been as aggressive because she was struggling against other girls."

Vimal, who had trained Saina for around three years after she shifted base to Bangalore in 2014, credited Saina's mental fortitude but said he wasn't too impressed with her performance against other opponents in the tournament.

"You have to give credit to Saina's mental resolve but she was not playing that great. I wasn't impressed with her when she played against the Malaysian girl (Soniia Cheah). She also played a close match against (Kristy) Gilmour but against Sindhu she raised the bar and did exceptionally well," he said.

"The Rio Olympics was a big disappointment for her, she had won the Australian Open and she was shaping up well. I was personally very disappointed as well but then she came back well and last world championship she won bronze after losing close match to Okuhara, she went through injury crisis again."

Vimal said Saina can regain her best form if she stays fit and doesn't overtrain.

"It will give her a lot of confidence and I have always said that if she can stay injury free and take care of her body and not over train or do too many things, rest of things will fall into place and she can still perform and be at her best. I feel she still has 2-3 years," said Vimal, who had represented India at the Barcelona Olympics in 1992.

The 55-year-old said the mixed team gold was the highlight of India's campaign at Commonwealth Games and if the team can continue in the same vein, the country can win the Thomas and Uber Cup titles next month.

"I would rate beating Malaysia in the final as more creditable. That stands out for me, getting that gold. Overall we have shown progress in mixed doubles, men's doubles, women's doubles and that is creditable. Ashwini and Sikki did well, Satwik and Chirag could have got the gold and that would have been a big achievement," Vimal said.

"Malaysia coach Tan Kim her is doing a good job. If we can continue this, we have a good chance of winning the Thomas Cup and also a good possibility of winning the Uber Cup as well. We have won a bronze earlier. So if Sikki and Ashwini can pull off their match and Sindhu and Saina can pull off their matches, we can win.

"But I think more chance of winning in Thomas Cup because our men's singles players can beat anybody in the world. We have a decent combination in Manu Attri and B Sumeeth Reddy, they can also pull out matches. But all of them have to be injury free. It would be a good test for us," he added.

Vimal also hoped Kidambi Srikanth or H S Prannoy can earn India a gold medal in Asian Games, something the country has never achieved.

"Next will come the Asian games. There unlike in CWG, the opposition will be very tough because China, Korea, Malaysia, all the top nations will be there but they also have restricted number of entries.

"So in that aspect, I hope Srikanth and Prannoy can get us a medal, we won a bronze but never got a silver or gold. I remember in 1982, Prakash (Padukone) was expected to win a gold but they didn't allow him to play as he was a professional."

Vimal also termed the scheduling at the Commonwealth Games as "harsh".

"I thought the scheduling was harsh. They had to play the bronze medal match after losing the semifinals. Players were playing in the morning and then immediately to play the bronze medal it was tough.

"It was physically tough for them. Sikki and Ashwini had played a lot of matches in the team championship. Overall we can give a lot of credit to them."