School children cross a road as they move away from a military run school that is under attack by Taliban gunmen in Peshawar. Photograph: Khuram Parvez/Reuters
The sports fraternity were left shocked and expressed their grief on Twitter in the aftermath of the horrific Taliban attack at an army school in Pakistan that killed 141 people.
Tehrik-i-Taliban Pakistan (TTP) terrorists on Tuesday attacked the Army Public School in Peshawar, killing 132 children and nine others. The terror group in statement had said that a school was targeted because the Pakistani Army targets their families and they wanted the army to feel their pain.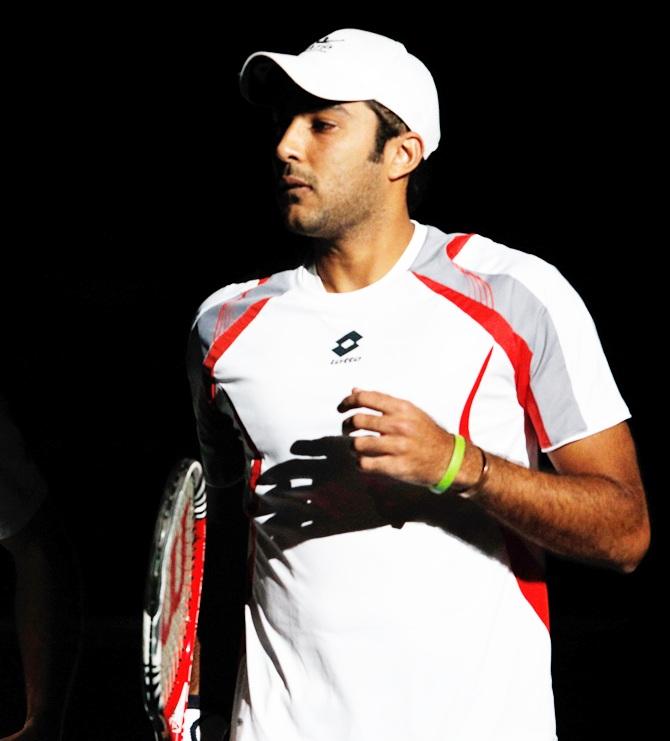 Aisam Ul Haq Qureshi of Pakistan reacts. Photograph: Dean Mouhtaropoulos/Getty Images
As the country mourned the loss of their young blood, India also expressed solidarity with Pakistanis on the social networking site Twitter, with the hasgtag #IndiaWithPakistan going viral. The sporting fraternity has also took to Twitter to voice their concern and show their solidarity.
Pakistan tennis ace Aisamul Haq Qureshi condemned the attack and revealed that three of his cousin's children were inside the school when the attack took place. He said that luckily, his cousin's children survived, but added that what is left of the school is just inexplicable, The Express Tribune reported.
Qureshi claimed that it is the darkest moment in their history, with so many children dead, adding that he can only pray. He said that it is time for the government and the political parties to come together, and as a nation they need to show what they are made of.
Younis Khan (right) with his Pakistan team mates. Photograph: Ryan Pierse/Getty Images
Pakistani star footballer Kaleemullah said that he has been crying since he heard the news. He questioned what were they doing and why were they doing this, and added that they are trying to build Pakistan.
Kaleemullah said that these children who died in the attack; their parents were sending them to study so that they could do something for the country in the future, but questioned that what was the point. He added that all of these children that he sees on television, they were like his brothers and sisters.
Cricketers were also stunned with the horrific incident. They also expressed grief with several players, past and present, taking to social media to condemn the attack.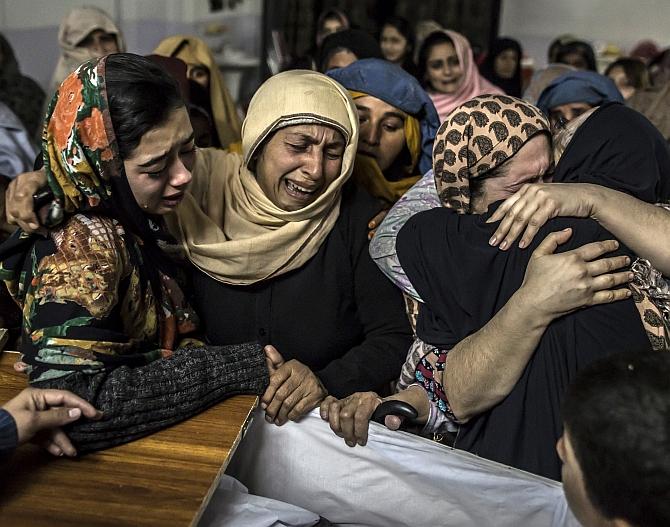 Women mourn their relative Mohammed Ali Khan, 15, a student who was killed during an attack by Taliban gunmen on the Army Public School, at his house in Peshawar. Photograph: Zohra Bensemra/Reuters
Former Indian spinner Harbhajan Singh said that those were their kids, adding that what the hell is happening in this world.
Former England captain Michael Vaughan tweeted that he cannot believe what he is seeing in Pakistan, adding that it is the greatest act of cowardice; killing kids in school.
Pakistan's Twenty20 International captain Shahid Afridi also expressed shock and reached out to the victims and their families.
Afridi stated that it is a shocking news, and he doesn't have words to explain this brutality. He added that his heart and feelings are with the affected.
Former spinner Saqlain Mushtaq also showed his grief and concern. He tweeted that his prayers are with the innocent schoolchildren who have lost their souls in Peshawar.