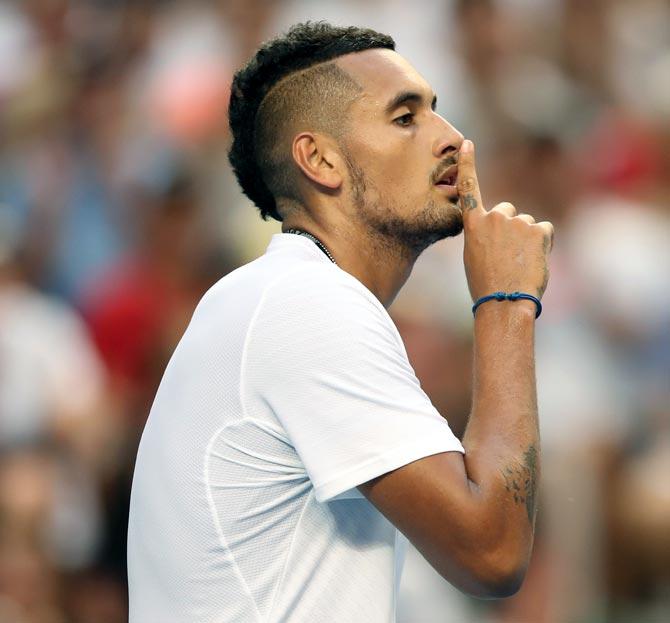 Nick Kyrgios needs to improve his fitness to have a chance of winning Grand Slams, former world number one Jim Courier said on Wednesday.
Australian Kyrgios won his fifth career title last week, beating Rafael Nadal, Stanislas Wawrinka and John Isner before dispatching Alexander Zverev in the Acapulco final.
Yet Grand Slams are best-of-five set matches which require more endurance than the best-of-three staple found week in and out on tour.
"If we expect this guy to win majors now, I think that's a bridge too far unless he addresses the physical gap between him and the other guys," four-time Grand Slam champion Courier said on the Tennis Channel at the BNP Paribas Open in Indian Wells, California.
"But from a talent, shotmaking showpoint, he showed there is no gap there, because that was a tough draw he went through."
Kyrgios has a 6-6 combined record against Novak Djokovic, Roger Federer and Nadal, a statistic that does not surprise Courier.
"Those are pressure-free matches for him. He has that first strike ability to take the racket out of their hands with his serve and then he can shock-absorb with his backhand."
"He's dangerous but he's also dangerous to himself at times in the matches on outside court when he goes walkabout like an Aussie can, and he's not as focussed."
The 23-year-old Kyrgios jumped to 33rd in the world with his Acapulco win.
He is seeded 31st at Indian Wells, giving him the luxury of a first-round bye, though he could meet top seed Djokovic in the third round.
First-round men's matches begin on Thursday.
"Big picture, it's nice to see him engaged," said Courier, who recently stepped down after eight years as United States Davis Cup captain.
"Hope this (Acapulco title) is a kick starter for him."
Kvitova says meeting with Seles was key after attack
Petra Kvitova says a meeting with former world number one Monica Seles at Wimbledon last year, where they discussed returning to the sport after a knife attack, had been one of the most important of her life.
Kvitova suffered cuts to her left hand while defending herself during a home invasion in 2016, while Seles was stabbed in the back during a match in Hamburg in 1993 which kept her off the court for more than two years.
"We met each other and decided we were looking to talk about what we'd been through," the Australian Open finalist told reporters at the BNP Paribas Open at Indian Wells on Wednesday.
"It was nice to meet someone who has been through something very similar," she said.
"It was a big surprise that she wanted to talk with me and say nice words. It was one of the biggest things I've ever heard and from such a legend, to hear what happened to her."
Seles returned to the game after the attack and won the 1996 Australian Open but never fully regained the dominant form that saw her win nine majors as a teenager.
Kvitova completed her recovery, which required surgery, ahead of schedule but said she was not sure she would ever be able to completely put the attack behind her.
"With my experience, I am not sure if I am going to be 100 percent one day and I'm not sure if she is either," she said.
"But hopefully she is happy and can enjoy her life as much as she can."
Kvitova, a two-time Wimbledon champion who is currently ranked third in the world, fell to world number one Naomi Osaka in the Australian Open final in January and to Belinda Bencic in the final of last month's Dubai Tennis Championships.
The powerful lefty will look to win her 27th WTA title when she takes on either Venus Williams or Andrea Petkovic on Friday in her first match of the tournament, where she is the third seed.
Azarenka, Konta cruise into second round at Indian Wells
Former world number one Victoria Azarenka dismissed Vera Lapko 6-2, 6-3 to set up a second round clash with Serena Williams while Johanna Konta cruised to a straight sets win in opening round action at the BNP Paribas Open on Wednesday.
After falling behind 2-0 at the start, Azarenka reeled off six straight games and ultimately made quick work of Lapko on a windy day in the California desert.
Konta's pinpoint serving proved too much for France's Pauline Parmentier to handle as the Briton coasted to a 6-2, 6-3 win to set up a second-round clash with Hsieh Su-wei of Taiwan.
Two young Americans also advanced on Wednesday as 17-year-old Amanda Anisimova crushed Serbia's Aleksandra Krunic 6-0 6-4 and 20-year-old Sofia Kenin came from behind to dispatch China's Wang Yafan 1-6, 7-5, 6-4.
Canadian Bianca Andreescu, fresh off her semi-final appearance at the Mexican Open in Acapulco last week, defeated Irina-Camelia Begu of Romania 6-7(3), 6-3, 6-3 to set up a second round battle with Dominika Cibulkova.
Czech Barbora Strycova, China's Zhang Shuai, American Jennifer Brady and German Tatjana Maria were among the other players to advance at the event in Indian Wells.