'Some of the good wrestlers are making really good money.'
'If you look at their lifestyles, they are no less compared to our cricketers.'
Dhruv Munjal reports.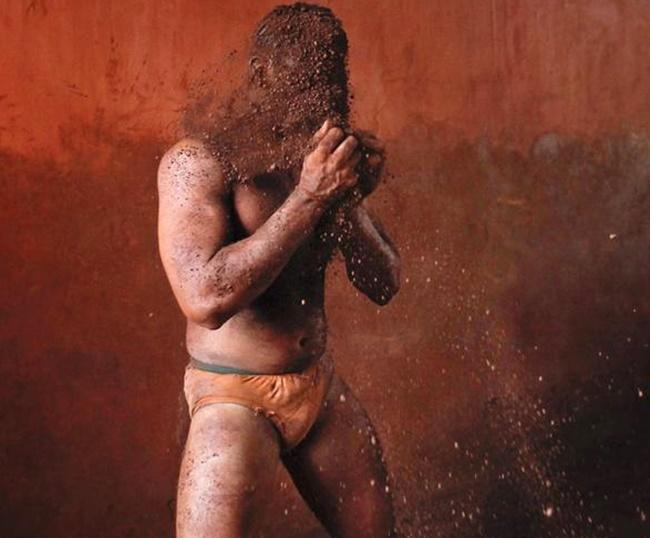 IMAGE: A wrestler rubs his hands with mud to prevent slipping due to sweat, during a traditional mud wrestling (kushti) bout at the akhara centre in Kolhapur. Photograph: Danish Siddiqui/Reuters
Naveen Mor is built like a battle tank : a hulking frame complemented by impressive muscles, and bulging veins that barely touch the surface of his skin, startlingly popping out.
Mor saunters out of the akhara, going past a bevy of marauding pehalwans, only reluctantly acknowledging their presence.
He stretches out his legs in one corner, carefully wiping the sweat off his mud-smeared face.
A couple of quick sips of water later, Mor turns over and gently collapses on the floor.
"Practice is over. I will just lie here in the mud for some time," he says.
Sushil Kumar's bronze medal winning performance at the Beijing Olympics helped in resuscitating a sport that was timidly headed for the gallows.
It is 8:30 am at the Guru Hanuman Akhara in New Delhi's Shakti Nagar.
On this muggy Thursday morning, the wrestlers are finding the going tough.
Brawny men lift dumbbells against the backdrop of a garlanded statue of Guru Hanuman, the master mentor who opened the akhara in 1925.
Next to a tiny space dedicated to Lord Hanuman, some of the younger boys crush almonds that will be added to tall glasses of milk for the pehalwans to quaff.
A couple of gas stoves are strewn at one end; the walls are scribbled with aphorisms in plenty.
As the others take turns climbing the rope that dangles from a giant neem tree, Mor heads out for a quick shower.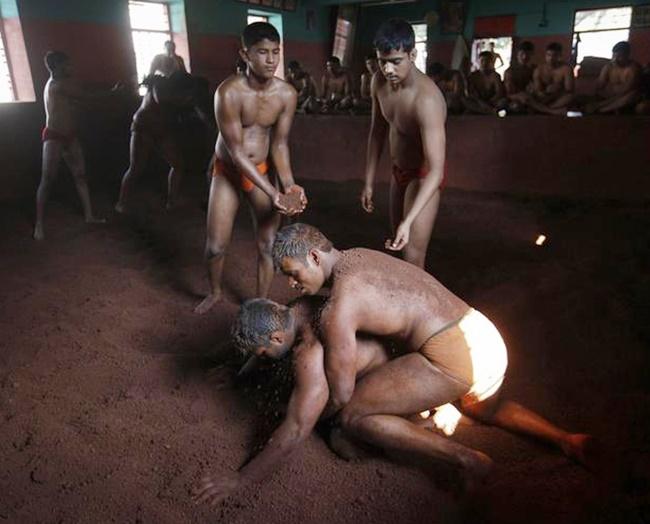 IMAGE: Wrestlers practise in the mud at a traditional akhara. Photograph: Danish Siddiqui/Reuters
The 29-year-old Mor is one of the akhara's top pehalwans. Youngsters who see him for the first time are often left struck by his covetous appetite for a fight.
In dangal circles -- traditional wrestling tournaments played out in mud pits -- stories about Mor's wondrous ability travel far and wide.
Around Raksha Bandhan, when the heat starts slackening, teeming audiences flock to dangals to watch pehalwans like Mor slog it out.
Among his various targets is a dangal that will fetch him Rs 5 lakh (Rs 500,000) -- a substantial raise from the Rs 2 lakh (Rs 200,000) he generally gets.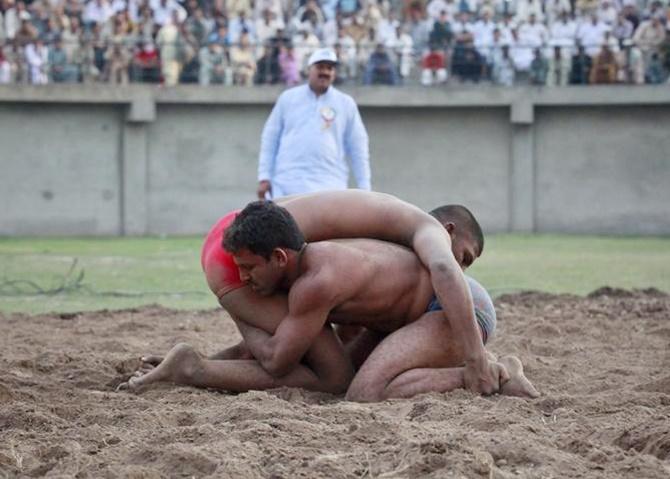 IMAGE: Wrestlers compete during a dangal. Photograph: Mohsin Raza/Reuters.
For seasoned pehalwans like Mor, prize money is seldom influenced by victory and defeat.
The pomp and grandiosity that accompany such occasions, where crowds raspingly cheer on two men grappling with their bare hands in the red mud, is how they earn their money.
"Mostly, an amount is fixed before the fight. The total purse is split irrespective of the result. But the organisers decide how long the fight will go on for, and that can be a few hours," explains Mor.
The Great Gama, arguably pre-Partition India's most legendary pehalwan, sweated it for more than three hours against Polish strongman Stanislaus Zbyszko in a fight for the world championship in 1910.
Another one with Raheem Bakhsh Sultani Wala went on for several hours.
Sushil Kumar's bronze medal winning performance at the Beijing Olympics eight years ago helped in resuscitating a sport that was timidly headed for the gallows.
And dangals have benefitted massively from that very resurgence.
Even the cash rewards that some of the bigger pehalwans attract make for astronomical reading.
In May, at the Bharat Kesari Kushti Dangal -- India's richest dangal -- in Gurgaon, Haryana's Mausam Khatri walked away with a cash prize of Rs 1 crore (Rs 10 million).
'Crorepati Khatri' was another confirmation of the enormous leap that dangals have taken. He, however, narrowly missed out on qualifying for the Rio Olympics a few months later.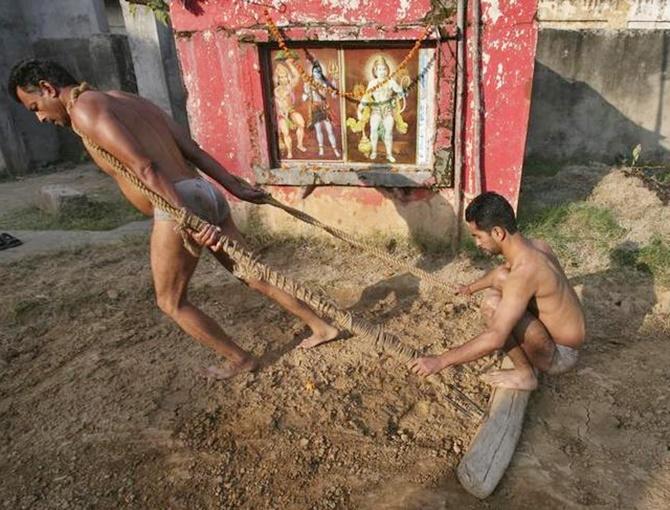 IMAGE: Wrestlers Billu, 48, left, and Ripu, 22, exercise in mud at an akhara. Photograph: Mukesh Gupta/Reuters
Maha Singh Rao doesn't like to mince words. "If you don't work hard on your academics, you're not getting any job," he sternly tells a young wrestler who has just informed him about his failure to land a government job.
A disciple of Guru Hanuman and now the chief coach at the akhara, the mustachioed, balding Rao leans back in his chair and starts talking.
In his office, history hangs heavy in the air: Maces and trophies won by legendary wrestlers lie shabbily stacked in one corner; the walls are plastered with photographs of his guru with Indian Presidents and prime ministers past.
"A lot has changed in the last 10 years. Some of the good wrestlers are making really good money. If you look at some of their lifestyles, they are no less compared to our cricketers," says the Dronacharya Award winner.
Rao's allusion maybe includes people like 28-year-old Sonu Kumar. The Jhajjar-based pehalwan, once a specialist on the mat, now solely plies his trade in the mud-pits of Haryana.
"Dangals are India's original spectator sport. Yes, the money is good, but the hard work required to get there is unreal," says Kumar. "And since we have a short shelf-life, why not?"
After stringing together a series of impressive results during the dangal season last year, Kumar bought for himself a black Toyota Fortuner.
"Some years ago, this was unthinkable," he says. He is also planning to procure a piece of land to build a new house.
Mor captures the sentiment more succinctly: "The successful guys now drive big cars, wear expensive brands and shop from fancy stores. Things have really turned around."
The days of pehalwans doubling up as bouncers at nightclubs seem to be a thing of the past.
Others such as Rohtak's Vikram Pehalwan have steadily built a fleet of cars in the last five years. "A car and a house -- that was always the goal for me," he says.
Rajiv Tomer, former Olympian and silver medallist at the 2014 Glasgow Commonwealth Games, says that dangals are only a part of the wrestling renaissance.
"Wrestling has grown overall. The mat sparked the interest and now the dangals are taking over. And, obviously the money is attracting more people," says the 35 year old who still likes to fight it out in the mud-pit every once in a while.
"Moreover, films such as Sultan and Dangal are adding to this popularity."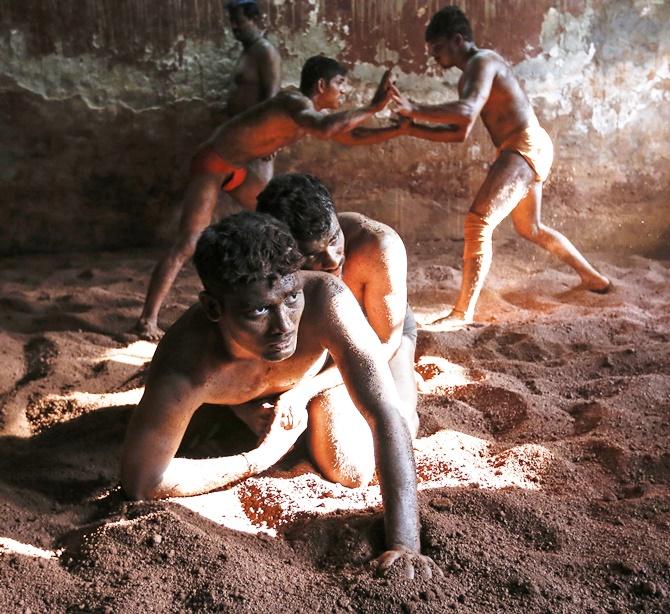 IMAGE: Wrestlers practise. Photograph: Danish Siddiqui/Reuters
Late afternoon at the Guru Jasram Akhara, tucked away in a boisterous corner of Delhi's Harkesh Nagar, is like the lull before the storm. The sun is lazily setting as a tall man sweeps the soft ground at the akhara. The mud-pit awaits its warriors in fervent anticipation.
Azad Pehalwan, meanwhile, wakes up from his siesta, and sits upright on his bed. Dressed in a bright orange T-shirt, he welcomes me with a warm smile.
Azad Pehalwan is one of the coaches at the akhara. A champion of the mud himself, he is readying himself for the new season. "Last year, I won my highest-ever amount of Rs 151,000. Hopefully, this year the rewards will be better," he announces nonchalantly.
He also reminisces how the prize money even in the bigger competitions was once not more than Rs 11,000 or Rs 21,000.
Azad Pehalwan concedes that most of the kids join the akhara for their love of the sport and the desire to win medals.
"When aspiring wrestlers come here, they just want to win medals, both national and international. Mostly, the older guys participate in dangals. You need a lot of experience to fight in dangals," he says.
More than the money, it is the want of a job that keeps them going, young wrestlers say.
Mandeep Chahar is 23 years old and has a colossal physique. A part of the training group at the Guru Hanuman Akhara for almost 10 years now, Chahar says that securing a government job is the first thing on his mind.
"You want to win medals. You want to prove yourself. But you have to understand that you win mainly win medals to get a job," confesses Chahar.
Rao agrees: "A job is the first priority. And, you can't blame them. Everyone wants a steady job."
Others such as 19-year-old Chandan Kumar, a Hyderabad native who joined the akhara only last year, says that the physical requirements for the mat and the mud-pit are completely different.
Mat wrestling is all about a whirlwind six-minute fight that is completely focused on speed and agility.
Wrestling in the mud demands staggering endurance and preposterous levels of fitness.
"It is extremely difficult to master both. A six-minute bout and one that lasts a couple of hours. It's like two completely different sports," says Chandan Kumar.
Money or no money, such a glorious restoration of a sport that was rapidly falling off public conscience is pleasantly reassuring.
Whether it's the mat with Sushil Kumar or the mud-pit with Naveen Mor, a very 'Indian' sport has truly found its second calling. That money is a part of it is both a blessing and a curse.