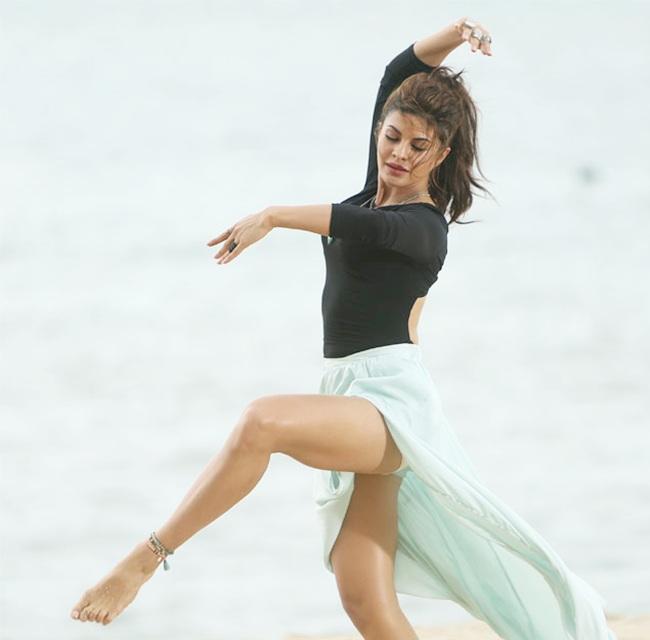 Bollywood actress Jacqueline Fernandez became the newest celebrity to become the face of the Monaco Grand Prix
The billionaires, supermodels and suntanned celebrities sipping cocktails in the Monaco sunshine might wonder what planet Jacques Villeneuve is on.
Ask the Canadian for an assessment of Formula One's showcase race, a Grand Prix synonymous with all that is most glamorous and glitzy about the world's fastest sport, and he wastes no time in replying.
"Monaco is Hell," says the 1997 world champion.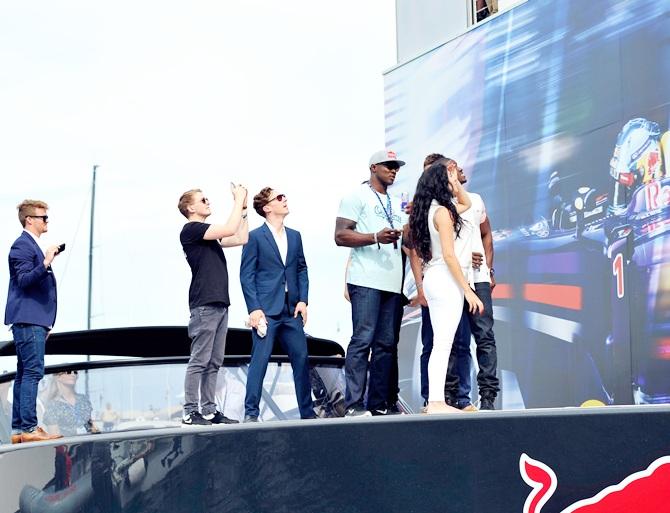 Michael Carrick, Reggie Bush, Lilit Avagyan, Benedict Cumberbatch and Disclosure prepare to watch Danny MacAskill front flip off of the Red Bull Energy Station during the Monaco Formula One Grand Prix. Photograph: Gareth Cattermole/Getty Images
Villeneuve, who lives in Monaco but never won the most historic of street races although his late father Gilles did with Ferrari in 1981, clearly has a love-hate relationship with the place.
"The driving is amazing, it's the weekend that's a pain," says the driver, who won his title with Williams and retired from the sport in 2006 after a long and lucrative spell with uncompetitive BAR.
"You can't sleep at night because there's music everywhere until six in the morning," he said.
"It's hell to work, so that's the part that's not likeable because it's not the good old days where you went to a gala the night before and got drunk and raced anyway. So Monaco is hell. But the driving is so much fun. It's so extreme, there's no margin for error. It's great.
"It's not like all these modern tracks where you can see that it's a piece of cardboard that's been taken, put there and it's got the perfect angle," he added.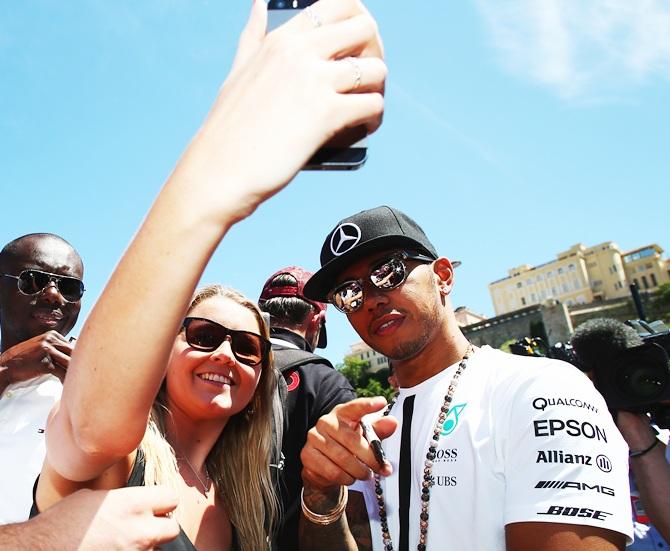 Lewis Hamilton of Great Britain and Mercedes GP signs autographs for fans during previews to the Monaco Formula One Grand Prix. Photograph: Mark Thompson/Getty Images
Monaco's more discreet and well-heeled residents would surely agree about the noise.
For one week every year, the usually tranquil Mediterreanean playground, with more millionaires per metre than anywhere else in the world, becomes a raucous and crammed party central for petrolheads.
Never mind the music reverberating across the water from the yacht parties. The streets throb with sound systems from pavement bars while passing supercars rev their engines as they crawl through the crowds.
Those drivers who live in the tiny principality, and they are in a majority, return home with relief between far-flung races knowing they can live a normal life without intrusion.
If some of that goes out of the window during the grand prix weekend, there are ways of coping and compensations in waking up at home.
"Outside the track it is tougher than other races but in the car it's the best of the year because the track is so exciting," agrees Mercedes driver Nico Rosberg, who grew up in Monaco and has won for the past two years.
"It makes it very intense. But being local I know the secret ways if I want to avoid people," added the German, whose champion father Keke won in 1983.
World champion Lewis Hamilton, who now enjoys a jet-setting lifestyle after an under-privileged upbringing in England, is another big fan.
"It's Monaco, I live here, it's one of my favourite places in the world to go. The track is incredible," said the Mercedes driver, who leads Rosberg by 20 points after five races.
"It's the one track we have which is special on another level and it generally always turns out to be one of the most amazing weekends of the year," he told reporters. "Not only for us but for people who get to come and enjoy the weekend.
"I've been here the last two weeks. When I wake up and I go out onto my balcony and look over Monaco, I think 'this is just crazy'."