'Novak showed no fight and maybe it was partly down to the windy conditions'
'He really seemed to accept the outcome well before it was conclusive'
'The problem when one of the people on your team is all about love and peace and has been part of the camp for over a year'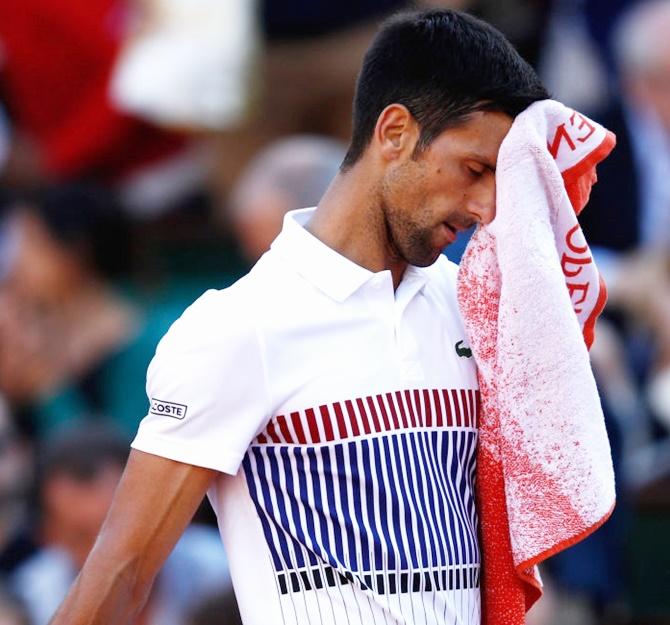 IMAGE: Novak Djokovic of Serbia looks dejected. Photograph: Adam Pretty/Getty Images
Double French Open champion Jim Courier said Novak Djokovic's decision to work with so-called 'guru' Pepe Imaz was partly to blame for his shock defeat at Roland Garros on Wednesday.
Defending champion Djokovic, who recently split with his long-term coaching team and worked with former great Andre Agassi in the first week in Paris, crumbled to a 7-6(5) 6-3 6-0 defeat by Austrian Dominic Thiem in the quarter-finals.
The last set whizzed by in 20 minutes as Djokovic appeared to be going through the motions -- falling short of a seventh successive French Open semi-final.
"The problem when one of the people on your team is all about love and peace and has been part of the camp for over a year, it's not something that you can fall back on when you are pushed into a hole," American Courier, working for British broadcaster ITV, said.
"Novak showed no fight and maybe it was partly down to the windy conditions. He despises playing in the wind. He really seemed to accept the outcome well before it was conclusive."
Courier said world number two Djokovic must seek out Agassi to try and rediscover the spark that appears to be missing.
"Andre knows how to broach this type of thing and will ask the right questions to see how Novak can avoid this kind of thing going forward," Courier said.
"But there are questions remaining about Novak. Since Wimbledon last year there have been so many question marks about what's going on, on and off the court."
Imaz, a former Spanish player, has been described as a "spiritual guru" who uses the philosophy "peace and love" at his tennis academy. Djokovic linked up with him last year.