'It's frustrating because you have to rest and do rehab'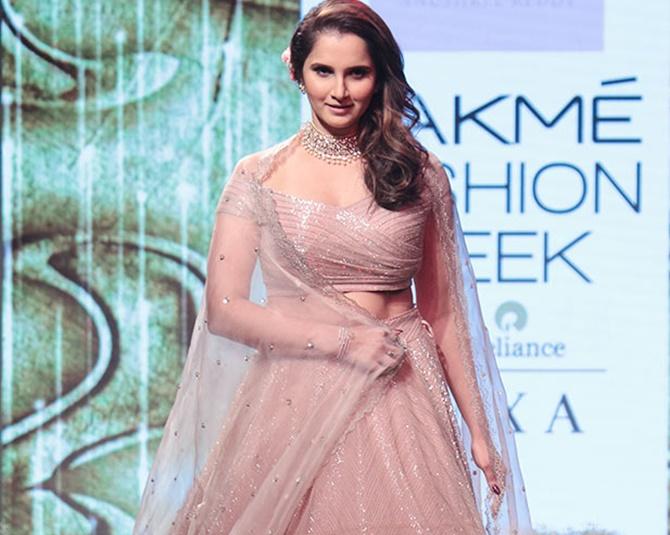 IMAGE: Sania Mirza walks the ramp at LFW for designer Anushree Reddy. Photograph: Hitesh Harisinghani/Rediff.com
Injured tennis star Sania Mirza says it will take her at least two more months to get battle ready and what frustrates her most during the rehab period is not the physical pain but the compulsory rest.
Sania, winner of six Grand Slam titles, is out of action since October 2017 due to an injury in her right knee, forcing her to miss first Grand Slam of the season.
"(It will take) a couple of more months. I don't want to get into technicalities of it but even if there was a surgery there is no guarantee that it is going to get better. It's basically pain that I need to manage," Sania said before kicking off tennis activities at Supertech Sports Village.
"It got out of hand so I had to take time off. I could not take pain killers anymore. It is getting better. It's frustrating because you have to rest and do rehab."
The 31-year-old Hyderabadi was asked what was the most challenging part during the rehabilitation period.
"Toughest thing is the mental part. Like it was difficult to watch Australian Open and not play. As an athlete when you are forced to do something, it's difficult to accept. When you retire by choice, it's different."
"But it's not first time that I am injured. I have had three surgeries before. As an athlete, I am used to that. It's mental more than the physical pain," she shared her frustration.
Sania, whose ranking has dipped to 14, is confident that missing out on tennis for about four months won't impact her adversely.
"I turned Pro in 2003. It's a very demanding life away from family and loved ones in a hotel room. I had a pretty long career. Do I think that these four months are going to make a difference in my career? No, in larger perspective. I have to take positives out of it," she said.
Reflecting upon her 2017 season, during which she managed to win just one WTA title, compared to eight in 2016 and 10 in 2015, Sania rated it as a decent one.
"As an athlete we are always greedy. When we win 10, we want to win the 11th (title)and whew we win one, we want to win three. When hunger is not there, you know it's time to retire. I still finished in top-10, it was a decent year. 2017 was a solid year but it can get better," Sania said.
Talking about the upcoming Fed Cup, beginning Wednesday at DLTA, Sania said Indian team has a tough task ahead.
"I will retire one day, they should get use to it a little bit (laughs). It's going to be tough matches as always. It will be a great experience for them, they are all young."
Asked if she sees herself playing the 2018 Asian Games in Indonesia, she was non-committal.
"The first Asian Games I played was in 2002 when I was 15. It's been really long, I would like to play another one if I can and win more medals. I have come back with medals every time I played. So it would be pretty amazing, but I can't look that far ahead, want to focus on my recovery."
On a philosophical note, Sania said playing a sport helps in becoming a better human being.
"Sports is not just about becoming a champion. It's about learning way of life. Sport is about accepting defeat and handling victories. Just because I have a tennis academy back home and there is an academy here, that does not guarantee we are going to have world champions. But what you can guarantee is to be a better human being, sport teaches you that."
Sania also emphasised that for India to become a sporting a sports culture is required, where more and more people are playing.
"Become a sporting nation, does not mean how many champions you have, it means how many people are playing a sport. When you go to Australia or America, every kid there plays whatever it is, baseball or football. Because they have so many in numbers playing, they have so many champions. It has got a lot better (in India) in the last few years."
Sania hit a few balls with kids at the tennis academy at Supertech Sports Village, which will take another five years to develop fully.
Spread in 175 acres, the village will have tennis, cricket, shooting and badminton academies in 70 per cent area while residential properties will be developed in remaining 30 per cent.
© Copyright 2021 PTI. All rights reserved. Republication or redistribution of PTI content, including by framing or similar means, is expressly prohibited without the prior written consent.