It means…U-20 World Cup can kick on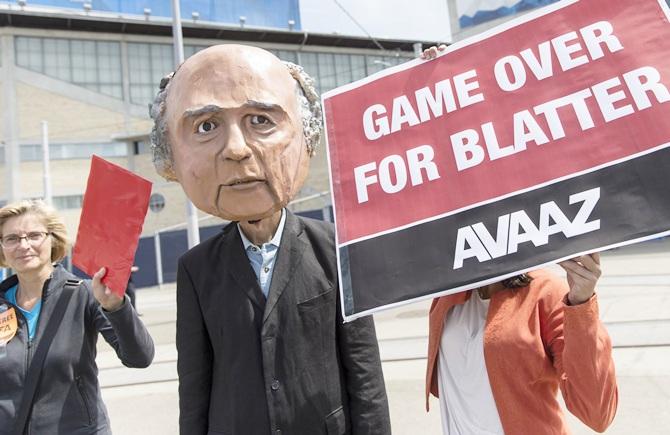 Activists with a mask of Joseph S. Blatter are pictured in Zurich. Photograph: Alessandro Della Bella/Getty Images
Sepp Blatter's shock resignation as FIFA president should allow people to now focus on events on the pitch at the under-20 World Cup in New Zealand, according to the country's soccer boss and the man heading the local organising committee.
Who got Sepp Blatter? Who shot him?
Problem solved, say sponsors after Blatter resigns
Blatter stands down as FIFA president
Will Maradona throw his hat into FIFA presidency ring?
Soccer has been hit hard by the latest controversy involving the world governing body, which saw seven high-ranking officials in Switzerland at last week's FIFA Congress arrested on behalf of US authorities.
A total of 14 FIFA officials and corporate executives have been charged by the US Department of Justice with running a criminal enterprise involving more than $150 million in bribes.
"I wouldn't say it has tainted the (under-20) competition, but it has tainted the brand of football without question," New Zealand Football chief executive Andy Martin told Reuters on Wednesday.
"I am delighted this has been taken out of the way this morning, I would just encourage everybody to get behind our boys," he added, referring to the hosts must-win final Group A match against Myanmar in Wellington on Friday.
"Their match on Friday becomes a cup final, if we get through it is a huge, huge achievement for everybody involved in football in this country because it hasn't been done before."
Martin added the arrests and Blatter's resignation had contributed to the conversation on the sport in rugby-mad New Zealand, though people were also talking about the tournament's high quality of play.
Local organising committee head Dave Beeche agreed.
Beeche hoped the fallout from the FIFA scandal would dissipate, but he acknowledged the possibility there could be "a few more chapters" come out in the next few weeks.
Blatter was now unlikely to travel to New Zealand for the latter stages of the May 30-June 20 tournament, Beeche added.
Australia, New Zealand welcome Blatter resignation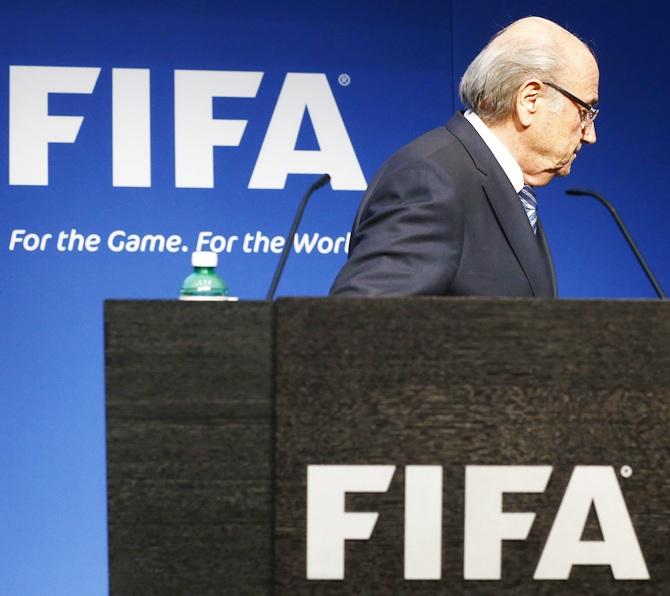 Sepp Blatter leaves after his statement during a news conference at the FIFA headquarters in Zurich. Photograph: Ruben Sprich/Reuters
Soccer officials from Australia and New Zealand welcomed the shock resignation of FIFA President Sepp Blatter.
The Asian Football Confederation (AFC), which like Oceania has been a staunch ally of Blatter, said on Wednesday it was monitoring the situation and would discuss internally the 'best way forward for both FIFA and world football'.
The Japan Football Association (JFA) said it was surprised by Blatter's decision to stand down so soon - just four days after his re-election for a fifth term.
Kozo Tashima, Japan's new FIFA Executive Committee member, told reporters on Monday that stories about corruption had dogged FIFA for a long time and "all of the pus must be squeezed out" for it to regain trust. On Wednesday, the JFA said it would play its role in helping FIFA reform.
Football Federation Australia (FFA), which joined the AFC in 2006, and New Zealand Football (NZF), which remains in Oceania, had gone against the stated positions of their respective confederations by deciding to back Prince Ali.
NZF had publicly switched allegiance to Prince Ali after the arrests, while FFA had been increasingly critical of Blatter's leadership after losing out to Qatar in a vote to host the 2022 World Cup.
The Australian governing body welcomed Blatter's decision to step down, but said there now had to be root-and-branch change.
Qatar World Cup organisers ready to fight for 2022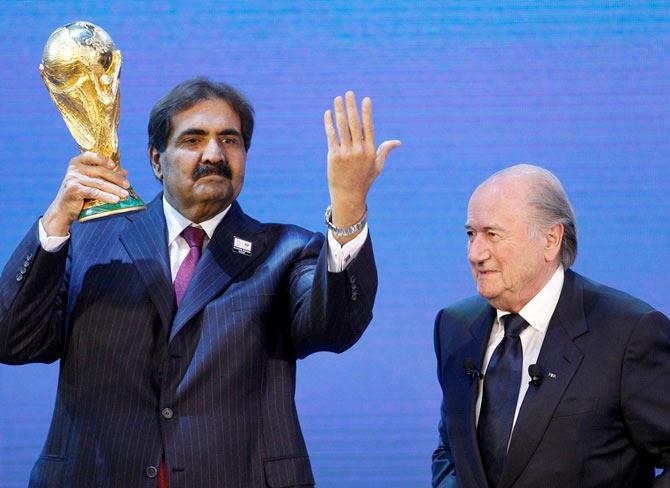 Qatar's Emir Sheikh Hamad bin Khalifa al Thani (left) holds up a copy of the World Cup he received from Sepp Blatter. Photograph: Christian Hartmann/Reuters
Organisers of the 2022 World Cup in Qatar have indicated they will not relinquish the right to host soccer's showpiece event easily, whatever the fall-out from Sepp Blatter's decision to step down as FIFA president.
No sooner had the Swiss announced his decision than English Football Association chairman Greg Dyke raised the possibility that the controversial vote that awarded Qatar the tournament could be re-run.
"If I was the Qatari organisers I wouldn't sleep very well tonight," the former TV executive told British media.
"I think if the evidence comes out which shows the bidding processes were above board that's fine. If it shows they were corrupt then obviously the bids should be re-done, it's as simple as that."
Sheikh Hamad Bin Khalifa Bin Ahmed Al-Thani, President of the Qatar Football Association, hit back immediately.
"Mr Dyke's instinct to immediately focus on stripping Qatar of the World Cup speaks volumes on his views concerning what will be the first FIFA World Cup to take place in the Middle East," he said in a statement.
"We would urge Mr Dyke to let the legal process take its course and concentrate on delivering his promise to build an England team capable of winning the 2022 FIFA World Cup in Qatar."
Qatar beat Australia, Japan, the United States and South Korea to win the right to host the tournament, but the ballot has been dogged by allegations of corruption ever since.
The summary of an internal FIFA investigation into the bidding process for the 2018 and 2022 World Cups, released in 2014, cleared the Qatar bid of wrongdoing.