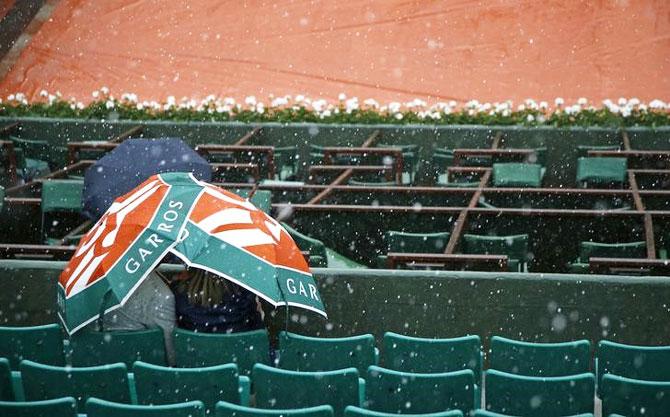 IMAGE: Spectators take shelter under an umbrella during heavy rain falls on Central court at Roland Garros. Photograph: Jacky Naegelen/Reuters
If there is a new member of the Grand Slam champions' club this weekend, nobody should be surprised -- the conditions at this year's sodden, chilly French Open suit the underdog.
Mats Wilander, a winner of seven Grand Slam crowns, says the heavy balls and slow conditions at Roland Garros favour up-and-coming tyros over the established guard.
"To get anywhere here right now, you have to put 10, 20 percent on your shots," the Swede told Reuters on Thursday, as a cold wind whipped the grounds.
"That is what these underdogs do all the time. The big names, they win matches playing within themselves, and that is fine when you are on a warm, dry hard court in California.
"But here? Forget it. To get anything you need to take risks and hit big. That's what the underdogs always do, and that's when anything can happen. Top players can adjust, but the advantage is certainly with the underdog."
This year's tournament lost a full day's play at the start of the second week, and numerous hours in total lost to drizzle and early finishes.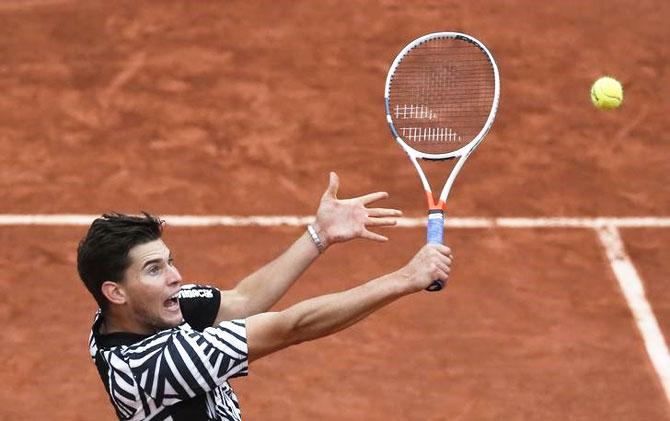 IMAGE: Austria's Dominic Thiem in action against David Goffin during their French Open quarter-final on Thursday. Photograph: Gonzalo Fuentes/Reuters
Swiss champion Stan Wawrinka and Britain's Andy Murray are set to contest the bottom semi-final on Friday, so there will be no breakthrough name there. But Dominic Thiem will face Novak Djokovic in the other last four contest.
Of the six remaining possibles, three could be first-time Slam winners.
To do so, though, they will have to master the toughest Grand Slam tournament of all, according to John McEnroe.
"It always used to be Wimbledon was the toughest slam," said the American, who is in Paris with Wilander commentating for Eurosport.
"We were always on-off, on-off, on-off," the American added, referring to the rain delays which were a feature of Wimbledon life before the installation of a roof at the All England Club Centre Court.
The Australian Open has three roofs at MelbournePark -- mainly to counter the searing January temperatures -- and Wimbledon added one in 2009.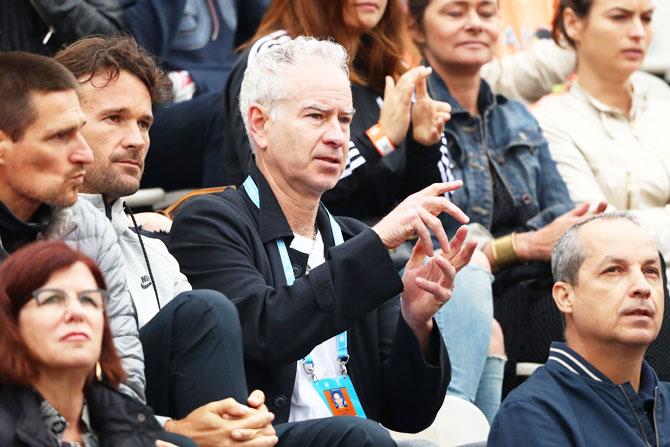 IMAGE: John McEnroe watches the action during the fourth round match between Milos Raonic of Canada and Alberto Ramos Vinolas of Spain at the 2016 French Open on May 29. Photograph: Julian Finney/Getty Images
A steel retractable roof will be fully functional before the first 2016 US Open match begins in August in New York, leaving Roland Garros as the only uncovered Slam.
"I'd always thought Wimbledon was the toughest to win," said McEnroe, three times a champion on London's lawns, but never better than a finalist in France.
"You were on the court, off the court... They've eliminated that now with the roof. But now you are here, and you just have to deal with it."
Although it is not only the uncertainty that makes Roland Garros such a tough proposition.
"You really have to have a total game... be able to do everything," said Wilander.
"That is what makes this one so hard.
"It really can be like two different tournaments. Fast and dry and like a hard court... or like this. You need to be the complete player," added the Swede, pulling his collar together as the wind blew through the stadium.