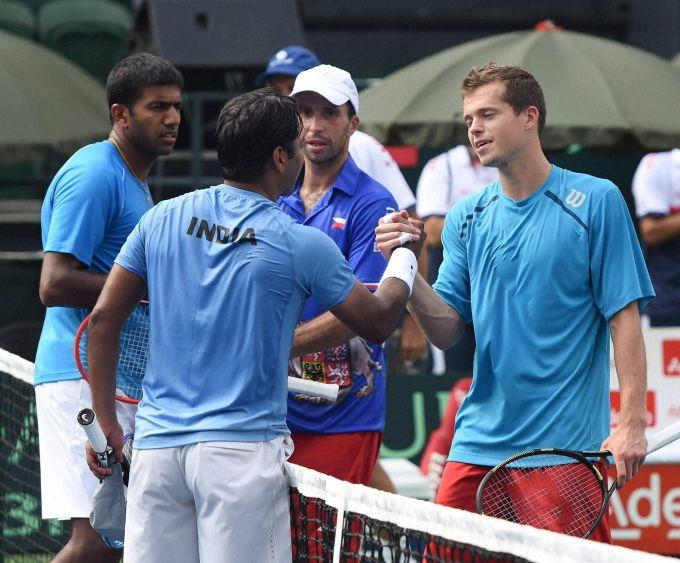 India's Leander Paes and Rohan Bopanna congratulates Adam Pavlasek and Radek Stepanek of Czech Republic during the Day 2 of the Davis Cup World Group play-off tie. Photograph: PTI
India's non-playing captain Anand Amritraj said that the doubles team's "shock" defeat on day two resulted in the hosts ultimately losing the Davis Cup World Group Play-off tie against Czech Republic.
Yuki Bhambri went down 3-6, 5-7, 2-6 to Czech number one Jiri Vesley in the must-win fourth rubber, that led to India remaining in the Asia'Oceania Group 1 for next year's competition, while the top seeds and three-time champions Czech Republic regained their place in the elite-16 nation World Group.
"Obviously, I am disappointed with the end result. I thought, in Delhi with the heat and the humid conditions, this was our best chance of winning. On Friday evening, I thought we did what we wanted to do, which is to be 1-1 at the end of the first day.
"We assumed that our doubles team is going to come through yesterday but that was a rude shock and was totally unexpected that we end up losing that match. And not just losing but losing it in three straight sets," he said at the post match press conference.
"I think we lost the tie yesterday. If we had won yesterday, there would have been less pressure on Yuki today and Somdev was going to come out after that to play (Lukas) Rosol.
"Somdev was expected to keep Rosol out there was 3-4 hours and if the guy could still beat him then we would have lost 3-2. But yesterday was the day that decided the tie. I am disappointed with how things went," rued Amritraj.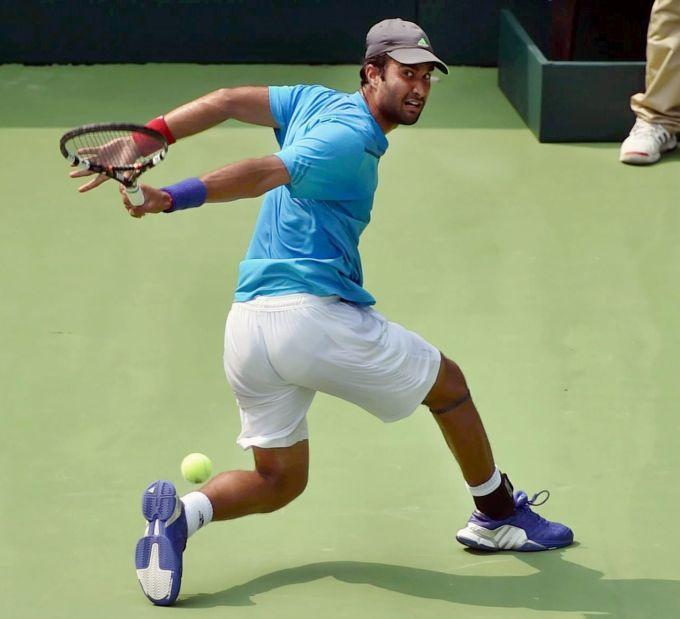 India's Yuki Bhambri returns during his Davis Cup tie against Jiri Vesely of Czech Republic. Photograph: PTI
The Indian captain felt that the World No. 40 Czech player was fading away after the second set and had Yuki managed to stretch him longer, things could have been different.
"I had told Yuki to keep Jiri out there for two hours anyhow and make him work for every point, besides going for his own shots. I told him to try to prolong his stay in the court for as long as possible. But today I think Jiri came out more mentally prepared knowing how the heat was going to be. Still by end of the second set, I felt he was fading. But somehow today Jiri played like a top-50 player," said Amritraj.
Against Somdev on the first day of the competition, Vesley failed to cope with the heat and reeled under humidity to go down in straight sets.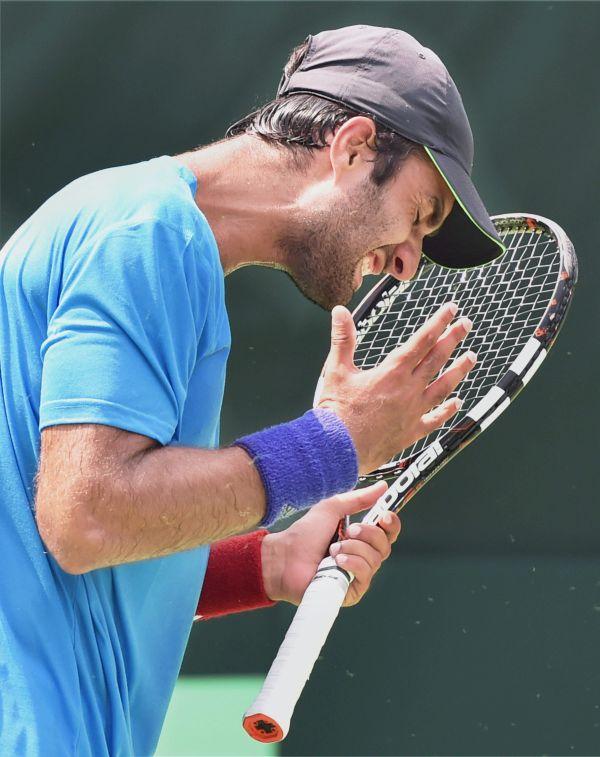 India's Yuki Bhambri reacts during his Davis Cup tie against Jiri Vesely of Czech Republic. Photograph: PTI
Amritraj said the second set turned out to be the most crucial.
"I thought the second set was very critical and had he managed to win one point, we would have been in the fourth set," he said.
Yuki also agreed with his captain and said, "I played one bad game in the first set and that was the key. Jiri served really well. It is tough to win a best of five-setter if you are not able to break serve. I also had trouble on the ground strokes. In the second set, one point could have turned things around," said Yuki.