India might have failed to win the Azlan Shah Cup hockey tournament for a record sixth time, but coach Micheal Nobbs is delighted with the bronze medal showing and said his wards did enough to finish on the podium.
Five-time champions India today stunned pre-tournament favourites Great Britain 3-1 to clinch the bronze medal in this year's Sultan Azlan Shah Cup.
"I'm obviously very pleased. It's a good win and a medal here is what we were aiming at. We would've loved to win the title, but we have done well to get on the podium," Nobbs said at the post-match press conference.
"We played this match well to get the bronze," he added.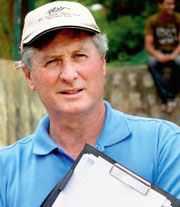 India's 2-3 loss to Great Britain in their round-robin league match, notwithstanding, Nobbs said he was confident of putting it across their rivals.
"I was expecting such a victory. I was actually thinking of 3-0 margin before the game," he said.
The Australian said that after a not-so-impressive opening half, the Indian attackers showed more intent in the second period.
"At half-time, after conceding the lead in the 35th minute, I told my players to be more thorough with their execution, as they were losing the ball after getting into the (rival) circle," Nobbs pointed out.
"Once they began doing that in the second half, our attacks had more penetration. I think our forwards can do better," he added.
Nobbs was of the view that erstwhile champions India need to play more tough opponents in the run up to the London Olympics in order to improve their game.
"We need more tough matches to improve, and that's what were were seeking when we decided to come here," he said.
© Copyright 2020 PTI. All rights reserved. Republication or redistribution of PTI content, including by framing or similar means, is expressly prohibited without the prior written consent.