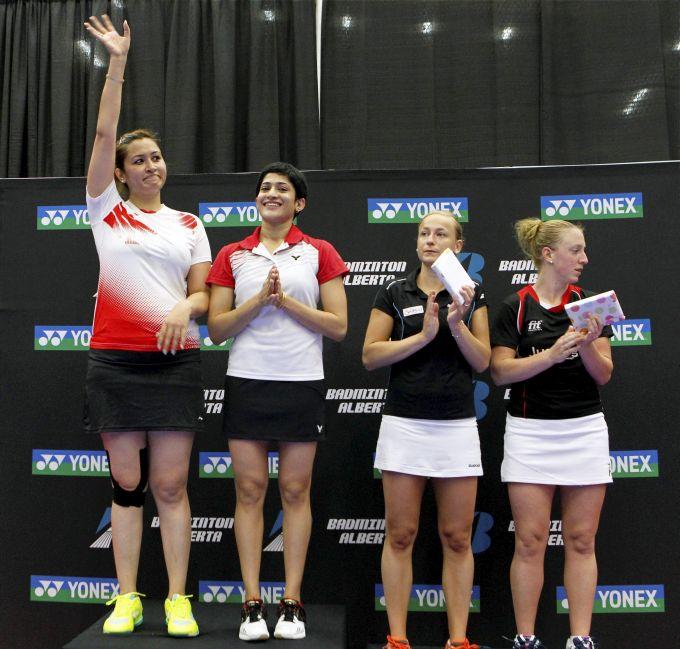 Ashwini Ponnappa and Jwala Gutta celebrate after winning the Canadian Open. Photograph: PTI
Fresh from her triumphant exploits with senior partner Jwala Gutta in the Canadian Open, shuttler Ashwini Ponnappa said the ace Indian doubles pair is now aiming to break into the top ten and qualifying for next year's Rio Olympic Games.
"For doubles, the top 16 pairs will qualify and we have to be in the top 13. Ideally, we want to be in the top ten. The qualifying process started this May and ends next May. There are quite a few tournaments (left to qualify), but until the last moment anything can happen. It's still a long way to go," Ashwini said.
"When we qualified for the Olympics the last time (2012, London), we had to wait till the Indian Open and had we lost in the quarters we would not have qualified," recalled the 25-year-old.
Currently, Jwala and Ashwini, who complement each other with their different areas of specialization on court, are ranked 13th in the world and their first major outing is next month's World Championships in Jakarta, Indonesia, where the pair wants to win a second medal, said Ashwini.
"I would love to win a medal at the World Championships. Yes, we have won a medal (bronze) earlier (in 2011). And now Jwala and I are working towards winning another medal," said Ashwini.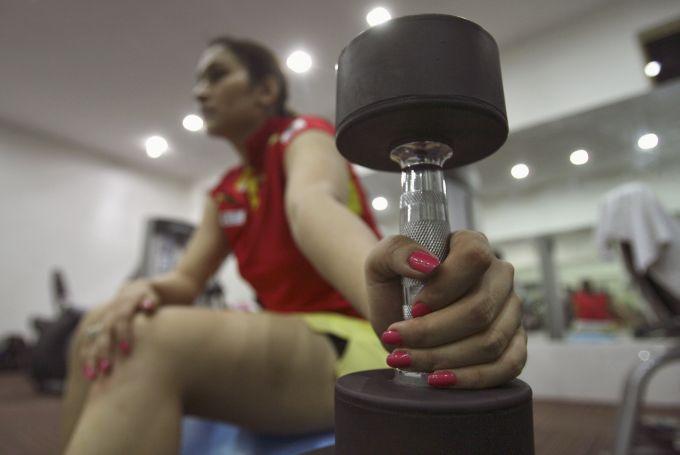 Jwala Gutta holds a dumbbell while exercising at the gym before a practice session. Photograph: Krishnendu Halder/Reuters
Ashwini welcomed the reported appointment of a specialized doubles coach, Malaysian Tan Kim, but said she wants a separate camp for doubles players.
"I don't know the status (of the reported Badminton Association of India move to appoint Tan Kim). Of course, it will help if we have a separate coach (for doubles), but a separate camp for doubles at a different centre will also help," she said.
"Jwala and I are training in different cities. We pay for all additional things like physio, trainer, nutritionist, while all other singles have their own support team. It's very expensive."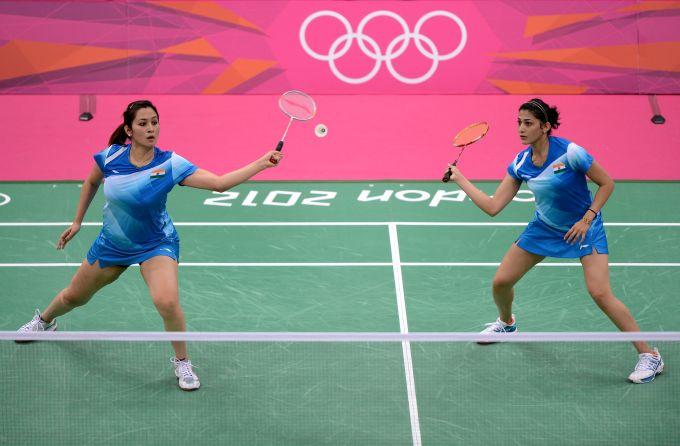 Ashwini Ponnappa and Jwala Gutta in action. Photograph: Michael Regan/Getty Images
Without mentioning any names, she hit out at the advisers of the sports ministry for not caring for doubles players.
"We did write to the ministry when the TOP (Target Olympic Podium) plan came up but after that we have been voicing our opinion to the media. I don't think the ministry is getting the right advice (over the TOP plan)," she said.
"They are supporting four singles players for Rio when only two can qualify for the Olympics. Only two (in singles) have a sure shot at qualification. They don't want to support doubles players who had qualified for the last Olympics. They are taking two extra players who can't qualify whereas we can win a medal," she emphasized.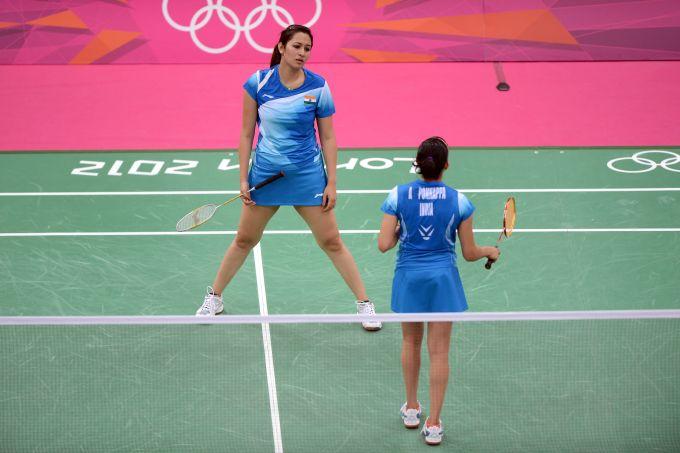 Jwala Gutta and Ashwini Ponnappa. Photograph: Michael Regan/Getty Images
"I do share the same sentiments (on lack of support for doubles players) as Jwala. She is very vocal. The reason why other countries are doing well is they give fair treatment to all.
"England's doubles players are doing well. Denmark has an all-round approach except women's singles. They all have coaches for mixed-doubles too, other than men's and women's doubles. Japan has 5-6 pairs, Korea, China, Indonesia have 5-6 pairs," she noted.
Ashwini conceded that she and Jwala have not done as well against Chinese pairs.
"We have not been all that consistent with Chinese. The last time we played in Singapore, it was a good match. We need that extra edge to get over them and beat them. We need to train harder.
"I hope things are going to get better with proper support for doubles."