Manchester United coach Alex Ferguson believes his star striker Wayne Rooney has been a troubled soul.
Rooney has gone from Player of the Year to a flop for England and Manchester United and a figure of shame for his reported dalliance with a prostitute, The Sun reports.
Ferguson said: "I don't know the reason for his loss of form because it started in the World Cup. Whether some clubs have been filling his head in that period to affect him we don't know. The important thing is for us to put it behind us. But certainly something has been troubling him."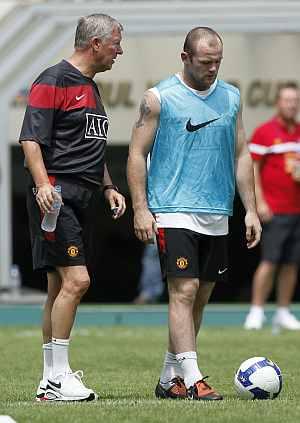 Ferguson believes the weight of feeling against Rooney forced a U-turn as he finally signed a new five-year contract worth 250,000-pounds-a-week.
Ferguson said: "Nobody enjoys that sort of attention. When he saw the impact his decision made it took him aback and he had a rethink."
7407 Man U fans part with their cash to pay Rooney's weekly pay
Meanwhile, at least 7,407 Manchester United fans is the number required through the turnstiles to pay just a week of striker Wayne Rooney's new 10 million pound annual wage, according to the Daily Mail.
The number is a staggering 10 per cent of the club's average home gate.
The surprising figure has shocked Mike Turton, a founder member of FC United, who claims that the Premier League is now all about money.
"Looking at the Rooney saga, I'm glad I'm out of it, not paying these millionaires and not paying Glazer's interest. I followed United for 30 years and I was a season-ticket holder, but the Premier League is less interesting for me now,"
"There is a lack of soul and quite a few mercenaries just passing through. Some Premier League club supporters want to be winning things at all costs and they don't see the bigger picture," he added.
Gordon Taylor, Professional Footballers' Association Chief Executive, also supported Turton's claims and urged his members and the game to show a social responsibility.
"Rather than just pay fortunes, with the balance of payments going abroad, the game has a duty to give the next generation a chance and I'd like to see managers given more time to bring young players through," Taylor said.