ATP chief hails Nadal's 'unprecedented' return to top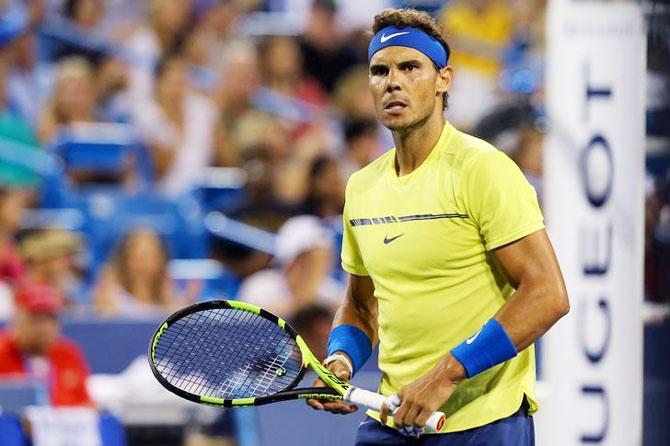 IMAGE: 'Rafael Nadal's return to the to shows incredible dedication and longevity'. Photograph: Aaron Doster-USA TODAY Sports/Files via Reuters.
Rafael Nadal returned to the top of the world rankings on Monday and thanked his fans for the support through the years.
"It's been a special year and today is a special day. Coming back to number 1… just very happy and many thanks for everything," Nadal said in a Facebook post (video below).
The Spaniard's return to the top is a testament to his longevity in the game and is as impressive as any of his career achievements, men's tennis chief Chris Kermode has said.
"To regain the No. 1 ranking nine years after having first reached it is unprecedented," ATP president Kermode said in a statement.
"Rafa has been setting records throughout his remarkable career and this one is as impressive as any. It shows incredible dedication and longevity, and we congratulate him on this amazing achievement."
Nadal, a 15-time grand slam winner, came back from a series of knee and wrist injuries to reach the Australian Open final and claimed a record 10th French Open title this season.
"Being No. 1 after all the things that I have been going through the last couple of years is something unbelievable, so (it) is, for me, an amazing achievement to be back to that position after three years," said Nadal.
Nadal has claimed four titles on tour this season, winning 49 matches and losing nine in a stellar 2017.
Nadal is currently in New York practicing for the US Open that starts on Monday, August 28.
WATCH THE VIDEO
Video: Kind courtesy Rafa Nadal/Facebook