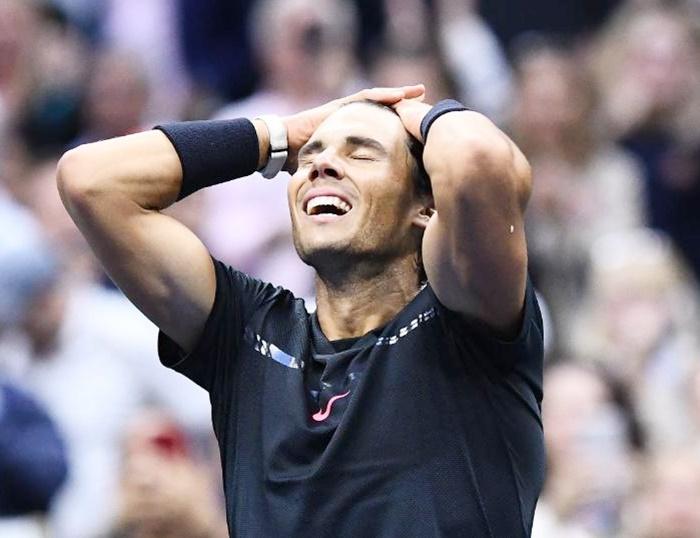 IMAGE: Rafael Nadal is a bundle of emotions after winning his third US Open title and 16th Grand Slam on Sunday. Photograph: US Open/Twitter
Capping a fine year in an appropriate fashion, World No. 1 Rafael Nadal literally overwhelmed Kevin Anderson, and the world alike, when he did not face a single break point and lost only 15 points on his serve in the final match, to win his third US Open title and 16th Grand Slam major in New York on Sunday.
Nadal claimed his second grand slam title of the year -- having won the French Open in June -- beating No. 28 seed Kevin Anderson of South Africa in straight sets 6-3, 6-3, 6-4 at Arthur Ashe Stadium in Flushing, on Sunday.
Nadal now has won at least two grand slam tournament titles in a season for the fourth time in his career.
Nadal further solidified his standing as the world's No. 1 male player and trails only Roger Federer, who has 19 major titles.
"For me, personally, it's unbelievable," Nadal said after winning his 16th Grand Slam title. "After a couple of years with some injury problems, it has been very emotional since the beginning of the season. Since the Australian Open, I've been playing a very high level of tennis. Winning here in New York gives me great energy, because the crowd is unbelievable. They make me feel so happy," Nadal said after his victory.
An exceptional performance from start to finish, Nadal has been impeccable this tournament.
"It has been a great two weeks. Increasing level of tennis and increasing confidence during that two weeks. I have this trophy with me again here in New York. It means a lot to me. There is no better way to finish the Grand Slam season for me after a very emotional season in all aspects," the ATP website quoted Nadal, as saying.
"So I'm very happy the way I played, happy the way I managed the pressure and the way I was competing during the whole event. Playing better or worse, the competitive spirit has been there in a very positive way all the time," he added.
At the presentation, Anderson opened with words of congratulations for Nadal.
"I know we're the same age but I feel like I've been watching you my whole life," The Guardian quoted Anderson, as saying.
Anderson thanked the USTA, Brad and the University of Illinois tennis team and all the fans who have supported him these two weeks.
"I'll keep fighting like you always taught me and I'll be back," he added.
Video courtesy: US Open Tennis/Twitter
With inputs from ANI