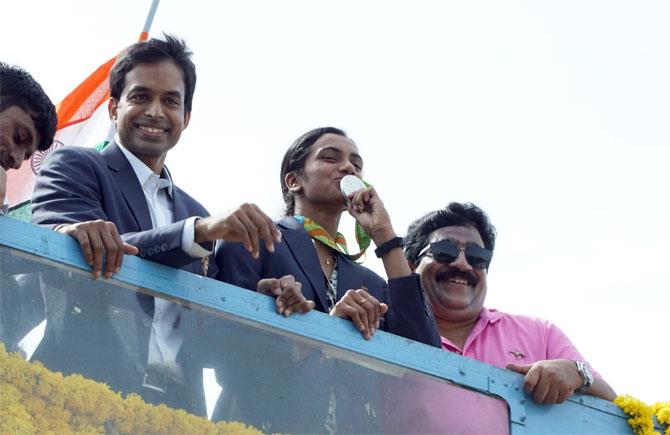 IMAGE: Rio Olympics silver medallist PV Sindhu and coach P Gopichand get a rousing reception atop an open-air bus in Hyderabad on Monday. Photograph: SnapsIndia
Olympic silver medallist P V Sindhu arrived, in Hyderabad, to a grand welcome at Hyderabad International Airport on Monday.
WATCH: PV Sindhu arrives to rousing reception HERE!
Amid scenes of jubilation and loud cheers from scores of people, Sindhu, accompanied by coach Pullela Gopichand, was greeted by her parents -- P V Ramana and P Vijaya – besides Telangana Deputy Chief Minister Mohd Mahmood Ali, and some ministers from Telangana and Andhra Pradesh.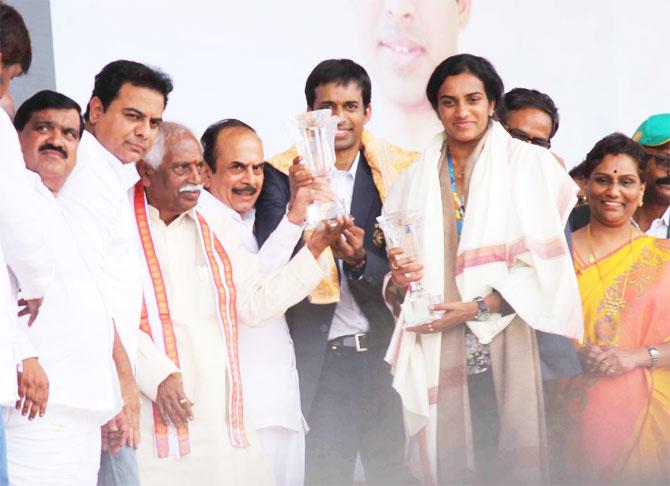 IMAGE: PV Sindhu and coach P Gopichand being felicitated by Telangana Govt officials. Photograph: SnapsIndia
Later, displaying the silver medal, she also waved to the cheering crowds from the open-top-motorcade as the procession began from the airport towards Gachibowli stadium, where the Telangana government has organised a gala felicitation in honour of the star shuttler.
The Telangana government had announced Rs five crore cash reward for the 21-year-old, a 1,000 square yard housing site near the Pullela Gopichand Badminton Academy in Gachibowli and suitable government job, if she is willing.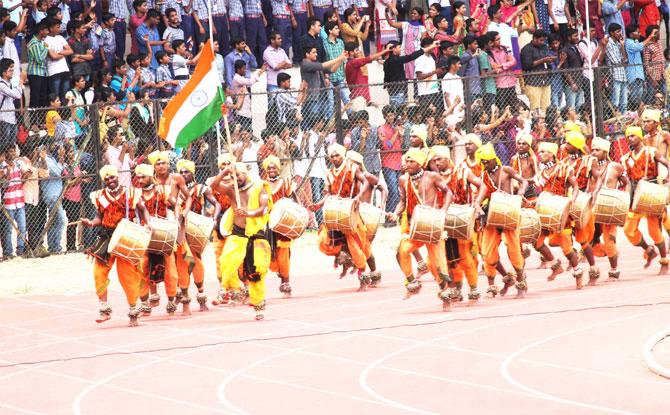 IMAGE: Traditional musicians participated in the felicitation ceremony at the Gachibowli stadium, in Hyderabad. Photograph: SnapsIndia
Telangana government had also announced cash prize of Rs one crore for Sindhu's coach Gopichand.
Cheering crowds, particularly school children, some with national flags in their hands, waved to a beaming Sindhu, who seemed to be basking in glory, at several road junctions along with route to the stadium where excitement was in the air.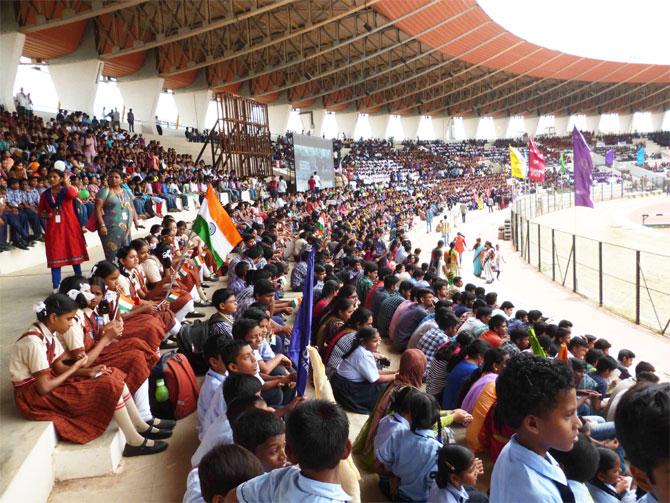 IMAGE: The Gadchibowli stadium was thronged by school children who came to witness PV Sindhu's felicitation ceremony. Photograph: SnapsIndia
School students held banners hailing the badminton star, who caught the imagination of the country with her superb run at Rio, and raised slogans 'P V Sindhu Pride of India', and some of them also showered flower petals on the motorcade.
A celebratory mood prevailed at the stadium, where an enthusiastic crowd, mostly school and college students, gathered, amidst beating of drums by traditional 'Dappu' dance artistes, as Telangana government made it a point to make the event a memorable one.