Ramkumar Ramanathan enhanced his reputation of being a passionate fighter even in defeat against a much superior Marin Cilic but crashed out of the Tata Open Maharashtra in Pune on Wednesday.
Ramkumar played with a lot of passion against the 2014 US Open champion and 2017 Wimbledon finalist before bowing out with a 4-6, 3-6 second round defeat.
Cilic served bombs, one of them at a speed of 223km, and Ramkumar struggled to cope with his power-packed game.
To his credit, 23-year-old Ramkumar did not buckle. He fought, with his heart and with a fearless approach. It was never enough to trouble a superior rival like Cilic but yet was enough to earn a respectful defeat.
There was no shame in losing since he gave his all. He did everything he could with his limited game. Ramkumar stood several feet behind the baseline initially to counter the fiery groundstrokes from Cilic but gradually grew in confidence and even got some points through serve and volley.
Ramkumar's defeat meant that Indian challenge ended at the home event, which moved from Chennai to Pune.
Cilic played like a champion and lost only three points on his serve in the first set and five in the second.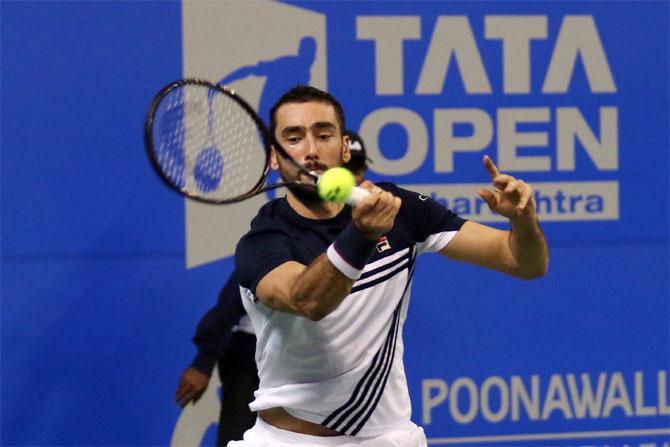 IMAGE: Croatian top seed, Marin Cilic plays a return against India's Ramkumar Ramanathan during his 2nd round victory at the Tata Open Maharashtra in Pune on Wednesday. Photograph: Tata Open Maharashtra
The first point of the match was an ace at 216kmph from the six-feet six inch tall Croat. He did not lose a single point on his first two service games. He, very easily, opened the court with his deep serve and out away the winners.
Ramkumar too served decent in the range of 200 but struggled to cope with feisty returns from his superior opponent. Every single point won by Ramkumar was cheered wildly by a partisan crowd.
As he failed to put back a half volley, Cilic had two break chances and he converted first with a backhand winner.
The gritty Indian sensationally broke Cilic in the ninth game in which Ramkumar found a backhand winner after a stupendous rally and Cilic hit a forehand long on the breakpoint.
However, Cilic doused any hopes of the home fans by breaking Ramkumar at love in the next game.
The Croat had no problem in getting the first break as Ramkumar double-faulted at 30-40 in the fourth. That break stood with Cilic, two-time champion in this event, and he closed the match in the ninth when Ramkumar's backhand slice kissed the net.
Video: Kind courtesy, Tata Open Maharashtra