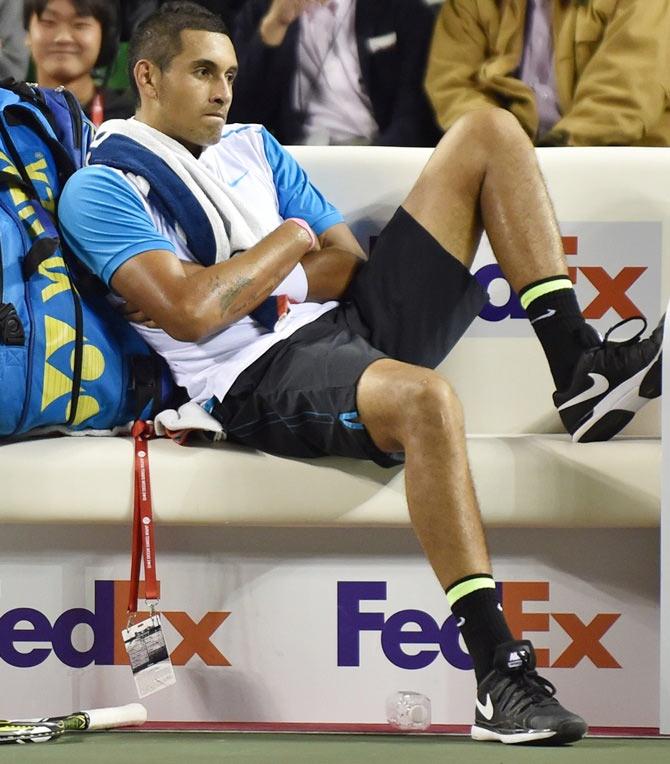 IMAGE: Australia's Nick Kyrgios on the bench. Photograph: Atsushi Tomura/Getty Images
Nick Kyrgios has hit back at Bernard Tomic after his compatriot accused him of feigning illness to skip Australia's Davis Cup match against the United States at the weekend.

Davis Cup: Djokovic loses first match in 5 years; US make quarters
In comments to team captain Lleyton Hewitt, picked up by courtside microphones on Sunday, Tomic said Kyrgios had 'faked' injuries twice to avoid Davis Cup ties.

Kyrgios withdrew from the World Group tie with a virus days before the opening singles on Friday, leaving 77th-ranked Sam Groth to battle world number 11 John Isner at Kooyong Lawn Tennis Club in Melbourne.

Groth was beaten easily by Isner and the big-serving American returned on Sunday to beat Tomic 6-4, 6-4, 5-7, 7-6(4) and book the United States a berth in the Davis Cup quarter-finals for the first time in three years.

Kyrgios also missed Australia's first round tie against Czech Republic last year with a back injury but returned to the court at Indian Wells two weeks later.

Tomic noted in his post-match news conference on Sunday that Kyrgios was on the entry list for this year's Indian Wells tournament and said he would 'lose respect' for the 20-year-old if he played.

Kyrgios responded on Twitter,

suggesting he would be fit for the tournament.

"Heat of the moment, not gonna take it personally. Indian Wells a week away, plenty of time," he posted.

"Just don't expect me to have your back anytime soon."

The world number 27 also posted, but later deleted, a tweet mocking Tomic for holding the record for the quickest defeat in the history of the ATP Tour, a 28-minute loss to Jarkko Nieminen in Miami in 2014.

Tomic's tirade undermined the harmony that Hewitt has been at pains to foster after in-fighting overshadowed Australia's run to the semi-finals last year.

After publicly criticising top Australian tennis officials at Wimbledon last year, Tomic was kicked off the team for the second time in his career.

Kyrgios was also omitted for the semi-final against Britain after directing a lewd comment at twice Grand Slam champion Stanislas Wawrinka during a match in Canada.

Hewitt, who replaced Kyrgios in the team at Kooyong and lost the doubles with John Peers on Saturday, defended the player's withdrawal.

"Nick came down here and gave everything he had to try to be available and there's no doubt he was sick," Hewitt said.