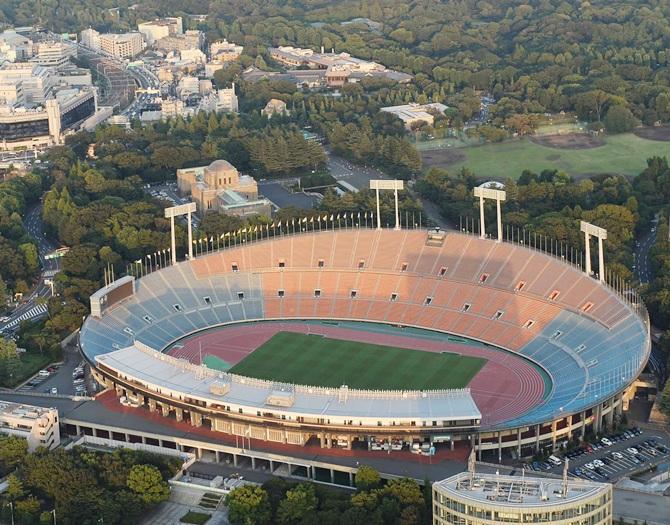 Aerial view of National Olympic Stadium which will host the Opening and closing ceremony, Football, athletics and Rugby events during the Tokyo 2020 Olympic Games. Photograph: Atsushi Tomura/Getty Images
Tokyo's sparkling new National Stadium, the centre piece for the 2020 Olympic Games and 2019 rugby World Cup, should ditch its plan for a retractable roof to save money, Japan's sports minister proposed on Monday.
Hakubun Shimomura added that he wanted around 35 percent of the seats at the 80,000 seat stadium to be temporary ones in another cost-cutting measure and also to shorten construction time at the 170 billion yen ($1.42 billion) facility.
Shimomura also called on the local government to contribute 50 billion yen ($417.82 million) but Tokyo governor Yoichi Masuzoe said local residents and the metropolitan assembly needed to be convinced first, Kyodo News reported.
It is the latest cost-cutting measures by Japan following announcements in February they were moving or altering three venues in order to save around a billion dollars.
Rising labour and construction costs have forced Tokyo to rethink its Olympic plans. The changes mean they will fail to meet an existing commitment that they would host a majority of Olympic events within 8km (5 miles) of the Games village.
The new National Stadium will be built on the grounds of the old, now demolished, one which was constructed to host the 1964 Olympics.
When built, it will stage the opening rugby World Cup match on September 6, as well as the final on October 20.