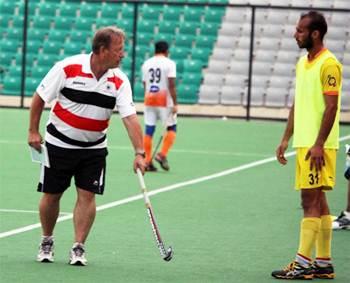 Barely days after quitting as chief coach of the national men's hockey team, Terry Walsh has expressed a willingness to return to India provided Hockey India shows some "desire" to work out a "viable solution".
Walsh admitted having written to Sports Minister Sarbananda Sonowal on Monday expressing his desire to resume his India job, but said the ball is now in the national federation's court.
"A letter from my side was sent to the minister yesterday indicating my desire to return to India to finalise negotiations and work through to Rio, 2016," Walsh told PTI from Perth.
"Now it is in the hands of Hockey India to show the same desire for a viable solution."
Walsh resigned as chief coach soon after returning from Incheon, where he guided the Indian team to its first Asian Games gold medal in 16 years.
The Australian's notice period ended last Wednesday, but he decided not to withdraw his resignation after his contractual talks with the Sports Authority of India and Hockey India fell apart.
Walsh's contractual talks fell apart after Hockey India president Narinder Batra alleged that the 60-year-old Australian had indulged in "financial fraud" during his stint with USA Hockey.
Walsh however termed these allegations "baseless".
The differences with Hockey India seem to be the biggest hurdle that stands in the way of Walsh's return and Batra has made it clear that the Australian must come clean on the allegations to coach India again.
However, Walsh had words of appreciation for the sports minister, his employers Sports Authority of India and the players.
"The Minister for Sport and SAI have shown a keen desire to create a good working solution," he said.
"The players are supportive and India has a very bright International future if it stays on a solid pathway," Walsh said.
Under Walsh, who joined a year back, India has made steady progress and achieved good results in international tournaments.
Besides the Asian Games gold, which earned them a direct berth in the 2016 Rio Olympics, India also won a silver medal at this year's Commonwealth Games in Glasgow and registered a historic away Test series win over Australia.
Image: Terry Walsh during a training session with the Indian hockey team