'It has been our intention to field the strongest possible team for the Olympiad. I requested Anand to participate and he willingly accepted to do.'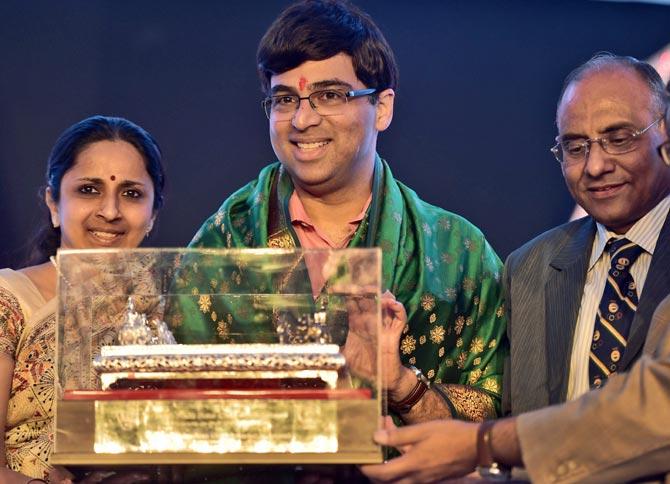 IMAGE: Viswanathan Anand is felicitated by the All India Chess Federation and Tamil Nadu State Chess Association in Chennai. Photograph: PTI
Six-time world champion Viswanathan Anand will be a part of the Indian team for the Chess Olympiad to be held in Georgia later this year after he accepted the All India Chess Federation's request to participate in the tournament.
Anand was felicitated by AICF and Tamil Nadu State Chess Association (TNSCA) in Chennai for winning the World Rapid title in Riyadh recently. He also claimed a bronze in the Blitz event at the tournament.

The Indian Grand Master has not played in the sport's premier team event for a while and his presence could add strength to the national squad.

Anand said it feels happy to be the world champion again after the tough time he had endured in the last year.

"It has been a struggle. Part of it was getting used to all the new talents that are coming up and the way the chess world is changing. Anyway the last two rapid events that I played in did not go so well. I was looking forward to a podium finish, but this (winning the gold in rapid) was unexpected," Anand said.

"I am delighted to be here. I have always genuinely enjoyed the reception I get as a world champion. A world title is always special. It does one thing that doesn't happen with any other tournament. Your name gets changed suddenly," he added.

He also picked players D Harika, Nihal Sarin, R Praggnanandhaa, P Iniyan, S P Sethuraman, Vidit Gujrathi and B Adibhan among others as the names to watch out for in the future.

AICF president P R Venketrama Raja heaped praise on Anand for winning the World rapid title and said he wants to see Indian team win medals in the Chess Olympiad and World Team Championships.

He also thanked Anand for agreeing to be part of the national squad for the Olympiad.

"It has been our intention to field the strongest possible team for the Olympiad. I requested Anand to participate and he willingly accepted to do," Raja said.