After a mixed outing in the Brazil leg of the event, World Champion Viswanathan Anand would be hoping for an improved finish in the Spain phase of the fourth Final Masters chess championship, which re-commences at Bilbao on Thursday.
Anand, who started the event as a firm favourite along with Norwegian world number one Magnus Carlsen, started off with a couple of draws but then a shattering loss to Vassily Ivanchuk left the Indian with a lot of ground to cover in this category-22 super tournament being played under soccer scoring system.
Anand recovered fast enough to beat Francisco Vallejo Pons of Spain in the fourth game but another draw has now left him with a shared third place in the six-players double round-robin tournament.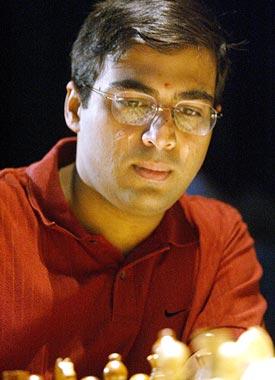 The Brazil leg has ended and the hero, and the leader, is Ivanchuk of Ukraine. The 42-year-old has always been a feared opponent in elite circles but off-late his results have been quite spectacular.
By finishing third in the just-finished World Chess Cup, Ivanchuk is already a part of the 2013 World championship cycle and his results here have been remarkable despite the loss in the fifth round.
Ivanchuk started with a draw against Hikaru Nakamura of United States and then crushed Vallejo, outplayed Anand and won a see-saw battle against Levon Aronian of Armenia.
The only disappointing result for Ivanchuk, who is fondly called 'Chuky', in this tournament so far has been the loss at the hands of Carlsen.
But with five rounds still to come, anything is possible. The new time-zone in Bilbao and different climate could bring in huge change in fortunes as well, especially, when one knows that Ivanchuk's chess depends on his mood.
As things currently stand, Ivanchuk is on 10 points which is three more than Nakamura, who is on second spot. Anand, Aronian and Carlsen share the third spot on six po garnered three points.
Nakamura picked Vallejo as his first victim in the fifth round to nose ahead. Aronian showed much promise but possibly the unexpected loss against Ivanchuk put him off and Carlsen went down from a winning position against Vallejo Pons.
Overall, its been an exciting week for the players and the heat is likely to build up further when the caravan settles down in Bilbao.
Standings after round 5: 1. V Ivanchuk (UKR, 10); 2. H Nakamura (USA, 7);  3-5. V Anand (IND), M Carlsen (NOR), L Aronian (ARM) 6 each; 6. F Vallejo Pons (ESP, 3).