Five-time World champion Viswanathan Anand made a good comeback with an easy victory Fiala Vaclav of Czech Republic. He had lost to 24-year-old French grandmaster Adrien Demuth in his previous round.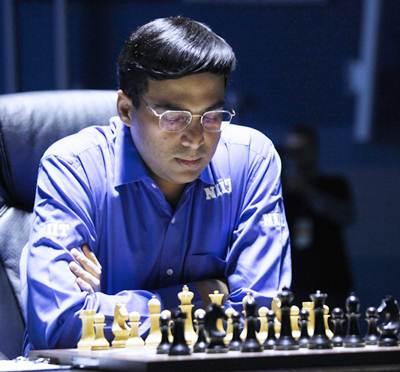 Continuing his dream run, Grandmaster Abhijeet Gupta held higher-ranked compatriot Pentala Harikrishna to a draw, while Viswanathan Anand kept himself in contention with an easy victory, in the sixth round of the masters section of the Tradewise Gibraltar International Chess Festival in Gibraltar, on Monday.

It turned out to be a keenly contested game between two Indians at the top of the tables and Abhijeet was able to match Harikrishna move for move while the latter exerted a lot of pressure.

The Italian opening by Harikrishna gave a slight advantage and Abhijeet decided to go in to a shell when a king side attack looked imminent. Harikrishna put his foot on the gas pedal and kept probing but Abhijeet was relentless and obtained the draw eventually.

Grandmaster Vidit Gujrathi joined the leaders pack defeating Ly Moulthun of Australia in a finely played game with black pieces. Harikrishna, Abhijeet, Gujrathi and seven others share the lead on five points apiece with four rounds to come in one of the strongest open tournament of the world.

Former World champion Viswanathan Anand won a fine game against Vaclav Fiala of Czech Republic to keep his title hopes alive. Taking his tally to four points, Anand is still a full point behind leaders but a couple of victories by the Indian ace in the next rounds should bridge the gap. It was a good comeback from the veteran Indian, who had lost to 24-year-old French grandmaster Adrien Demuth in his previous round, on Sunday.
According to reports, this is the first time Anand has had to play someone rated in the 2200s since the Goodricke Open in 1992 and he had no problems getting the better of 2217-rated Fiala.

On a day when Dronavalli Harika suffered her first loss in the event at the hands of David Anton Gujjaro of Spain, Padmini Rout continued with her impressive performance and held Grigoriy Oparin of Russia to a creditable draw.

Looking for a Grandmaster norm from this tournament, Padmini took her tally to four points in all to match Harika on points.

Among the other Indians in the fray, young and talented Aravindh Chithambaram bounced back after two successive defeats to beat Juam Manual Bellon Lopez of Spain while Surya Shekhar Ganguly continued to struggle as he was held to a draw by Pontus Carlsson of Sweden.

G N Gopal produced the upset of the day as he defeated the highest-ranked Englishman in the fray David Howell. Playing white, Gopal was in his elements in a finely crafted battle as he moved to 4.5 points following his victory to share the 11th spot alongside S P Sethuraman who put it across former women's World champion Antoaneta Stefanova.

Important and Indian results round 6 (Indians unless specified): P Harikrishna (5) drew with Abhijeet Gupta (5); Ragger Markus (Aut, 5) drew with Hikaru Nakamura (Usa, 4.5); Maxime Vachier-Lagrave (Fra, 5) beat Gawain Jones (Eng, 4); Yu Yangyi (Chn, 5) beat Romain Edouard (Fra, 4); Adrien Demuth (Fra, 4) lost to Richard Rapport (Hun, 5); Bruzon Batista Lazaro (Cub, 5) beat Alexander Donchenko (Rus, 4); Ly Moulthun (Aus, 4) lost to Vidit Gujrathi (5); David Anton Guijarro (Esp, 5) beat D Harika (4); G N Gopal (4.5) beat David Howell (Eng, 3.5); Antoaneta Stefanova (Bul, 3.5) lost to S P Sethuraman (4.5); Sandipan Chanda (4) drew with Irina Krush (Usa); Renier Vazquez Igarza (Esp, 4.5) beat Siva Mahadevan (3.5); Grigoriy Oparin (Rus, 4) drew with Padmini Rout (4); V Anand (4) beat Vaclav Fiala (Cze, 3.5); Pontus Carlsson (Swe, 3.5) drew with Surya Shekhar Ganguly (3.5); Marc Esserman (Usa, 3) lost to M R Lalith Babu (4); S Satyapragyan (3.5) drew with V Vishnu Prasanna (3.5); Bernd Kohlweyer (Ger, 3.5) drew with S Kidambi (3.5): Juan Manual Bellon Lopez (Esp, 3) lost to Aravindh Chithambaram (4); Perez Garcia Rodney Oscar (Cub, 2.5) lost to Prasanna Rao (3.5); Nisha Mohota (3.5) beat Csonka Balazs (Hun, 2.5); Alan Walton (Eng, 2.5) lost to Anurag Mhamal (3.5); Martin Burrows (Eng, 2.5) drew with B Pratyusha (2.5).