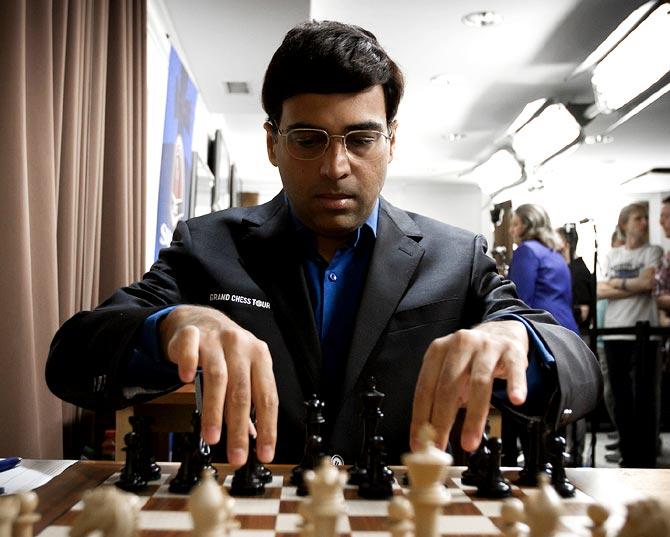 FILE IMAGE: Viswanathan Anand in action during Round 6. Photograph: Courtesy, Spectrum Studios/Grand Chess Tour
World rapid champion Viswanathan Anand continued his fine run in the faster version of the game and annexed the Tal Memorial rapid chess title in Moscow after an easy final round draw against Boris Gelfand of Israel.

Anand finished with six points out of a possible nine, scoring four wins and four draws. His solitary loss came at the hands of Shakhriyar Mamedyarov of Azerbaijan in the third round but thereafter the Indian ace showed his superb form.

The Indian defeated Ian Nepomniachtchi, Alexander Grischuk and Daniil Dubov of Russia and Hikaru Nakamura of United States enroute to his final score.
The most crucial was his victory over Grischuk in the penultimate round that sealed the title for Anand. It was a Sicilian defense where Anand employed the Rossolimo variation with his white pieces.

The players castled on the opposite wing and the king hunt was on from the early middle game stages. Anand sacrificed a pawn to open up the position and Grischuk erred by going for counter attack when he had to defend precisely.

What followed was a treat for the spectators as Anand came up with a startling knight and a rook sacrifice to force checkmate. The game lasted 30 moves.

While it was a neck-and-neck battle with Mamedyarov till the start of the penultimate round, the Azerbaijani missed the thread and went down to young and enterprising Dubov in the eighth round.

Mamedyarov, Sergey Karajkin of Russia and Nakamura finished in a tie for second spot with five points apiece, while Gelfand and Grischuk ended on 4.5 points to tie for the fifth spot in the 10-player round-robin tournament.

Dubov and Vladimir Kramnik of Russia scored four points and the Russian duo of Peter Svidler and Nepomniachtchi ended in the ninth spot.

For Anand this was another fine victory to add to his world rapid title won in Riyadh just over two months ago. The Indian will now try to repeat his performance in the blitz tournament that will see a few players added to the present list.

Results after final round:

Boris Gelfand (ISR) drew with Vishwanathan Anand (IND), Sergey Karjakin (RUS) beat Vladimir Kramnik (RUS), Daniil Dubov (RUS) drew with Peter Svidler (RUS), Alexander Grischuk (RUS) drew with Hikaru Nakamura (USA), Ian Nepomniachtchi (RUS) drew with Shakhriyar Mamedyarov (RUS).

Final Standings:

1. Anand (6); 2-4: Mamedyarov, Karjakin, Nakamura (5 each); 5-6: Grischuk, Gelfand (4.5 each); 7-8: Kramnik, Dubao (4 each); 9-10: Svidler, Nepomniachtchi (3.5 each).