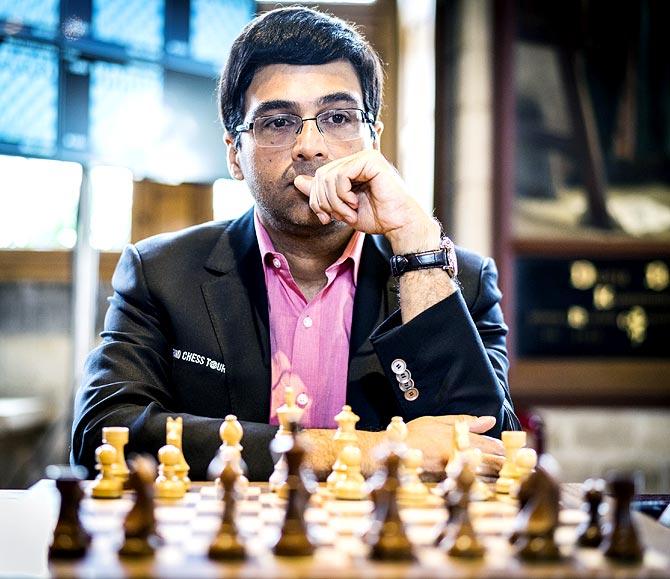 IMAGE: Viswanathan Anand. Photograph courtesy: Leuven Grand Chess Tour 2017
Five-time World Champion Viswanathan Anand set to return to FIDE World Cup after 15 years with an aim to seal a berth at the 2018 Candidates tournament.

Anand will lead a seven-member Indian team at the 128-player Knock Out tournament in Tbilisi, Georgia, where the finalists get to play the Candidates tournament.

The Candidates tournament determines the challenger for the World Chess Championship against the incumbent World Champion.

The 47-year-old Indian has won the World Cup twice in China (2000) and Hyderabad (2002) respectively but he never needed to play at the prestigious tournament ever since winning the World Championships in 2007.

Anand will open his campaign against Yeoh Li Tian (rated 2480) in the first round and if he can surpass the young Malaysian, Anand might face Grand master Varuzhan Akobian in the second round.

If Anand can produce his best, his first major test will be against England No 1
Michael Adams in the third round, followed by Hikaru Nakamura in the next round.
Anand had an impressive outing at the Sinquefield Cup where he finished joint second early last month. However, he finished ninth in the St. Louis Rapid and Blitz Chess tournament.
Indian Grand master Pentala Harikrishna will also be raring to go as he takes on Yuri Gonzalez Vidal of Cuba in his first round game in the tournament which will be held from September 2 to 27.
Vidit Santosh Gujrathi, Baskaran Adhiban, Deep Sengupta, Sethuraman and Karthikeyan Murali will be the other Indians in the fray.
Among others World Champion and No.1 Magnus Carlsen, defending champion Sergey Karjakin, Ruslan Ponomariov, Vladimir Kramnik will also compete in the tournament, making it the strongest World Cup in history.
World No. 20 Harikrishna said the World Cup is going to be a tough outing as it features all the best players around the globe.
"All the top ranked players from around the world will be participating this year around and I know it is going to be tough," the 31-year-old, who hails from Guntur, said.
"As this is a knockout event I would ideally want to take it one match at a time," he added.
© Copyright 2022 PTI. All rights reserved. Republication or redistribution of PTI content, including by framing or similar means, is expressly prohibited without the prior written consent.