'It will be interesting. I am sure that he has not decided to come back all of a sudden. He is not the person to take impulsive decisions.'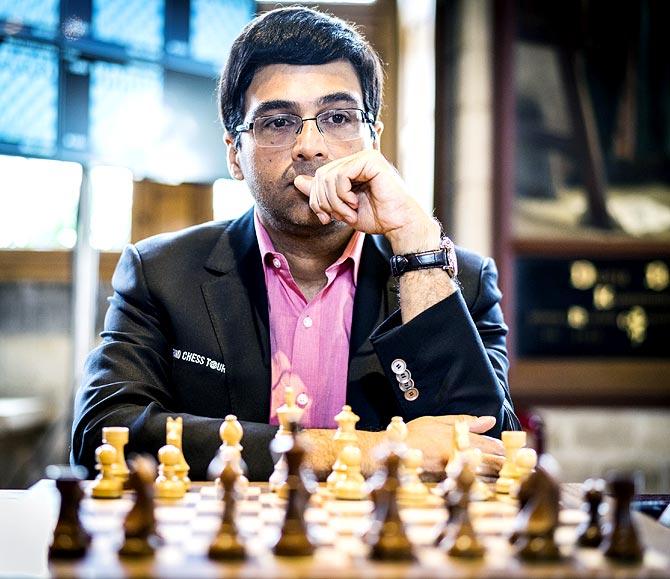 IMAGE: Viswanathan Anand. Photograph courtesy: Leuven Grand Chess Tour 2017
'Retirement' and 'stopping' are two words Viswanathan Anand hears quite often these days. But despite 2017 not quite turning out to be his year so far, the chess wizard has not given any thought to quitting the sport.

The 47-year-old former World champion is taking some time off before he gets down to tournament play in St. Louis, United States, where the focus would be on Russian chess legend Garry Kasparov, who is making a surprise return to the game.

Anand has been spending time with his family in Chennai and recently watched Roger Federer win his eighth Wimbledon title at 36. The Swiss superstar too had hung in there, despite facing difficult times.

"I had been following Federer at Wimbledon. It turned out to be too easy in the end (the final)," he said about the Swiss' 19th Grand Slam triumph.

"What a difference the new schedule has made to Federer. He skipped the entire clay court season, the French Open and his march through Wimbledon was amazing," Anand said.

"I just hope to keep working hard. When one has a tough season it is easy to get thinking. It is important to have stubbornness, keep things going even when down," said the Chennai-born five-time World champion, after a season which has been up-and-down.

"I still believe that I can win tournaments and keep doing well," he said.

Despite modest results and unexpected reverses, Anand said repeated questions about a possible retirement doesn't upset him.

"I am used to it these days. I don't get upset. I am not the one asking it," he said in a matter of fact manner.

He finished eighth among 10 players in the Leuven leg of Grand Chess Tour early in July and later missed an opportunity to win his 10th title in Leon, Spain.

He is rather excited about Kasparov's decision to make a comeback and also face him.

"I am curious like everyone to see how he goes. It will be interesting. I am sure that he has not decided to come back all of a sudden. He is not the person to take impulsive decisions. I assume that he has been training for (the St Louis) event," Anand said.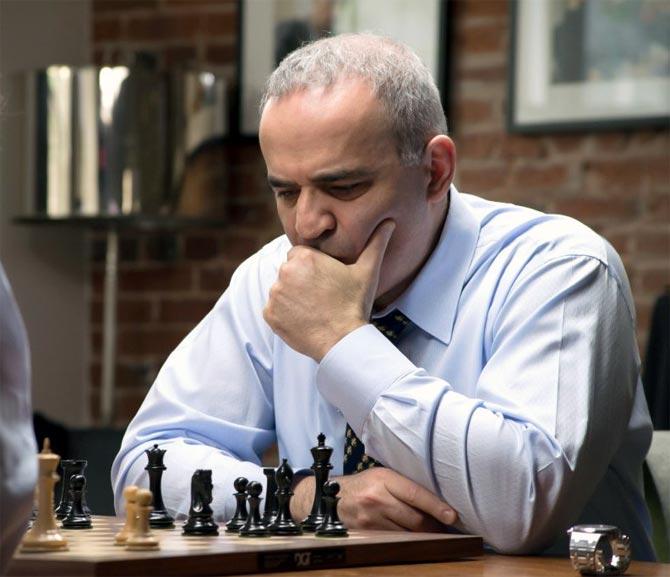 IMAGE: Garry Kasparov. Photograph courtesy: Garry Kasparov/Twitter

About the current World champion Magnus Carlsen's dip in form, the Indian ace said, "he has had some tournaments without winning. But he was very convincing in Belgium. It can be very hard to maintain that kind of domination. Also, his rivals have improved. I have been impressed with the form of Aronian and Wesley So in recent times."

Anand, after the St Louis event, will be focusing on the Chess World Cup to be held in Georgia in September. The top two finishers from the tournament will qualify for next year's Candidates tournament which would decide Carlsen's challenger for the 2018 World Championship.

"My first aim is to qualify from the World Cup, which is a tough and unpredictable tournament. It is a very strong event. Once I get through, I will think about the Candidates."

About the talent back home, Anand said there are quite a few players who have been doing well and picked Pentala Harikrishna, Krishnan Sasikiran, Vidit Gujrati and Baskaran Adibhan as the ones to watch out for.

"Hari, Sasikiran, Vidit and Adibhan are a bunch, who can be expected to do well and move to the next level. Then there is a big group of players who are close to crossing the 2700 ELO points barrier. They all will be there at the World Cup and it will be interesting to how they perform," he said.

Among the women, Anand, who is ranked ninth with 2783 points as per the FIDE July rating list, said, "Dronavalli Harika is growing in strength and has recently played in some strong events. Koneru Humpy is also there, but has not played much of late."