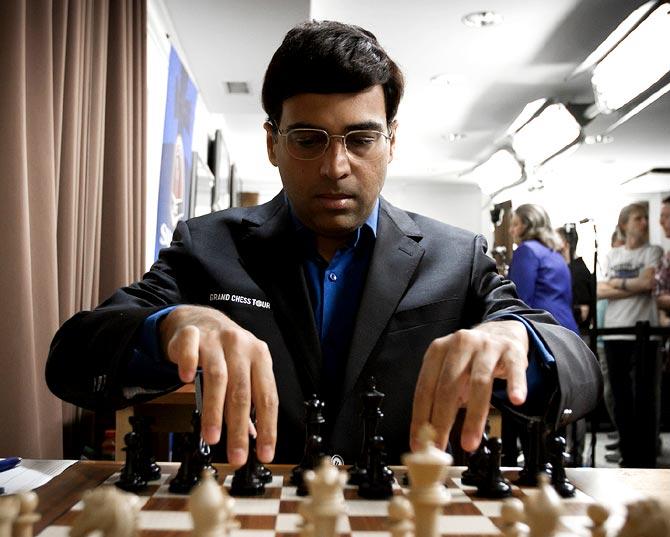 IMAGE: Viswanathan Anand in action during Round 6. Photograph: Courtesy, Spectrum Studios/Grand Chess Tour
Former World champion Viswanathan Anand played out an easy draw against Sergey Karjakin of Russia to remain in joint second spot in the Sinquefield Cup chess tournament, in St Louis, United States.

Known as the minister of defense, Karjakin could not really gain anything with white pieces and Anand had little trouble in executing his plans.

With his fourth draw in five games combined with a brilliant victory over Fabiano Caruana of United States in the previous round, Anand has garnered 3.5 points out of a possible six.

Karjakin went for the London system and Anand had everything under control right from the opening.

The pieces got traded at regular intervals and the Indian had nothing to worry about by 15th move. Anand got the absolute equaliser immediately and the players shook hands right after move 30.

Levon Aronian of Armenia was the sole winner of the day as he played some aesthetic chess to outclass an out-of-sort Wesley So of United States.

The
Armenian showed his prowess in the middle game where he thought Wesley played some doubtful moves.
With three rounds still to come in the $300000 prize money tournament, Maxime Vachier-Lagrave remained on top with four points in his kitty following a hard fought draw against Fabiano Caruana of United States.
World champion Magnus Carlsen of Norway had his chances but could not use them to the fullest against Hikaru Nakamura of United States in a long drawn rook and pawns endgame that witnessed another draw.
With Vachier in front, Anand, Carlsen and Aronian now are within striking distance, a half point behind the leader. It is favourable situation especially for the Indian ace because he has two white games coming up in the next two rounds.
Apart from Aronian's win, the most interesting duel was between Caruana and Vachier.
In the other games of the day, Ian Nepomniachtchi played out a draw against his Russian counterpart Peter Svidler. Nepo, as he usually called, will meet Anand in the next round.
Results after Round 6:
Sergey Karjakin (RUS, 3) drew with Vishwanathan Anand (IND, 3.5); Magnus Carlsen (NOR, 3.5) drew with Hikaru Nakamura (USA, 3); Ian Nepomniachtchi (RUS, 2.5) drew with Peter Svidler (RUS, 2.5); Fabiano Caruana (USA, 3) drew with Maxime Vachier-Lagrave (FRA, 4); Levon Aronian (ARM, 3.5) beat Wesley So (USA, 2).