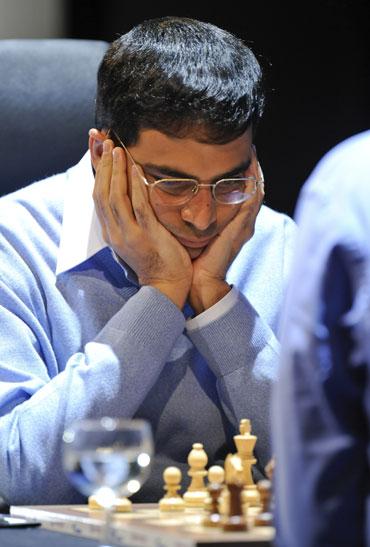 Five-time world champion Viswanathan Anand registered an easy draw with black against tournament leader Wesley So of America to stay joint second at the halfway stage of the Bilbao Masters Final chess tournament in Bilbao.

With his third draw on the trot, Anand inched himself up to three points under the soccer-like scoring system in place here and the defending champion is under some pressure to carve out a win in the next three rounds to stake his claim for the title he won last year.

The other game of the four-player double round-robin tournament between Dutch Anish Giri and Chinese Liren Ding also ended in a draw after being the longest game of an elite tournament recently. Giri tried for no less than 172 moves before he was forced to split the point.

With just three rounds to go, Wesley So remains in front with five points in his kitty from three games and Anand and Giri remained joint second on two points with three draws apiece. A victory is worth three points while a draw is worth just one which means Ding with two draws and a sole loss against Wesley So is on two points and at the bottom of the table.

The tournament has not come off expectations so far producing just one decisive game out of six played so far. It was in round one when Wesley had beaten Ding in a spectacular game and since then all the games have ended in draws.

Anand with his first black in the tournament was at ease against Wesley who opened with the queen pawn. The game took shape in a Semi Slav defense wherein Anand equalised pretty comfortably.

What followed was a series of exchanges leading to a queen and pawns endgame wherein Wesley drew through perpetual checks after parting with a pawn. To sum it up, it was a very easy draw for Anand with black pieces.

Giri was in a punishing mood against Liren Ding who played the white side of another queen pawn game in the day. The Dutchman of Nepalese and Russian origin showed his class in the middle game to get a sizeable advantage and Ding had to part with a full piece to remain in the game when endgame approached.

However, Giri missed a winning opportunity on move 74 with his clock ticking away and the pawn-less endgame with an extra piece became more difficult. When the Rook Bishop versus rook endgame was reached the Chinese was spot on to force a draw. The 172-moves battle will go down in chess history as one of the most combative games.

As is the custom the fourth round will begin after a rest day. Anand needs atleast one victory to match the leader and he will fancy his chances against Wesley when he plays him next.

Results round 3: Wesley So (Usa, 5) drew with V Anand (Ind, 3); Liren Ding (Chn, 2) drew with Anish Giri (Ned, 3).
Image: Viswanathan Anand