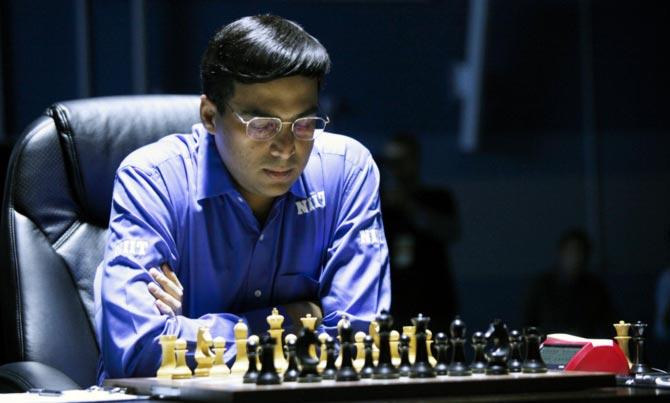 IMAGE: Viswanathan Anand. Photograph: FIDE World Chess Championship
Former World champion Viswanathan Anand on Tuesday beat Fabiano Caruana of United States in the sixth round to register his first win of the Altibox Norway chess tournament in Stavanger.

Having lost two and drawn three, Anand was under pressure to find back his winning ways and the Indian ace did that in style at the expense of Caruana who suffered his first loss in the tournament.

Anand moved up to 2.5 points out of a possible six and two white games out of the remaining three rounds might just help him recover more.

Armenian Levon Aronian was the other winner of the day, accounting for a rather out-of-sort Vladimir Kramnik of Russia while World champion Magnus Carlsen of Norway remained winless for the sixth day running as he was held to a draw by Maxime Vachier-Lagrave.

In the
other games of the day, Anish Giri of Holland missed out on some chances before signing peace with Wesley So of United States and another American Hikaru Nakamura could not break the ice against Sergey Karjakin of Russia.
With three rounds still to come, Nakamura and Aronian now share the lead on four points and they enjoy a full point cushion over Giri, Kramnik, Karjakin and Wesley So. Anand, Carlsen, Caruana and Vachier share the seventh spot with 2.5 points apiece.
For Anand, the good day finally arrived but it was business as usual. Caruana went for some unwarranted complications right from the beginning and Anand did not mind any of those as he steered himself to a fine position in the middle game.
The Italian-turned-American was under severe pressure and that proved decisive as Anand strategically outplayed his ranked rival.
Results (Round 6):
Magnus Carlsen (Nor, 2.5) drew with Maxime Vachier-Lagrave (Fra, 2.5); Fabiano Caruana (Usa, 2.5) lost to V Anand (Ind, 2.5); Anish Giri (Ned, 3) drew with Wesley So (Usa, 3); Levon Aronian (Arm, 4) beat Vladimir Kramnik (Rus, 3); Hikaru Nakamura (Usa, 4) drew with Sergey Karjakin (Rus, 3).