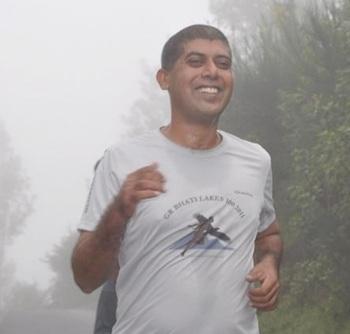 When he is not running, Vishwas Bhamburkar spends his time filing Right to Information cases. P Rajendran meets with the only Indian running the Brazil 135 Ultramarathon later this week
"A marathon is not interesting any more. By the time I get warmed up, it's over."
That might sound like bragging to most marathoners used to staggering across the finish line in the last stages of exhaustion. But Vishwas Bhamburkar's an ultramarathoner, and is so habituated to running over 100 km (62 miles) that it has been taking him longer and longer to get a runner's high.
January 17-19, he becomes the only Indian this year running the Brazil 135 Ultramarathon, a run that takes him up a cumulative 30,000 feet and down 28,000 - the height of Mt Everest.
"I used to get it at 4 km, then 8 km, now at 50 km," Bhamburkar told India Abroad after landing in Brazil.
Bhamburkar, 40, is a retired entrepreneur: he used to run an adventure sports firm that included scuba diving centers in Kerala and on Neil Island in the Andamans, and organised kite-surfing sessions (involving a smaller version of a paraglider). It was the enthusiasm of one of his professors at the Asian Institute of Management in the Philippines that got him into the field. Now he spends his time filing Right to Information cases – when he is not running, that is.
Asked what is so interesting about running, he joked, "My maker made me and realized that I was a defective piece and I'm running to get away from him," Bhamburkar said.
More seriously, he said that running gives him a lot of time to himself.
"I didn't want to go to a gym where there'd be 10,000 people around. (This is) a lonely sport that leaves you with a lot of me time. Somewhere (during the run) the adrenaline takes over and there's peace there," he said. "That's what makes you do it again and again. The other things would be that the high that you get."
But he's getting habituated to that.
"I used to get it at four kilometres, then eight kilometres, now at 50 kilometres...," he said.
"A marathon not interesting any more. By the time I get warmed up, it's over."
Bhamburkar ran marathons in 2010, 2011 and outgrew them immediately. He was completing it in four-and-a-half hours.
"I'd toyed with the idea of going sub-four (hours, but) more than running fast, it is running longer that is more pleasurable," he said.
He has finished two 100 milers officially – first at Bhati Lakes (the location of the abandoned and filled up Bhati mines near Faridabad, which is overgrown with thorny bushes, sandy patches). The second was Thar desert.
"There you have only to worry about dying. It's Debilitating heat – 48-50 degrees Celsius. Even given my penchant for masochism, I don't think I'd do it again," Bhamburkar said, pointing out how, even after running 50 miles there was change in scenery and describes it as something from Alice in Wonderland.
Sunil De Souza, his Los Angeles-based crew member, said it takes quite an extraordinary kind of person to run an ultramarathon.
"It is not easy to run 135 miles. It takes a special individual to even try to, forget commit to it. I'm drawn to personalities like that," said De Souza, whose preferred game was hockey but which he wisely gave up with age for running.
While Bhamburkar is not interested in multistage marathons that give him shorter runs made over many days, he still has his own demon to deal with: the last leg of any race.
He has run up to 200 kilometres in 40 hours in the hills around Mahableshwar near Mumbai. The 135 miles in Brazil translates to 217 kilometres. But when he sees the finish line – even in a comparatively short rate – he falters.
"The last 100 metres is extremely difficult. The mind tends to give up half a kilometre before the finish line."
If he finishes the Brazilian race, he will automatically qualify for the Badwater race of the same length, but set in Death Valley in the US. He said there are local efforts on to cancel that race, though.
"Badwater is the big daddy of ultramarathons," he said.
According to De Souza, Bhamburkar is not doing it for the prestige or for money – in fact he has no sponsors. The victory, said De Souza, speaking from experience, is a purely personal one.
Image: Vishwas Bhamburkar