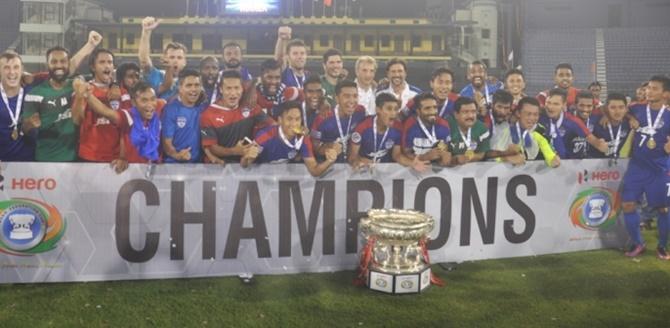 IMAGE: Bengaluru FC players celebrate. Photograph: AIFF Media
India international CK Vineeth showed his predatory skills with double strike in the extra time as Bengaluru FC beat Mohun Bagan 2-0 to win the 38th Federation Cup football tournament.
Bengaluru FC also booked their berth for next year AFC Cup by virtue of winning the blue riband tournament.
For Mohun Bagan, it was a case of so-near yet so far finishing second best in both I-League and Federation Cup.
Only couple of days back, Bagan had defeated a second string Bengaluru FC but the southern outfit had the last laugh when it mattered most.
Call it irony, Vineeth produced a magical performance just days after Kerala's state Audit department where he was employed decided to terminate his services for low attendance per centage despite knowing that he is professional footballer.
On the day, he was quiet for the better part of the match but did the needful in the 107th and 119th minute to seal the issue for Alberto Roca's men.
He was lurking in the striking zone taking full advantage of a defensive lapse from Eduardo and Anas to slot it past Debjeet Majumdar. He sealed the deal a minute before the end of extra time to end it on a happy note for the 'Blues' who played without their star striker Sunil Chhetri and defender Cameron Watson.