'He has been in Bollywood movies, he has been in the Olympics three times, he has been all around the world fighting.'
'This is just another fight for Vijender and if you know the guy, he will fight like a champion.'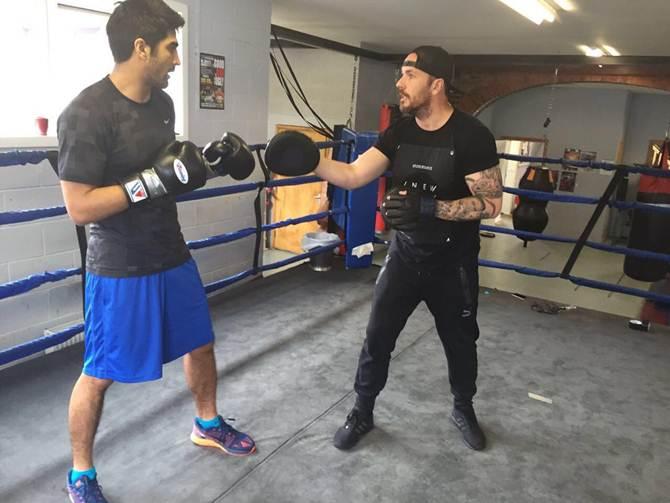 IMAGE: Vijender Singh, left, and his trainer Lee Beard during a sparring session.
Vijender Singh's sensational start to pro boxing should be credited big time to his trainer Lee Beard, who has worked with the Indian boxer for the last year or so.
Beard was assistant trainer to some big names in pro boxing like Ricky Hatton and Floyd Mayweather Sr, and is highly rated on the professional circuit.
He has left no stone unturned to get Vijender in shape and fired up for the all-important WBO Asia Pacific Middleweight Championship title bout against Australian Kerry Hope, in New Delhi, on Saturday, July 16.
While Beard won't take Hope lightly, he is confident that Vijender, who has won his first six bouts in pro boxing, will register another knock-out and continue his brilliant run in the circuit.
Rediff.com's Harish Kotian caught up with the British trainer in Delhi on the eve of the title bout.
How important is this fight for Vijender?
This is by far the biggest fight of his career. He has got a lot to do in this fight. He has progressed very well in his first year as a pro and we are very confident he will do the job here.
This is the first time he will fight 10 rounds and is up against an experienced opponent in Kerry Hope, who has fought 30 bouts. How have you prepared Vijender for such a seasoned campaigner?
Vijender has had a huge amateur pedigree, so he himself has got a lot of experience. He has featured in six fights so far. Someone like (Vasyl) Lomachenko won the World title after just three fights. So that shows if you are good enough, then you will be able to do it.
Basically, the experience that he has gained by sparring and his fights in pro boxing so far, Vijender has improved so much in the last year that he will certainly do the job; I have no doubt about it.
How do you approach a bout? Do you reduce the training slightly and let him recover before the fight or is the other way around?
We have been building him for this 10 round fight since he came because we had a plan that he would fight for the title around this time. So we have been increasing his rounds in sparring, from 6 rounds to 8 rounds to 10 rounds the whole year.
He has been doing 4 round fights, but he has been doing 10 rounds in sparring all the time. He has been building the engine to get to this stage.
For this bout he has been sparring 10 to 12 rounds three times a week, so the 10 rounds won't be a problem.
Is he feeling the pressure of expectation to perform before his home fans?
Vijender is someone who keeps things calm; he keeps his focus.
If you look at Vijender's character, he is a confident person, he takes things in his stride, he doesn't feel the nerves, the pressure, and that is because he has dealt with a lot of high pressure situation. So he is going to be the same tomorrow.
He knows the prize of the fight; there is a big title on the line and he knows that he needs to perform on the night to win.
If he doesn't perform, Kerry Hope, with the experience that he has got, he can do the job. But that is not what I have in mind. I know Vijender will emerge the winner.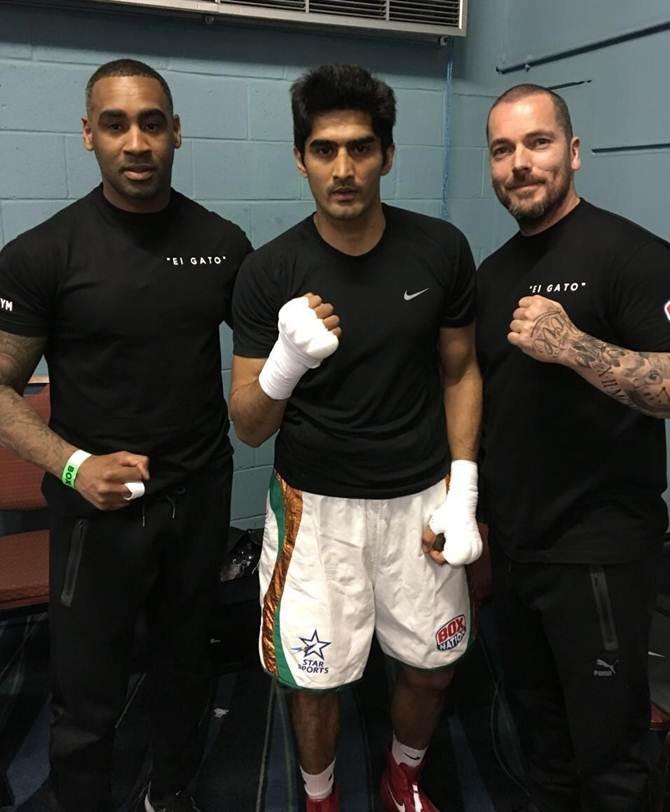 IMAGE: Vijender, center, and Lee Beard, right.
Kerry Hope says Vijender won't last the distance if he can take the bout beyond 8 rounds or so.
I would never bank on that kind of a mentality because at the end of the day he doesn't know what Vijender is like in the gym, who Vijender is sparring and other things.
He never loses power in the sparring. He has been doing 10 to 12 rounds three times a week for the last six months. He is an extremely strong fighter and an accurate puncher and he maintains that power throughout the whole fight.
I have had fighters before who had 11 fights and they have got into the ring against guys who have had 25-plus fights.
My fighter had only 6 and 8 round fights and it was his first 11 round fight and he was up against a boxer who had many 10 rounds and 12 rounds fights, but my boxer knocked him out in 4 rounds.
What is Vijender's strong point in the ring? Is it his powerful punches or quick footwork?
He does everything well. Like, he has a great jab and a great right hand. His accuracy is phenomenal. He has a great sense of distance. He knows where the target is and he also knows how to avoid punches.
It is all minimal movements, but if you look at his fights he doesn't use full speed; he uses timing and balance and his defence is very tight.
He is a very smart fighter. I would say, all round he is very good at everything.
In the ring, Vijender is a very strong-minded character and he will take it in his stride, he will feel no pressure, no nerves.
He has been in Bollywood movies, he has been in the Olympics three times, he has been all around the world fighting. This is just another fight for Vijender and if you know the guy, he will fight like a champion.
How do you keep him focussed for such a big fight?
Basically, we have a bond where he knows how I work and vice versa. He knows prior to the fights, what we look for and how we carry it and stuff like that.
It is not crazy, but we work nice and relaxed and keep it simple and that is good for Vijender because he is that kind of character too.
This is nothing new to Vijender; he has been around the world fighting and his mindset is very strong.
We take every day as it comes and on fight days we have our own routine and we expect him to get the job done.
Vijender has had 6 knock-outs in his first 6 pro round fights. How long do you expect this fight to last?
I think the fight will go the distance. Boxing is boxing, but I believe Vijender will knock Hope out in around 4 or 5 rounds.