'A few months ago, everybody was saying, "Why isn't Vijender taking part in the Olympics?"'
'This is not like going to Haryana or Delhi that you just take a ticket and reach there.'
'Going to the Olympics is not easy'
Before leaving for the UK to prepare for his much-awaited WBO Asia-Pacific Middleweight title bout against Kerry Hope, Vijender Singh tells Harish Kotian/Rediff.com about his incredible start to pro boxing and the sacrifices that went into it.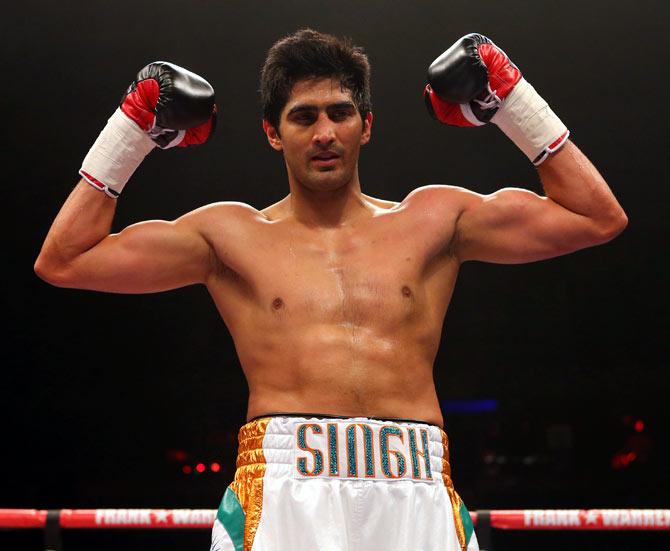 IMAGE: Vijender Singh celebrates beating Alexander Horvath in Liverpool, March 12, 2016. Photograph: Dave Thompson/Getty Images
Vijender Singh's bronze medal at the 2008 Olympic Games in Beijing was a big boost for boxing in India.

His second coming as a pro boxer last July is proving a major fillip for the sport. After a rousing start in the new format, that has seen him win his first six bouts by a knock-out, the 30 year old takes on Kerry Hope for the WBO Asia-Pacific Middleweight title in New Delhi on July 16.

The International Boxing Federation's recent rule change allowing pro boxers to compete in the Olympics by allowing them to take part in the Qualifier tournament in Venuzuela in July has given Vijender fresh hope of making it to his fourth Olympic Games.

The boxing ace told Harish Kotian/Rediff.com how excited he is about fighting in front of home fans and why he is desperate to make it to the Olympics despite his promoters not keen on the same.
You have an important fight coming up next month. How big will it be to fight a WBO title bout in India?
It is a very big fight for me next month. It will be my first homecoming fight and I will be fighting for the Asia title.
I am really excited to fight in front of my fans in India. It will be a great fight night and I am sure the title will be mine. I am giving my 100 percent in training because I want to win that bout and win it for my fans.
Are you feeling any pressure?
There will be some pressure, but there is excitement as well. It will be my first fight in India. For the last so many months everyone in this country was asking me to fight here (India) so they could see me live.
Everybody kept asking me, 'When will you fight in India?' Now it is happening. It is a kind of mixed feelings for me. I am really happy and hope to give my fans more happiness by winning the bout.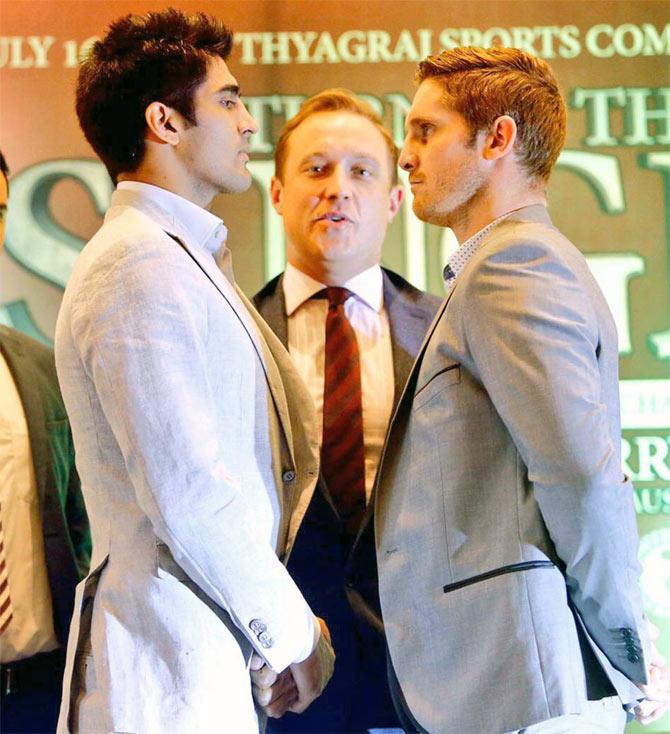 IMAGE: Vijender Singh, left, with his Australian opponent Kerry Hope at an event to announce their WBO Asia Pacific Super Middleweight Championship fight in New Delhi, June 6, 2016. Photograph: Kind courtesy Vijender Singh/Twitter
Your next opponent is a former European champion, Kerry Hope. He has been a pro for 12 years and a World No 3. How tough will it be? How will you prepare for it?
Of course, it will be a tough fight because my opponent has a lot of experience. I also have experience even though it is as an amateur. Boxing is boxing!
I have seen his fights on Youtube and watched him closely and studied how he fights. I will face him in the ring and will give my best to get the better of him.
You got off to a smashing start in pro boxing, winning your first six bouts, all by knock-outs. Did you think it would be such smooth sailing in your first year in pro boxing?
I want to say this is just the beginning. It is only 6-0 at the moment; in the future, when it becomes 60-0, I will consider it as an achievement and I will feel that I have achieved something big.
You look at ease despite taking up pro boxing so late. How is it possible?
Let me tell you, pro boxing is not easy at all. It may look easy from the outside, but seriously, it has been very tough.
No boxer enters the ring to lose or get hit. Everyone tries their best and throws a lot of punches.
You have to be ready by training hard, because without proper training you will not be able to sustain yourself in pro boxing.
You also have to make a lot of sacrifices, like staying away from family, dedicating all your free time to training, working hard in the gym and getting hit by a lot of punches during practice. It is not easy at all.
Nobody considers all this. They all feel pro boxing is easy: you just step into the ring and start fighting.
You have a young family. Was it tough staying away from them and training nearly the whole of the last 12 months in the UK?
It was very difficult for me initially. It is not easy to get settled in some other country and stay away from your family, countrymen, language, food and everything else. Even if you shift to some other state in India it is a bit difficult, but shifting to some other country is even tougher.
This is just the start. When you attempt something new, it is always difficult.
This is the first step and I am happy that finally I will be fighting in front of my home fans, which was one of my dreams.
Pro boxing has started to gain popularity in India. I can see that a lot of our boxers are taking up the format. So I am proud that the initiative that I took up is finally taking shape.
I went abroad for pro boxing and now I am bringing it home. So all the sacrifices I did are bearing fruit and that makes me happy.
I don't have regrets that I switched to the pro format. I am sure a lot of fans will come and cheer for me in New Delhi on July 16.
Your entry into Pro boxing led to the formation of the Indian Boxing Council to look after professional boxing in India. Now, with you fighting a bout in New Delhi, it should further boost the sport.
Definitely, it will be a massive boost for the sport, but it remains to be seen how Indian fans take to it.
My job was to take the first step, make a start and show everyone the way. Now it is the task of the next generation to take pro boxing forward in India. The onus now rests on up-and-coming young boxers.
In 2008, my task was to win an Olympic medal, which I did. It helped boost the image of boxing in India and gave the sport a much-needed fillip.
I hope in future we win more medals. I am happy I was able to do my job, which was to make a start by winning a medal.
It has been a year since you took up pro boxing. Can you tell us the difference between amateur and pro boxing?
Boxing is tough, no matter what the format is. In fact, I would say any sport is. If you participate professionally, it is difficult, be it cricket, football or kabaddi.
If you compare the two formats, then amateur is only for three rounds, while pro boxing is around 10 to 12 rounds.
In amateur, you can go full throttle throughout the three rounds, but in pro boxing you need to conserve your energy so that you can last the 10 to 12 rounds.
That is why training is very important in pro boxing. Physically, both the formats are different.
Technique-wise, it is different because in a three-round fight you need good speed, but in the 10-round format if you want to survive you have to finish the bout as soon as you can.
In pro boxing you go for hard punches, which leaves you exposed as well and there is a chance of getting hit too. That is why in pro boxing the margin of error is very slim.
In pro boxing, the size of gloves are smaller and you get hit a lot, whereas in amateur boxing, the gloves have a lot of cushion.
Also, the technique of defending is different and there are a lot of other things as well.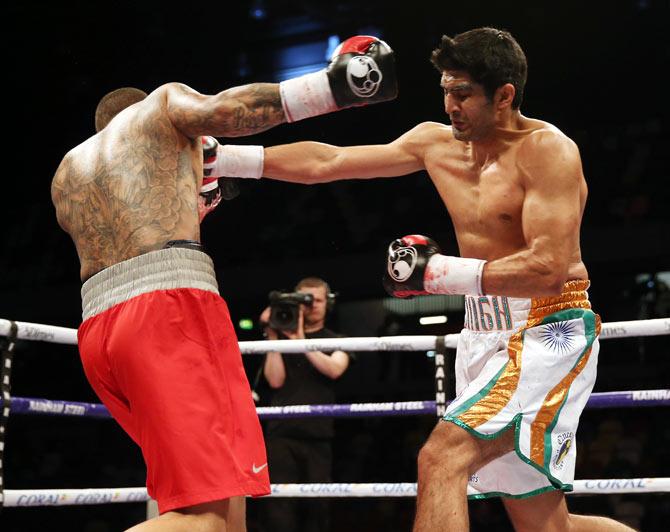 IMAGE: Vijender Singh, right, in action against Matiouze Royer, London, April 30, 2016. Photograph: Alex Morton/Getty Images
The International Boxing Association, AIBA, recently changed its rules to allow pro boxers a chance to qualify for the Olympics.
You said recently that if there is an opportunity you would like to compete in the qualifiers and make it to the 2016 Olympics.
However, your promoter Francis Warren said on Monday, June 6, that you do not have the time left to try for a place in the Olympics.
Can you let us know if you will try to go for the Olympics or not?
I am still trying to manage it somehow and I hope we sit down, discuss, and find a solution.
I remember, a few months ago, everybody was saying, 'Why isn't Vijender taking part in the Olympics?'
This is not like going to Haryana or Delhi that you just take a ticket and reach there. Going to the Olympics is not easy. You need to prepare well, you need to have good technique, you need to have patience and a lot of other things also have to fall into place.
It is not like if you decide you want to take part in the Olympics, you will just go there; it involves a lot of hard work.
I will surely try to have a shot at Olympic qualification. I will somehow try to find a solution for it.
Someone told me today that I need to sign a contract with the professional body organising it if I want to compete in the Olympic qualifying event in Venezuela next month.
If that is the case, then it won't be possible because I already have a contract with my current agents, Queensberry Promotions. So it will not be easy because a lot of things need to be sorted out.
But even if there is a glimmer of hope, I will definitely try for it.
I would say that if there is a small opening, then definitely I am up for it and would give it my best.
I will be happy and proud to represent my country at the Olympics because it does not get any bigger. Nothing can surpass that feeling.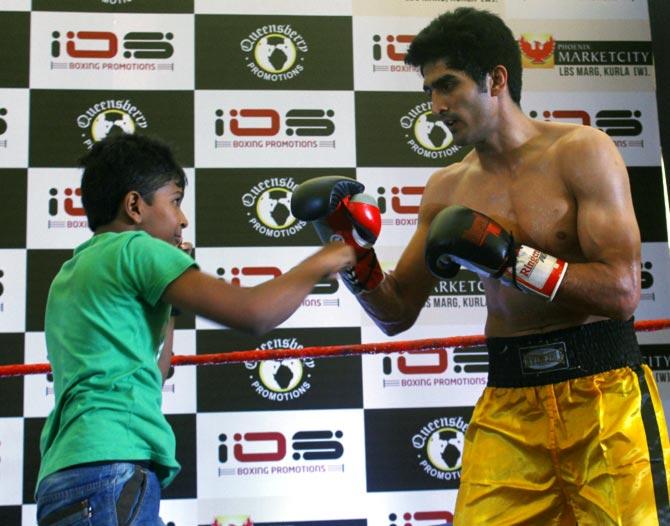 IMAGE: Vijender Singh is joined in the ring by a young fan during a promotional event in July 2015. Photograph: Hitesh Harisinghani/Rediff.com
So you are in favour of pro boxers being allowed to take part in the Olympics?
I am in favour of the decision. I believe it was right to allow pro boxers to take part in the Olympics. I have seen it from close quarters how people behave when you go to them to take permission. Some people used to say, 'Oh, so you are leaving your country' and other such things.
Whatever I have faced I hope the young kids don't have such problems.
Everybody knows the controversy when I signed up for pro boxing. It has been a good move and I am sure that in the future no one will ever go through it again.
You won an Olympic medal in 2008 and gave boxing much-needed awareness in India. But in the last few years, boxing has suffered in India.
That is because of the suspension of the Indian Boxing Federation for the last four years, as a result of which so far only one boxer has qualified for the Rio Olympics.
Are you disappointed that the sport is in such a mess in India?
I don't think people are giving enough attention to that problem. It is hardly in the news nowadays. Our federation has been suspended, so how will our boxers train or get exposure by taking part in tournaments abroad?
I think everyone in India should be asking why we can't even hold an election for the boxing federation.
Instead of debating whether Vijender should go for the Olympics, everybody should debate about the Indian Boxing Federation and try to resolve the issue at the earliest.
Now that the Olympics are near, everybody has started talking about it. Why were they quiet all this time?