Vijay Kumar earned India's a fifth gold medal at the Asian Shooting Championships when he finished on top in the Standard Pistol event in Doha on Friday.
However, there was no Olympic Quota place for the country from the event, as it does not feature in the quadrennial extravaganza.
The army man, who has already secured a quota place for India in the Rapid Fire category, scored 572/600 to tie for the lead with Yongde Jin of China.
- For Rediff Realtime News on Indian shooting, click here
However, Kumar's tally of 17 inner tens to Jin's 15 helped him bag the gold.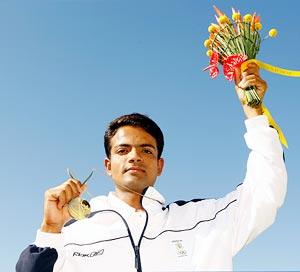 Kumar started with a score of 98 in the first series of 150 seconds for 10 shots. His scores dipped in the 20-second and the 10-second series, as he reached the halfway mark at 284, two points behind the Chinese, who tallied 286.
Vijay performed better in the second series, scoring 288. Jin was in the lead, but had a disastrous score of 93 in the final 10-second series which saw him finish alongside Vijay.
The bronze was won by Tomohiro Kida of Japan, who scored 568.
The other two Indian shooters in fray, however, put up a disappointing show and were nowhere in contention for a podium finish.
Samresh Jung scored 552 to finish 16th, while Mahavir Singh finished 24th with a score of 542. Those low scores dashed India's hopes of a team medal as well.
They finished fifth with a combined tally of 1666/1800.
China, with 1695, won the gold, while Thailand surprised everyone by clinching the silver with a tally of 1683 points.
Japan rounded of the podium finishers with a score of 1680.