It's was not a glamour race, it was stressful: Varsha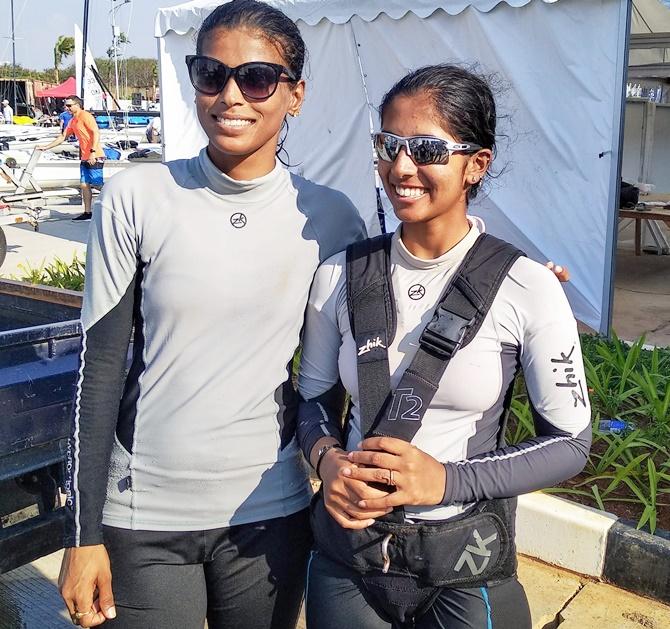 A bitter court battle almost forced Varsha Gautham to quit but perseverance helped her to tide over the crisis and clinch a silver medal in sailing at the ongoing Asian Games.
Competing in 49erFX, the 20-year-old Varsha and her crew partner Sweta Shervegar, completed the 15-race event with 40 net points to finish second behind the winners from Singapore, who had just 14 net points.
Sailors are given points after each race, and the pair, which gets the least points, is declared the winner.
Varsha and Sweta were initially not chosen by the the Yachting Association of India to represent India in 49erFX event and only after a court battle, they reached the Indonesian capital.
"These were stressful three months. But everything has paid off. There were a lot of up and down. A lot happened. At least 10 times I thought, it's not worth it, I can't handle it but somehow I continued. It was certainly not glamorous race, there was pressure," Varsha said.
"And there was a realistic chance of losing today, but we stayed clam," Varsha said, adding that they needed donations and crowd funding to pursue their passion.
Varsha and Sweta, who is a medicine student and was a sailing coach before teaming up with her partner, were not selected by the federation for the Asian Games since they had lost the trials to Ekta Yadav and Shaila.
But, after the pair won a silver at the Asian Championship ahead of the preferred team, Varsha argued that she and Sweta should be considered for the Asian Games, since the Asian Championship was a better platform to judge capability.
When YAI refused to change the nomination, Varsha approached the Delhi High Court, which asked the IOA to chose team.
Eventually they were in the team and ended as silver medallists.
Sweta, who suffered a cut on her hand and required stitches two days before the race, said the friendship between her and Varsha helps them in sailing.
"We eat together, we shop together. Yesterday we went shopping we had an off day," the 27-year-old said.
Varsha said the sport is not only demanding physically but requires immense mental strength.
"Physically you may be strong but you have to be mentally in. There is a lot of pressure and risk. Going into the last race, there was a realistic chance to miss out on medal. We could have been penalised, boat could have capsized," she said.
"We are using the Olympic class boats first time. When I was in Incheon, those boats were youth class and less demanding."
Sweta said for a layman, it could appear dangerous, but it is fun in the water.