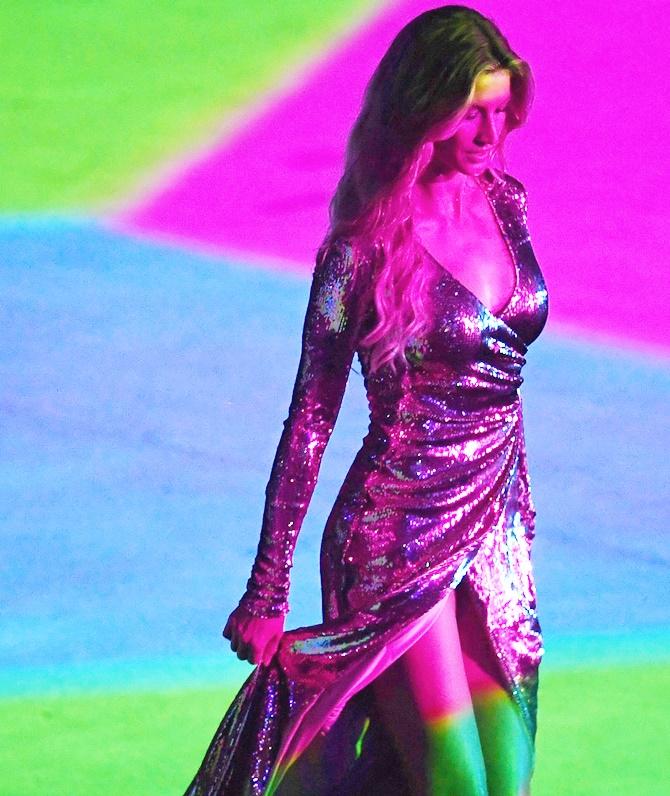 IMAGE: Brazilian top model Gisele Bundchen takes part in the opening ceremony. Photograph: Dylan Martinez/Reuters.
Brazil unfurled a vast canvas celebrating its rainforest and the creative energy of its wildly diverse population in welcoming the world on Friday to the Olympic Games in Rio de Janeiro, all to the pounding beat of samba, bossa nova and funk.
Brazil's interim President Michel Temer declared open the first Games ever in South America. But in a display of the deep political divisions plaguing Brazil, he was jeered by some in the crowd at the famed Maracana soccer stadium.
There was no glossing over history either: from the arrival of the Portuguese and their conquest of the indigenous populations to the use of African slave labor for 400 years. The clash of cultures, as the ceremony showed, is what makes Brazil the complex mosaic that it is.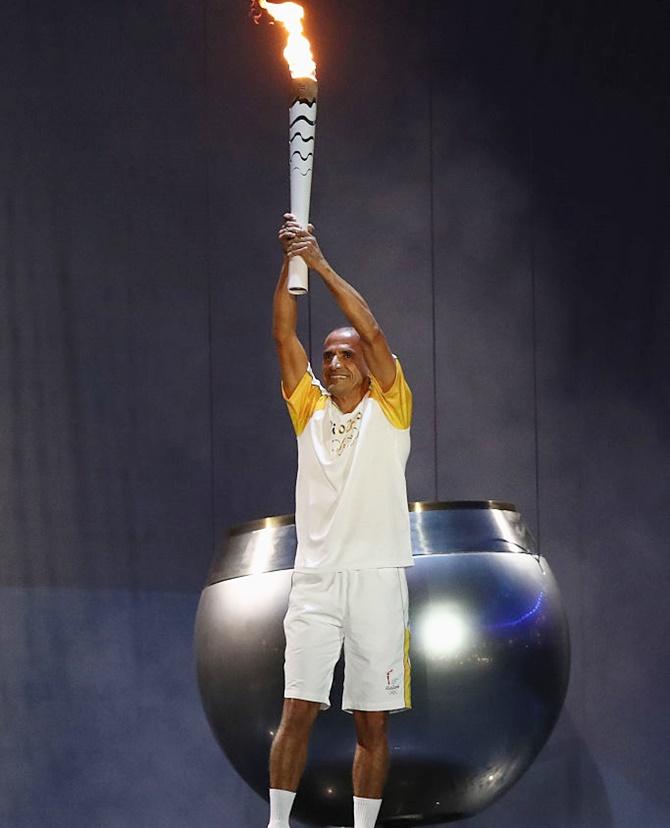 IMAGE: Final torch bearer Vanderlei Cordeiro de Lima lifts the torch before lighting the Olympic Cauldron during the Opening Ceremony. Photograph: Ezra Shaw/Getty Images.
Brazilian marathon runner Vanderlei Cordeiro de Lima, a bronze medalist in Athens in 2004, lit the Olympic cauldron, a small and low-emission model befitting the environmental theme of these Games.
The show drew homegrown stars, like supermodel Gisele Bundchen, who walked across the stadium to the sound of bossa nova hit "Girl from Ipanema" and tropicalia legends Caetano Veloso and Gilberto Gil.
Everyone performed for free.
Unlike the opening ceremonies in Beijing in 2008 and London in 2012, a financially constrained Brazil had little choice but to put on a more "analog" show, with minimal high-tech and a heavy dependence on the vast talent of Brazil and its Carnival party traditions. In the nearly four-hour event, nothing appeared to go awry.
Loud cheering erupted when two of the last teams entered the stadium: the first Refugee team in Olympic history and finally a samba-dancing Brazil contingent.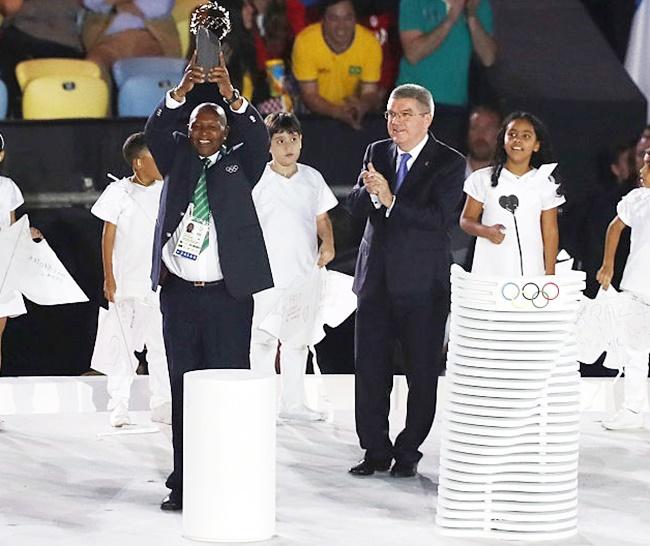 IMAGE: IOC President Thomas Bach presents the Olympic Laurel to Kip Keino during the Opening Ceremony. Photograph: Clive Mason/Getty Images.
President of the organizing committee Carlos Nuzman delivered an impassioned tribute to Rio and urged Brazilians to embrace the Games.
"Our dream is for the Olympic city to be transformed by the Games," he said. "This marvelous city is the perfect city. Let's live our dream together and stay together when circumstances challenge us.
"In the name of all Brazilians, I welcome the world. Rio is ready to make history."