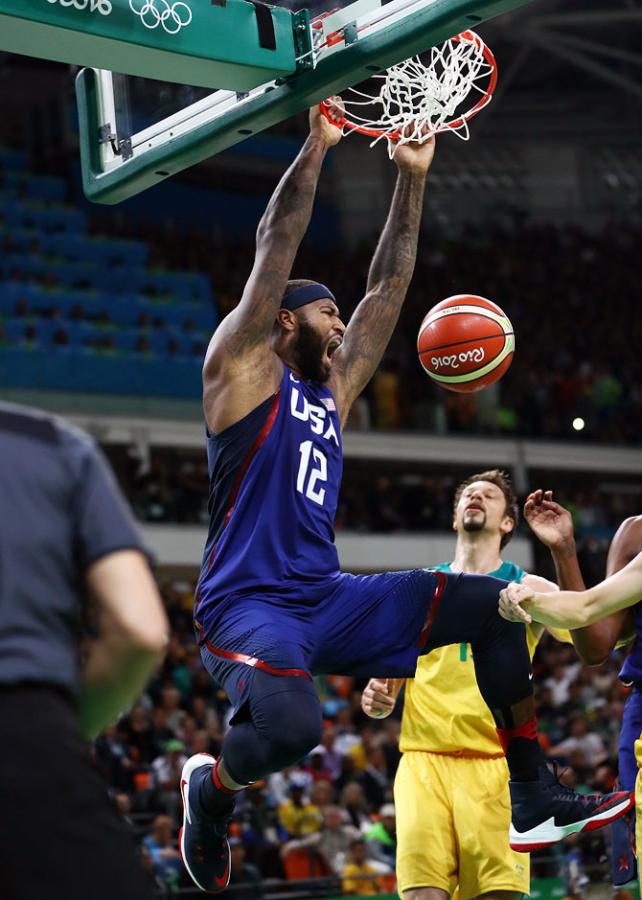 IMAGE: Demarcus Cousins of United States celebrates after scoring during the men's Preliminary Round Group A basketball game against Australia. Photograph: Phil Walter/Getty Images
Carmelo Anthony came to Team USA's rescue with a record-breaking effort on Wednesday as the defending Olympic basketball champions beat Australia 98-88 in a thrilling encounter to extend their overall winning streak to 20 games.

Trailing the Boomers 72-70 early in the fourth quarter, Anthony tied the game from inside the paint then hit two big three-pointers to put the US ahead for good as they remained top of the Group A standings with a 3-0 record.

Anthony, a four-time Olympian and the Team USA leader, finished with a game-high 31 points to leapfrog David Robinson and LeBron James on the list of all-time leading scorers at the Olympic Games among American players.

Kyrie Irving, who was born in Melbourne and at one point considered playing for Australia, contributed 19 points to the US cause, including a clutch three-pointer with 1:35 to play and two free throws in the dying seconds to ease frayed nerves.

"I don't think we played our best game but we pulled it out," Anthony told reporters, deflecting any credit for the win. "Tonight we came together as a team and guys stepped up at different points."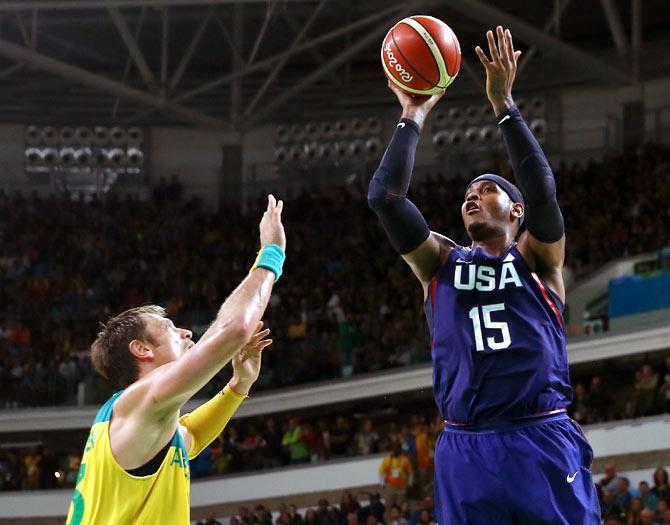 IMAGE: Carmelo Anthony, right, of United States shoots over David Andersen of Australia. Photograph: Elsa/Getty Images
With a lineup of NBA all-stars and most valuable players bidding for a third straight gold medal, the US might have expected little trouble from the 11th-ranked Australians, who have never set foot on the Olympic podium.

Unbeaten since the bronze medal game of the 2004 Athens Olympics, the streak came under threat almost from the opening tipoff as the Boomers forged a 54-49 halftime lead, leaving the whiff of an upset in the air.

IMPROVING STANDARDS

With five NBA players in their lineup, Australia refused to be intimidated by the mighty Americans, who have won gold medals at 14 of the 17 Olympics they have participated in, including the last two.

"We thought we could compete with these guys and in the first half we showed that," said Matthew Dellavedova, who helped the Cleveland Cavaliers win the NBA title in June. "We knew we could play with anyone coming in.

"There is no intimidation factor and there shouldn't be. We all play basketball and do the same thing, so we will focus on our next two pool games and go from there."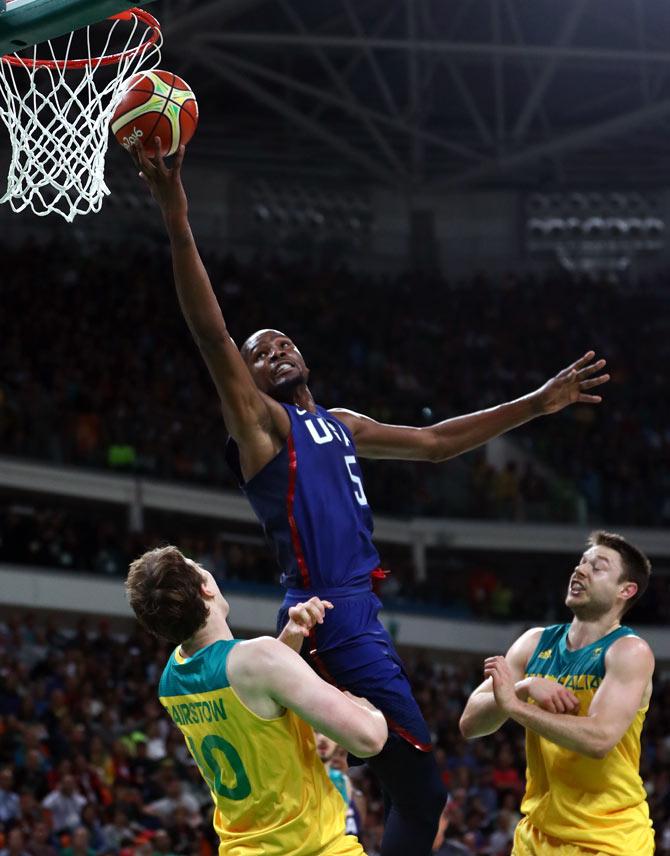 IMAGE: Kevin Durant, centre, of United States scores a basket over Cameron Bairstow (#10) and Matthew Dellavedova of Australia. Photograph: Phil Walter/Getty Images
After blowout wins over China and Venezuela to open pool play, US coach Mike Krzyzewski said the Olympic tournament has now moved up a level for the Americans.

"For this group, that was the first real international game," said Krzyzewski, who will step down as US coach after the Rio Games.

"The first two games we played, we were significantly better than those teams and this is the real world now. We beat a heck of a team tonight. They just played lights out basketball.

"This was a very good night for us."