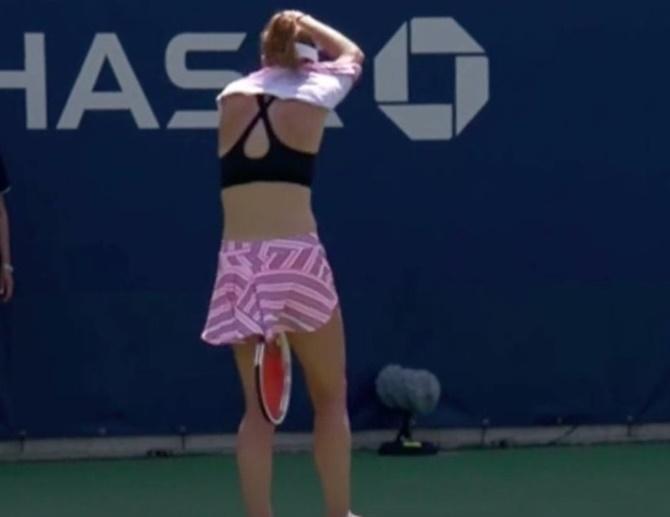 The US Open has said it regrets that French player Alize Cornet was given a warning for removing her shirt during a match following complaints that the decision was sexist.
Cornet returned to the court following a 10-minute heat break before the third set of her first-round match on Tuesday and discovered she had put her new shirt on backwards.
She walked to the back of the court, took off the shirt and turned it around, briefly exposing a sports bra, which earned her a code violation warning from chair umpire Christian Rask.
Male players frequently change or remove their shirts between games and sometimes sit shirtless for extended periods of time in their chairs during changeovers.
"All players can change their shirts when sitting in the player chair. This is not considered a Code Violation," the US Open said in a statement on Wednesday.
"We regret that a Code Violation was assessed to Ms. Cornet yesterday. We have clarified the policy to ensure this will not happen moving forward. Fortunately, she was only assessed a warning with no further penalty or fine."
"Female players, if they choose, may also change their shirts in a more private location close to the court, when available. They will not be assessed a bathroom break in this circumstance."
The Women's Tennis Association said the code violation handed to Cornet was unfair.
"It was not based on a WTA rule, as the WTA has no rule against a change of attire on court," the ruling body said in a statement.
"The WTA has always been and always will be a pioneer for women and women's sports. This code violation came under the Grand Slam rules and we are pleased to see the USTA has now changed this policy. Alize did nothing wrong."
Judy Murray, mother of Britain's former Wimbledon and US Open champion Andy Murray, noted the discrepancy between how men and women players are treated when it comes to on-court etiquette.
"Alize Cornet came back to court after 10 minute heat break. Had her fresh shirt on back to front. Changed at back of court. Got a code violation. Unsportsmanlike conduct... But the men can change shirts on court," she wrote on Twitter.
The controversy came days after the French Open said it would implement stricter rules governing players' attire, singling out the black 'cat suit' American Serena Williams wore at the tournament this year.
Williams, who said the suit was designed to prevent blood clots, said she had no problem with the Grand Slam tournament's decision.