IMAGES from Day 10 of the US Open matches played in New York on Wednesday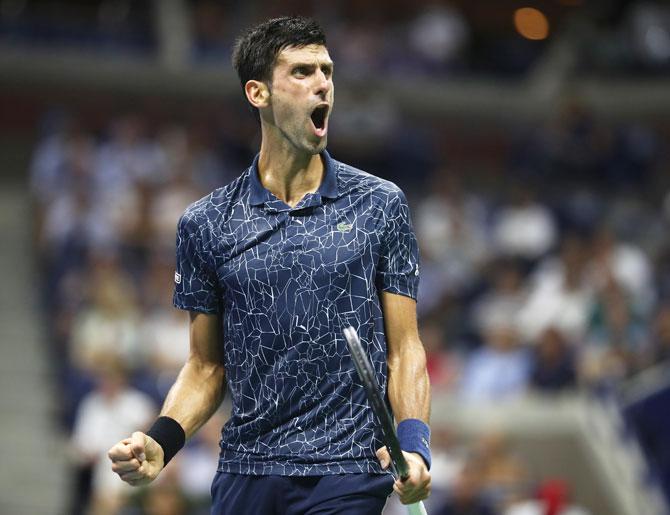 Novak Djokovic was ground for nearly three hours on another humid night but survived the heat to beat Australia's John Millman 6-3, 6-4, 6-4 in the Australian Open quarter-final on Wednesday.
The former US Open champion will face Kei Nishikori in his 11th straight US Open semi-final.
Nishikori avenges Cilic to make semis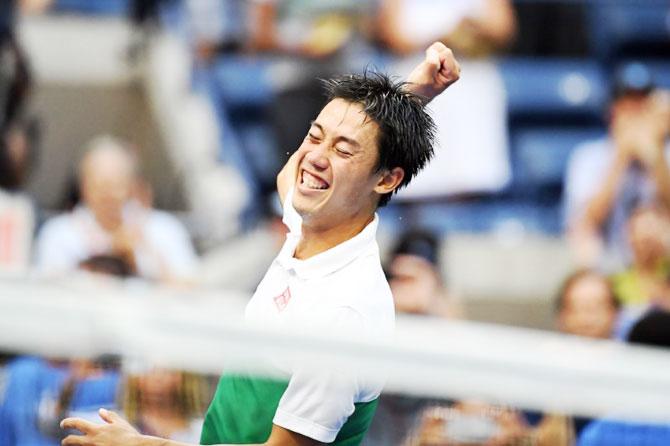 Kei Nishikori advanced to the US Open semi-finals on Wednesday with a grinding 2-6, 6-4, 7-6(5), 4-6,-6-4 win over Marin Cilic, gaining a small measure of revenge on the man who crushed his grand slam dream in the 2014 final.
The victory also completed a historic day for Japanese tennis with Naomi Osaka routing Ukraine's Lesia Tsurenko 6-1, 6-1 and the pair became the first Japanese man and woman to reach the semi-finals of the same grand slam.
"It's great to see," said Nishikori.
"I think she can win a title now, even though grand slam. I feel it is a big chance for her. I am also happy for myself."
It was a much different outcome from 2014 when the big-hitting Cilic floored the Japanese counter-puncher 6-3, 6-3, 6-3, to claim the U.S. title.
Cilic has made two grand slam finals since but Nishikori has never been back and will now take on either twice US Open champion Novak Djokovic or unseeded Australian John Millman for a spot in Sunday's final.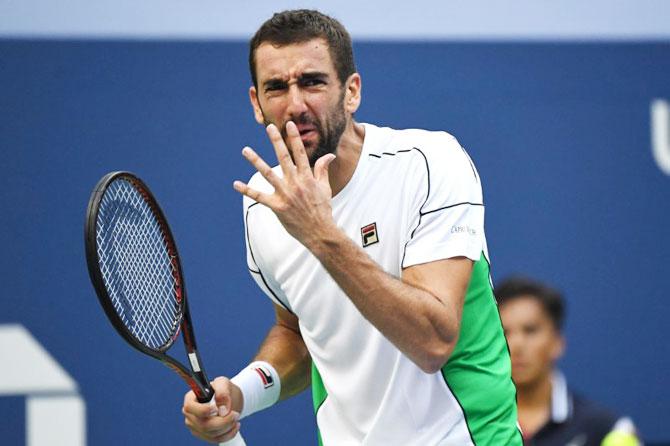 It has already been a successful return to Flushing Meadows for Nishikori who missed the US Open last year with a wrist injury that saw his ranking plunge and put him on the comeback trail that included playing Challenger-level tournaments.
But after reaching the final in Monte Carlo, the French Open fourth round and the Wimbledon quarter-finals, Nishikori believes an elusive first grand slam is within reach.
"Yeah, always excited to play Novak because it's great challenge for me," said Nishikori about the possibility of facing Djokovic, should the sixth-seeded Serb beat Millman in the quarter-finals.
"Always exciting to play him. Especially after coming from injury, I think I'm enjoying this challenge."
Initially, it looked like the match might follow a similar storyline from 2014 when seventh seeded Cilic took the opening set from a sluggish Nishikori.
The Japanese sputtered along until earning his first break chance at 2-4 in the second set and was able to convert to get back on serve.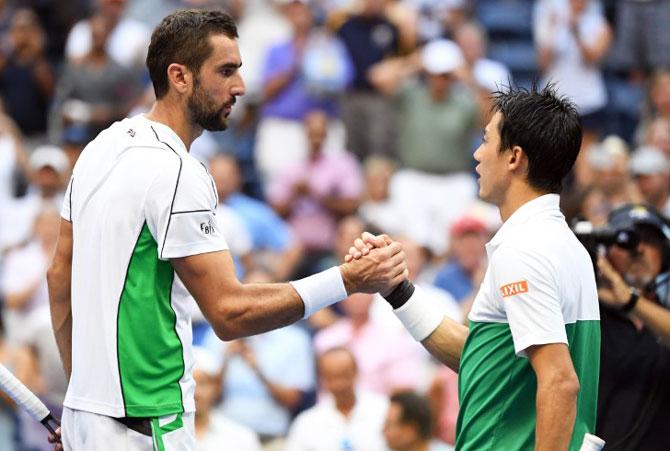 As Nishikori began to find his rhythm Cilic started to misfire and the Japanese 21st seed collecting a second consecutive break on a double fault to surge in front 5-4 before holding serve to level the match.
The tide continued to turn in the third as Nishikori chipped away at the faltering Cilic with a third successive break.
Cilic did level at 4-4 but his erratic play continued as Nishikori stole the set with the help of two double faults in the tiebreak.
The Croat rebounded to take the fourth and the rollercoaster ride continued into the fifth with Nishikori grabbing the advantage with a break at 3-1 and taking Cilic's serve again with a blistering return winner to close out victory.
Madison Keys locks another US Open semi-final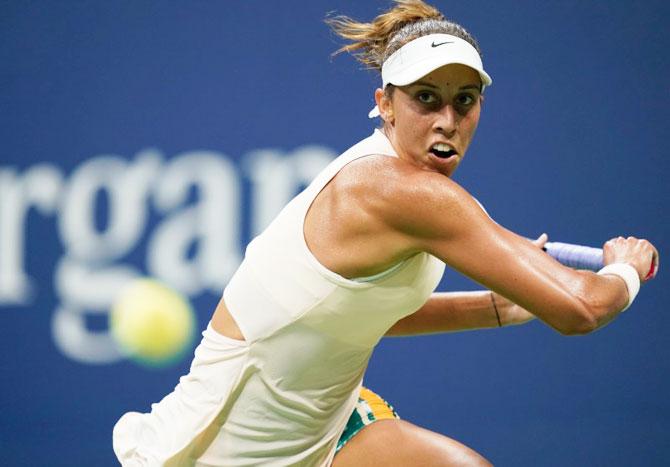 American Madison Keys clinched her second consecutive US Open semi-final berth on Wednesday, using her powerful serve and fiery forehand to get an edge on 30th seed Carla Suarez Navarro and win 6-4, 6-3.
While the pair initially seemed evenly matched, the momentum shifted in Keys' favour in the second set of the 83-minute affair, as she dominated with her powerful service game.
"I felt good today. You know, being out in front of an energetic crowd is always fun," Keys said in an on-court interview.
"I still haven't totally processed this match."
Keys, who fired six aces and fended off both break point opportunities against her during the match, told reporters that adapting to Suarez Navarro's versatile play proved critical.
"She does a really good job ... of holding the baseline and redirecting the ball," Keys said.
"So I knew that I was going to have to play really well but also know that she's going to come up with some great shots and defend really well."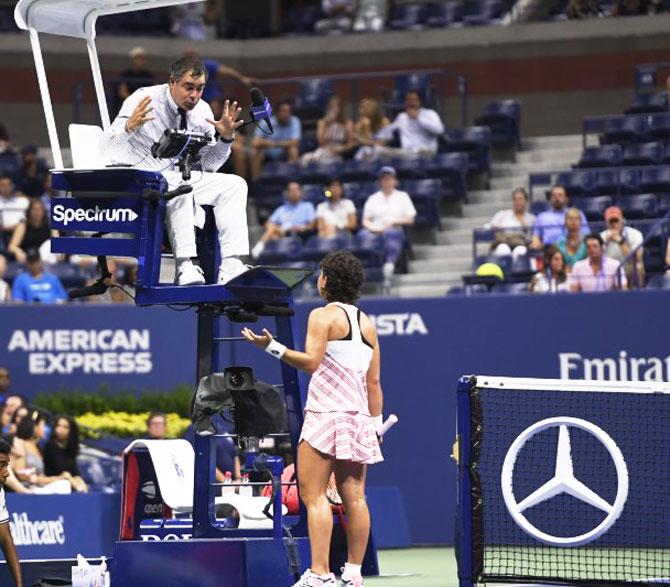 Suarez Navarro, whose own service game was under pressure, told reporters the 14th-seeded American had simply outplayed her.
"She was returning in pressure situation every time because I don't have a big first service," the Spaniard said. "I think this was really important part of the game.
"Also, she was really good with her serve. I mean, I cannot return like I used to.
"She was more fresh than me. Faster, you know. That's it."
Keys, who lost the final last year to Sloane Stephens, now faces fellow power player Naomi Osaka of Japan in what could be a combustible semi-final on Thursday.
She leads Osaka 3-0 in head to head and most recently defeated the 20th seed in straight sets in the third round at Roland Garros in June.
"I think we play similarly," Keys said of facing Osaka.
"I think power, obviously a big serve. I think I probably have a little bit more spin on the ball, but I think she takes time away really well.
"I don't think we will have tons of long rallies."
Osaka steamrolls Tsurenko to enter semis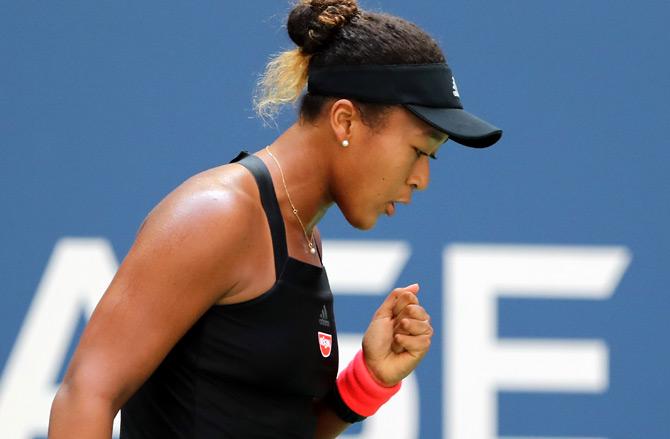 Naomi Osaka enjoyed a comfortable 6-1, 6-1 win over Ukraine's Lesia Tsurenko at the US Open on Wednesday to become the first Japanese woman in 22 years to reach the semi-final stage of a Grand Slam.
The 20th-seeded Osaka, a rising talent who won her first career title in March at Indian Wells, used a lethal ground game and solid serving to overwhelm a fatigued Tsurenko, who laboured in stifling conditions on the Arthur Ashe Stadium court.
Osaka, the first Japanese woman to reach a Grand Slam semi-final since Kimiko Date at Wimbledon in 1996, broke Tsurenko five times during a match that only lasted 57 minutes.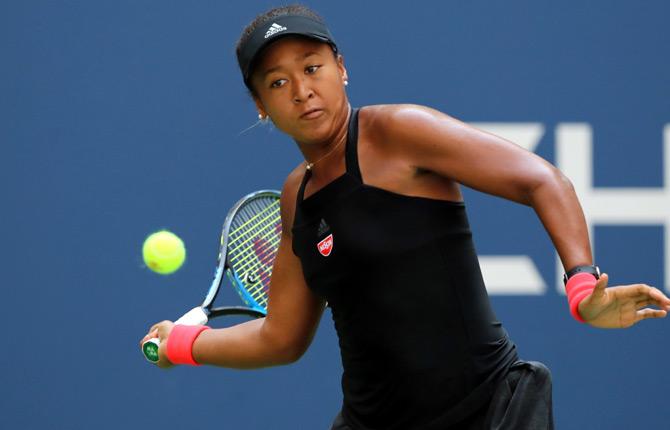 Tsurenko, the only unseeded woman to reach this stage of the tournament, appeared to be feeling the effects of her last-16 clash during which she struggled in the searing heat and at one point looked like she was about to collapse.

The Ukrainian had a small window to grab momentum but failed to cash in on her three break-point opportunities while trailing 4-1 in the second set and Osaka fought back before cruising through the final game.

Tsurenko, who stunned Danish second seed Caroline Wozniacki in the second round, is still projected to rise 10 spots to a career-high 26th in the world rankings.

Up next up for the 20-year-old Osaka will be the winner of the evening match between 2017 runner-up Madison Keys, who at 14 is the highest seed left in the women's draw, and Spain's Carla Suarez Navarro.