Images from Day 5 of the 2021 US Open in New York on Friday.
Fearless Carlos Alcaraz was not distracted by another mid-match bathroom break from Stefanos Tsitsipas on Friday, holding focus to upset the Greek third seed 6-3, 4-6, 7-6 (2), 0-6, 7-6 (5) and advance to the fourth round of the US Open.
Having assumed the role of villain at this year's US Open over his lengthy, well-timed trips to the restroom that have been criticized as strategic delay tactics, Tsitsipas threw everything he had at the 18-year-old Spaniard.
But Alcaraz held fast and became the youngest male player to reach the fourth round of a Grand Slam since 17-year-old Andrei Medvedev at 1992 Roland Garros.
"This victory means a lot to me. It's the best match, the best win of my career," said Alcaraz. "To beat Stefanos Tsitsipas is a dream come true for me."
Tsitsipas took a toilet break at a crucial point in the match, leaving the court after losing a third set tie-break that put the Spaniard ahead 2-1. The crowd booed as Tsitsipas left the court while television timed him. The rules allow players to take two bathroom breaks of any length per five-set match.
Tsitsipas returned less than five minutes later and stormed through the fourth set 6-0 just as he did in the second round against Adrian Mannarino.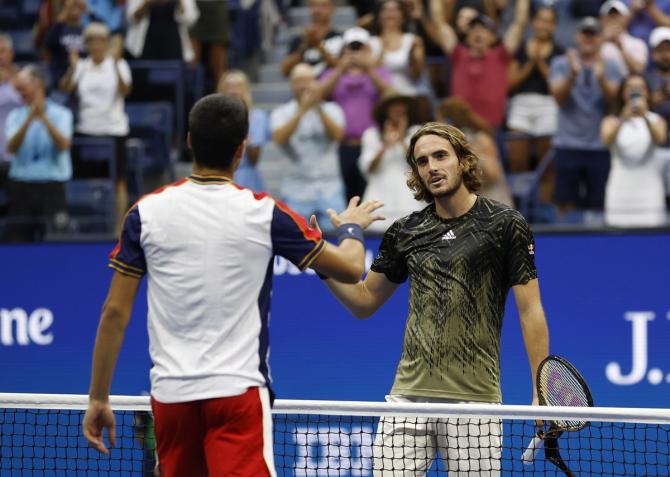 When Tsitsipas used two bathroom breaks during his first-round meeting with Andy Murray, the Scotsman accused him of cheating and later took to social media tweeting, "It takes Stefanos Tsitsipas twice as long to go the bathroom as it takes Jeff Bezos to fly into space."
"All these accusations (of cheating) have been completely false," Tsitsipas said after Friday's match. "I took my toilet break as a normal athlete."
"For me the only thing I did is change from wet clothes to dry clothes. Apparently it's a huge issue."
Unlike Murray and Mannarino, Alcaraz rebounded, giving no ground in a tense fifth set that went to a tie-break that the Spaniard claimed 7-5.
As the match began, Tsitsipas appeared unnerved as he stepped out on Arthur Ashe Stadium court and even more unsteady when Alcaraz applied all the early pressure, breaking him twice in the opening set to grab control 4-0 on way to a 1-0 lead.
There was more of the same in the second as Alcaraz again secured the early break to charge ahead 3-0. But this time Tsitsipas dragged himself out of the hole, sweeping five straight games on his way to leveling the contest.
Up 5-2 in the third, Tsitsipas looked to have weathered the Spanish storm only to have Alcaraz fight back and force a tie-break he would convincingly win 7-2.
The victory underscored Alcaraz's status as the future Spanish heir apparent to 20-time Grand Slam winner Rafael Nadal, who is not in New York due to injury.
Leylah Fernandez shocks Osaka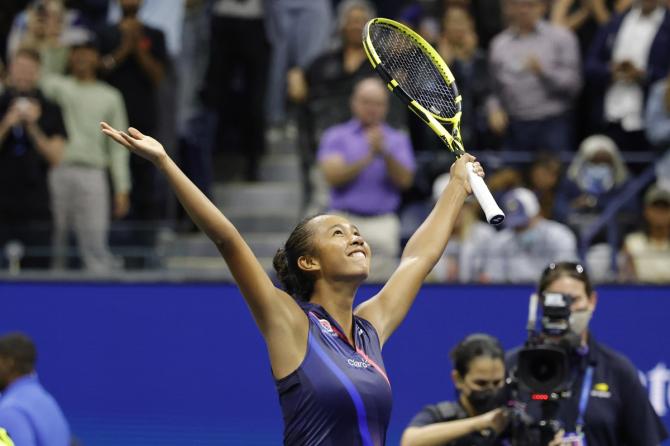 Two-time champion Naomi Osaka's US Open title defence ended in tears on Friday, as she suffered a stunning defeat in the third round to Canada's Leylah Fernandez 5-7, 7-6(2), 6-4, and told reporters she planned to take a break from the sport.
"I feel like I'm kind of at this point where I'm trying to figure out what I want to do. Honestly, I don't know when I'm going to play my next tennis match," she said, breaking down in tears at a post-match press conference and pulling the brim of her visor over her eyes.
"I think I'm going to take a break from playing for a while."
Playing in her first Grand Slam since pulling out of the French Open earlier this year and disclosing her battle with depression, Osaka's return to Flushing Meadows did not go to plan, as she wordlessly left the court after uncharacteristically losing her cool in the second set tiebreak.
The third seed whacked her racquet and then flung it onto the court twice in frustration as Fernandez scored five straight points in the tiebreak, in a series of superb play.
Osaka did not receive a warning or a code violation and left the court in between sets.
"I'm really sorry about that," she said. "I was telling myself to be calm, but I feel like maybe there was a boiling point.
"Like normally I feel like I like challenges. But recently I feel very anxious when things don't go my way, and I feel like you can feel that. I'm not really sure why it happens the way it happens now."
Her troubles continued as the 18-year-old Canadian broke her serve to kick off the third set, and Osaka hit a ball into the stands in the second game, prompting a warning from the chair umpire.
In the ninth game Osaka rushed through her serves, not even waiting for the crowd to quiet down, as she was unable to create a single break point opportunity in the final set.
It was a breakthrough performance for Fernandez, who reached the fourth round of a major for the first time just a few days shy of her 19th birthday.
She fired off 28 winners across the three sets, and said in a televised interview that she worked at "just finding the solutions" during the match.
"She's a great server, she's been hitting aces left, right and centre," Fernandez said of Osaka.
Fernandez next faces 2016 champion Angelique Kerber of Germany.
Medvedev continues US Open sprint with third-round win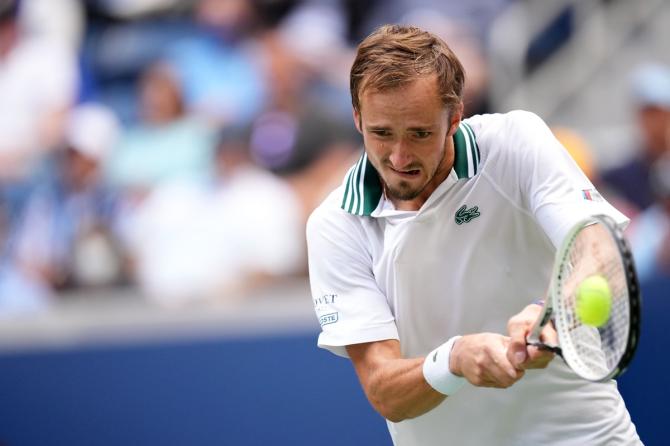 Russia's Daniil Medvedev ripped through third-round opponent Pablo Andujar 6-0, 6-4, 6-3, his third win in under two hours at this year's US Open.
The world number two held the unseeded Spaniard to five points in the first set, putting up just three unforced errors in a stretch of superb play in his bid for a maiden major title two years after he lost in the final to Rafael Nadal.
The Russian has yet to drop a set at Flushing Meadows this year and showed scarce few moments of vulnerability on Friday. He recovered from a double fault in the 10th game of the second set with a pair of aces and fired off 34 winners to Andujar's 16 across the entire match.
Andujar converted one of four break point opportunities late in the third set to wild applause from the fans inside Louis Armstrong Stadium. However, it was two little too late as the Australian Open finalist fired back with a break of his own to clinch the match.
"The main positive is to win in three sets because Pablo was fighting good," said Medvedev, who clinched his fourth Masters 1000 title last month in Toronto. "I was playing good and (I'm) really happy with my level."
He faces a potential challenge in the fourth round from 24th-seeded Briton Dan Evans, who beat world number one Novak Djokovic in Monte Carlo in April and whom Medvedev described as "very smart".
"He doesn't have one shot that is a weapon, and yet he's a top player for many years already," Medvedev told reporters. "The way he chooses the right moment to go to the net, to slice, to make a drop shot. I mean, his serve is not huge, but it's tough to return. Great player."
Kerber defeats Stephens in battle of US Open champs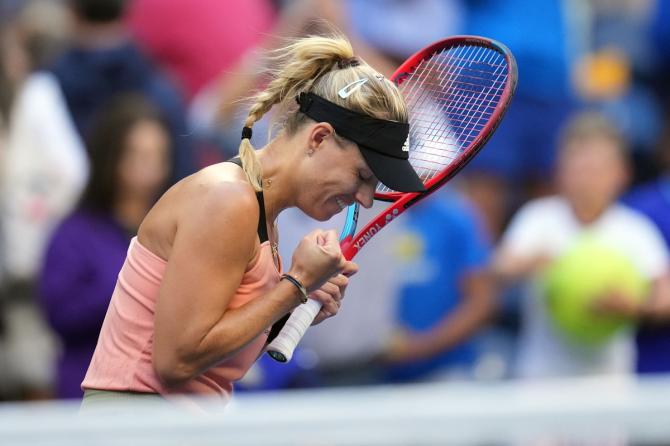 German Angelique Kerber triumphed in the battle of the former champions on Friday, downing Sloane Stephens 5-7, 6-2, 6-3 to reach the fourth round for the first time since 2018.
The 16th-seeded hadn't taken a set off of Stephens in their last five meetings and it looked as though history would repeat itself as Kerber committed 18 unforced errors and a double fault in the first set.
But the 2016 champion wrested the momentum from the American, cleaning up her game in the second set, where she never faced a break point and won the final five games in Louis Armstrong Stadium.
She put up a strong defensive performance as the 2017 Flushing Meadows winner lobbed 13 forehand winners in the third set, fending off three break points in the sixth game and converting on break point in the next, helped by a double fault from Stephens.
She let out a cheer as she booked her second consecutive trip to the fourth round at the US Open and gave credit to Stephens's impressive play.
"To play against Sloane - it's always a tough match," said Kerber. "I knew before that I have to play my best tennis and also after the first set I was just trying to stay in the match."
Halep outlasts Rybakina in thriller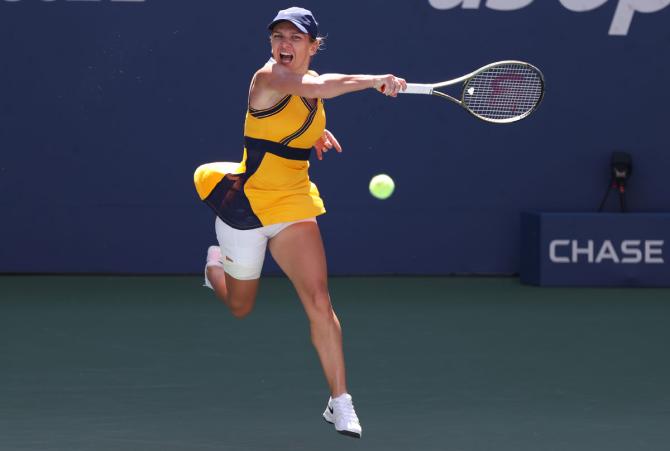 Romania's twice Grand Slam winner Simona Halep outlasted Kazakhstan's Elena Rybakina 7-6(11), 4-6, 6-3 in a dramatic third-round showdown at the US Open.
12th seed Halep saved four set points before converting on her seventh courtesy of a double fault by Rybakina in an epic, 18-minute first-set tiebreak in front of a rapt and roaring crowd inside Louis Armstrong Stadium.

Rybakina fired back and built a two-break lead through the first three games of the second set, taking a medical timeout after the fifth to have her left foot taped, while Halep received a shoulder massage with the lead narrowed to 3-2.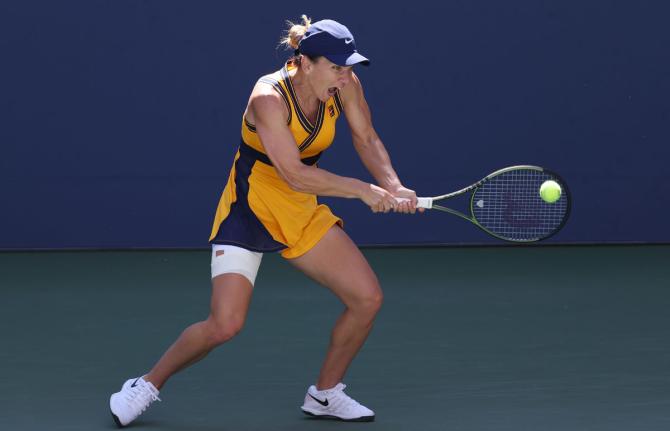 Rybakina broke again in the ninth game, helped by one of Halep's three double faults in the second set, before closing it out in the next game with an ace, one of her 14 in the match.

After sitting on the sidelines between sets, a renewed Halep wrested the momentum in the third, cleaning up her form significantly with only six unforced errors compared to 30 in the previous two sets and winning 85% of her first-serve points.

"It's been a very tough match," said Halep after reaching the fourth round at Flushing Meadows for the first time since 2016. "I knew I had to be strong, I knew I had to be calm."