Verdasco registers only second win in 15 matches against Murray, his first in nine years.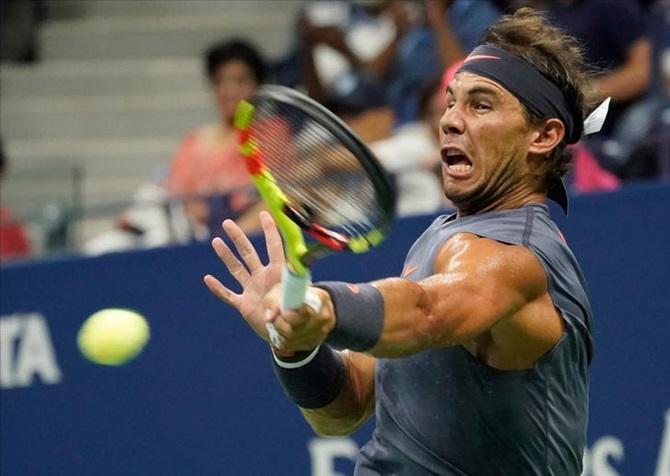 Defending champion Rafael Nadal eased into the third round of the US Open with a regulation 6-3, 6-4, 6-2 victory over unseeded Vasek Pospisil on Wednesday.
A fresh-looking Nadal, whose first round match was cut short after his opponent David Ferrer retired with a calf injury, started brightly against the Canadian and never looked back.
The Spaniard wrapped up the opening set in 35 minutes after breaking early to go 3-0 up as Pospisil, ranked 88th in the world, struggled to settle into a serving rhythm.
The Canadian rallied briefly in the second set, improving his first serve percentage and managing to break Nadal to lead briefly, but the world number one broke back immediately and went on to win four games in a row to seize complete control.
"In the second set I had two games in a row where I had trouble with my serve," Nadal said in a courtside interview. "The first one I saved, the second one I couldn't. I was lucky to be able to break back.
"To win in straight sets is always positive."
Nadal started the third set on the front foot, breaking early once again as Pospisil ran out of steam. The Spaniard wrapped the contest in exactly two hours, and will next face Russia's Karen Khachanov, the 27th seed.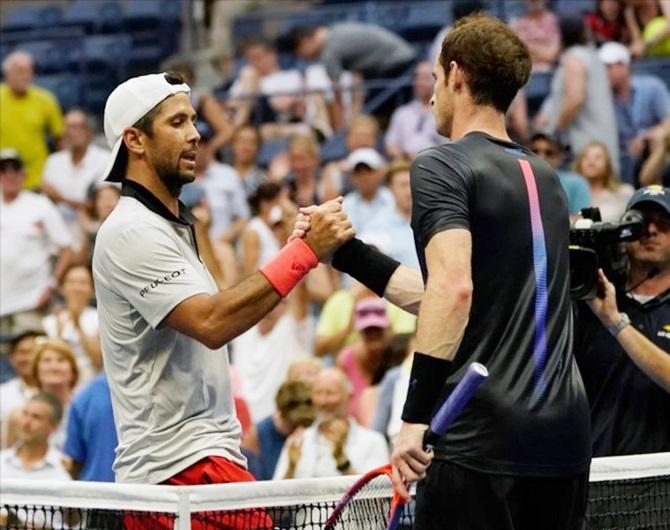 Andy Murray lived up to his pre-tournament prediction that he would not win this year's US Open when he was beaten 7-5, 2-6, 6-4, 6-4 by Spain's Fernando Verdasco in the second round on Wednesday.
The former-world number one and 2012 US Open champion, who is still working his way back from hip surgery and had earlier downplayed his chances, battled Verdasco for nearly three hours and 30 minutes before finally surrendering on a fourth match point while trying to force a fifth set.
What Murray lacked in sharpness and fitness he more than made up for in gritty determination and exited to loud applause.
"It was tough of course to close the match," said Verdasco, after collecting just his second win in 15 matches against Murray and his first in nine years.
"With Andy it is always tough. He is an unbelievable talent, an unbelievable fighter.
"I only beat him in Australia in 2009 so the only time I beat him was at a grand slam so that was a bit of motivation."
"I think some of the tennis I played today was some of the best I've played since I had the surgery or since I came back," said Murray.
"But there were also periods in the match, especially in the first set where I really didn't play particularly well.
"Then kind of at the end when my back was against the wall, I came up with some good tennis to make it close and interesting."
Playing in just his fifth event since hip surgery in January, what Murray lacked in sharpness he more than made up for in gritty determination as the 31-year-old battled through a gruelling opening set that lasted 62 minutes.
Drenched in sweat, Murray slowly began to find his comfort zone in the sauna like conditions taking the second to level the match.
But Verdasco would not be rattled and dominated large chunks of play until the end of the clash, when Murray dug in and the 31st seeded Spaniard struggled to seal the match.
Del Potro overwhelms Kudla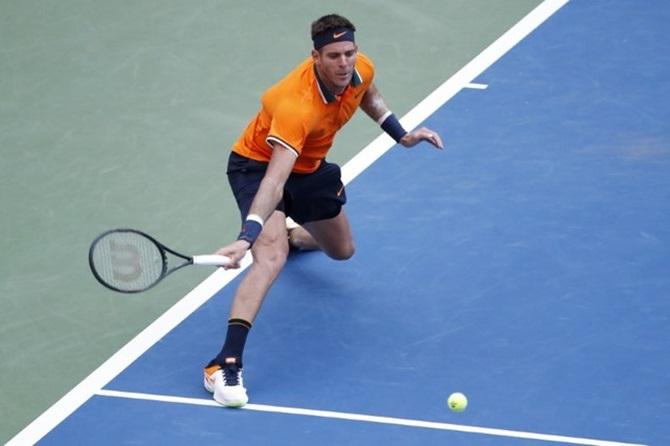 Argentine Juan Martin del Potro overpowered American Denis Kudla 6-3, 6-1, 7-6(4), in the second round, delivering a near flawless performance and serving notice that the injury-plagued 2009 champion is in top form.
Showing no ill-effects from the wrist injuries that have dogged him in recent years, Del Potro thumped down 20 aces, won 85 percent of his first-serve points and never faced a break point in a match lasting less than two hours.
By the time the overwhelmed Kudla began to find his form in the third set it was too little too late.
The world number 72 held serve six times to set up the third-set tiebreaker and fended off three match points but despite the backing of the New York crowd, he sent a backhand wide to punch Del Potro's ticket to the third round.
Next up for Del Potro is Spaniard Fernando Verdasco, who beat Murray.
Isner outlasts Jarry to reach third round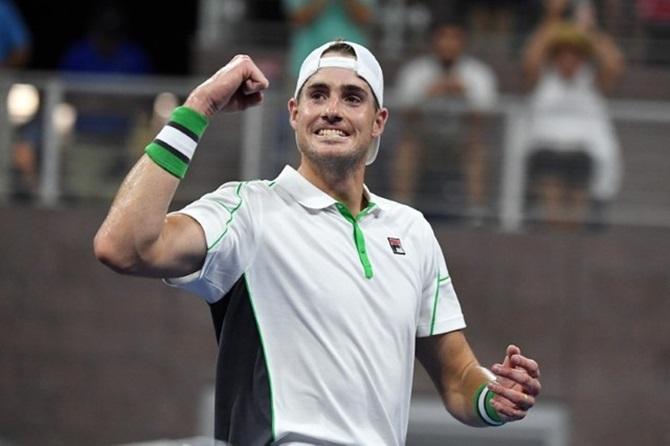 Home fans rose to acclaim John Isner after he fought back to vanquish Chilean Nicolas Jarry 6-7(7), 6-4, 3-6, 7-6(2), 6-4 in a five-set, second-round thriller.
Isner relied on his power serve, delivering 38 aces in the match to surpass Roger Federer with the second-most career aces, ATP statistics showed.
Isner appeared to feed off the crowd's energy in the fifth set and thanked them for helping him across the line.
"This right here is what the US Open is all about," said Isner.
"I couldn't have won this match without the support of you guys," he added, gesturing to the crowd.
The three hour and 38-minute match was comparatively light work for marathon man Isner, who in July lost a six hour and 36-minute Wimbledon semi-final to South Africa's Kevin Anderson and in 2010 won an 11 hour and five-minute match against Nicolas Mahut at the All England Club.
Tsitsipas 'empty' after punishing loss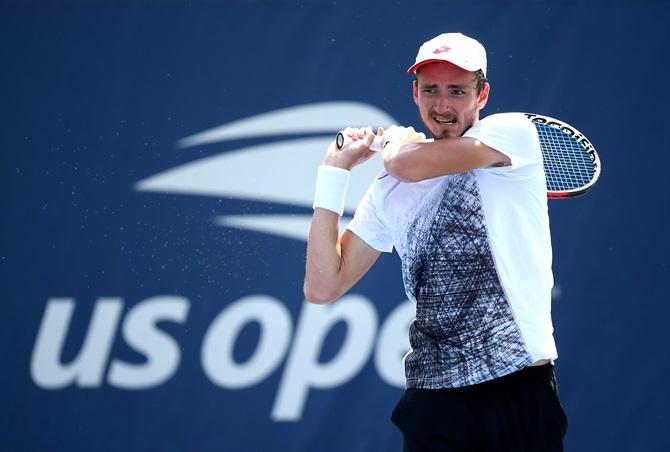 Young Greek Stefanos Tsitsipas was left drained after losing 6-4, 6-3, 4-6, 6-3 to Russia's Daniil Medvedev in a brutal second-round match played in searing heat.
The 20-year-old 15th seed was outwitted by the unseeded Medvedev in a series of long, intense rallies in blistering conditions on an outside court at Flushing Meadows.
Tsitsipas said he had found it hard to recover from another punishing match on Monday against experienced Spaniard Tommy Robredo.
"I had no energy. But I managed somehow, you know, rehabilitate and get ready for the second-round match," Tsitsipas told reporters. "But it didn't feel the same."
He struggled in the humid weather as temperatures climbed above 90 degrees Fahrenheit (30 degrees Celsius).
"You breathe this heat that's coming, the moisture that's in the air. So you feel like you're empty," Tsitsipas said. "You're not breathing out, breathing in, breathing out, so it feels really awkward to be playing like this."
The in-form Tsitsipas reached the Rogers Cup final this month before losing to world number one Rafael Nadal and his recent performances have earned plenty of plaudits.
Former player Brad Gilbert, who coached Andre Agassi, last week described Tsitsipas as "unbelievably athletic" while five-time US Open champion Roger Federer said he believes the Greek is among the next generation of players poised for a major breakthrough.
Anderson defeats Chardy, rolls into third round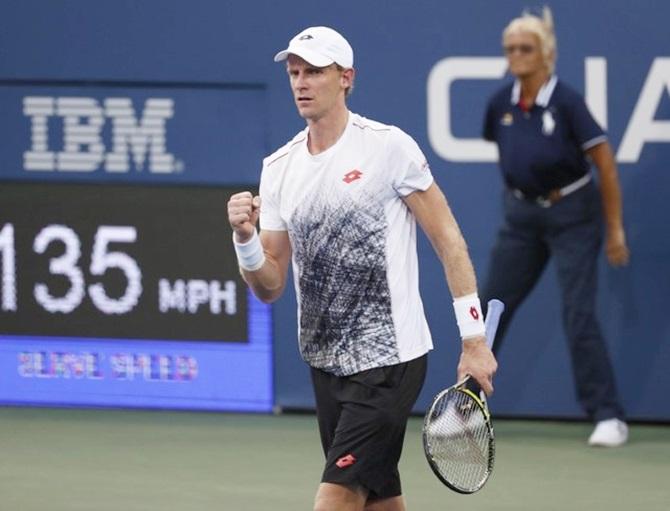 Fifth-seed Kevin Anderson advanced to the third round with a 6-2, 6-4, 6-4 victory over France's Jeremy Chardy.
The match was a relative sprint compared to the four hour, 14 minute-long first round match that Anderson endured on Monday when he fought back to beat American Ryan Harrison.
Anderson used his superior height and wing span to pick off Chardy's shots and deliver blisteringly fast serves, but was not immune to the sweltering conditions plaguing competitors on the outdoor courts.
"It was pretty hot out here today, so the ball was flying around," Anderson said in an on-court interview. "Overall I felt I played a great match."
Wawrinka tames heat and young Frenchman Humbert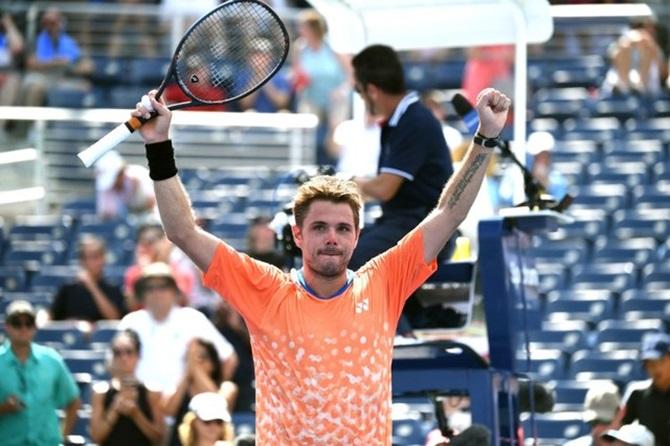 Stan Wawrinka fought off punishing heat and a youthful challenge from French qualifier Ugo Humbert to earn a 7-6(5), 4-6, 6-3, 7-5 win and a spot in the third round.
With temperatures at the Billie Jean King National Tennis Center once again nudging towards 100 degrees Fahrenheit (38 C), Wawrinka and Humbert battled for nearly three hours and 30 minutes in the shadeless oven that is the Grandstand Stadium court.
Wawrinka, who won the US Open in 2016 but was unable to defend his title last year after undergoing knee surgery, had his fitness put to the test by the 20-year-old Humbert playing in his first Tour level event.
"My level is there. I'm playing really good tennis," said Wawrinka. "I'm 33-years-old, first time after big surgery that I'm pushing myself that much, but in general, I think I did enough hard work to know and have confidence in my fitness.
"I think there is good chance that I'm playing better the next round than today, so I'm positive with that."
Humbert let the three-times Grand Slam-winning Swiss know he was in for a long and sweaty afternoon after the first set went to a tiebreak and he levelled the match by taking the second.
Wawrinka, however, lived up to reputation as a battler and grimly hung on to take the next two sets.
"It is a battle to play a player that never played before, a young player," said the Swiss wildcard. "He's been playing really well this summer, doesn't give you a lot of rhythm.
"It was a great battle. Was for sure tough fitness-wise but I think I handled it pretty well.
Wawrinka, who beat eighth seed Grigor Dimitrov in the opening round, now faces 25th seed Milos Raonic after the big-hitting Canadian blasted past Frenchman Gilles Simon 6-3, 6-4, 6-4.